Get Ready for 'Brother Vs. Brother' in San Francisco
It's a smack-down in the City by the Bay as Drew and Jonathan Scott head to San Francisco for Brother Vs. Brother Season 6.
Open up that Golden Gate. California, here come the Scott Brothers. It's the the new season of Brother Vs. Brother, and Drew and Jonathan are taking their annual house-flip competition to one of the most high-stakes real-estate markets in the country. It's sibling rivalry in the San Francisco Bay area, and it's going to be intense.
Devoted vewers will recall Drew's victory last year in the beach house competition in Galveston, Texas — redeeming himself after losing two years running. "This is my chance to strike back," asserts Jonathan in the series opener. Counters Drew: "I love that I won last year, but I am desperate to show Jonathan what it feels like to lose two years in a row." Sibling rivalry, indeed.
The ground rules: each brother will purchase, renovate and sell a property in the Bay Area's high-stakes real estate market. The brother with the biggest net profit from his house-flip is the winner. And all proceeds from the sales go to charity. So far we're following in the tradition of previous competitions, right? But, this year, there's a twist.
San Francisco is such an interesting city. Great scene. Great architecture. You can just walk the streets and [the views are] like, 'postcard-postcard-postcard'.
Drew Scott
In its current boom, the real-estate market in and around San Francisco is so hot that many houses sell as soon as (or before) they hit the market. This year, to amp up the Brotherly competition, for the first Drew and Jonathan will buy their houses sight unseen — so the uncertainty factor is at a higher level. "This is definitely a twist to our usual competition," says Drew, "it will make things more interesting, but it's gonna make things more terrifying."
As always, the Brothers will strive to incorporate some of the city's indigenous decorating motifs in their designs, so this year they'll each be offering up their take on the San Francisco style.
To kick things off, they've each got two weeks to pull off the first phase of their renovation, the Living Room Challenge, before real-estate pro and guest judge Scott McGillivray (of DIY Network's Buyer's Bootcamp) arrives to inspect the proceedings and declare a winner — and a loser.
And speaking of losers, the brother who falls short in this first phase of the competition will, of course, have a penalty to pay. In this case, that means running up the famously steep and grueling Lyon Street steps, a San Francisco landmark.
And speaking of judges, there are some other familiar HGTV faces among the crew signed on to judge the various phases of the renovations. In addition to Scott McGillivray, the list of esteemed judges includes: Mina and Karen of Good Bones, Leanne and Steve Ford of Restored by the Fords, Egypt Sherrod of Flipping Virgins and Bristol and Aubrey Marunde of Flip or Flop Vegas.
Naturally, other-brother JD Scott will be around to lend a hand. And Drew's lovely better half (and new bride, as of this writing) Linda Phan is there to assist and provide moral support and design critiques.
Every week each of the Brothers will renovate a new space until both Bay Area homes are completely transformed, Scott-Bro Style. San Francisco may be known for its cool summer temps, but the competition is about to get blistering hot.
We're sorry, there seems to be an issue playing this video. Please refresh the page or try again in a moment. If you continue to have issues, please contact us here.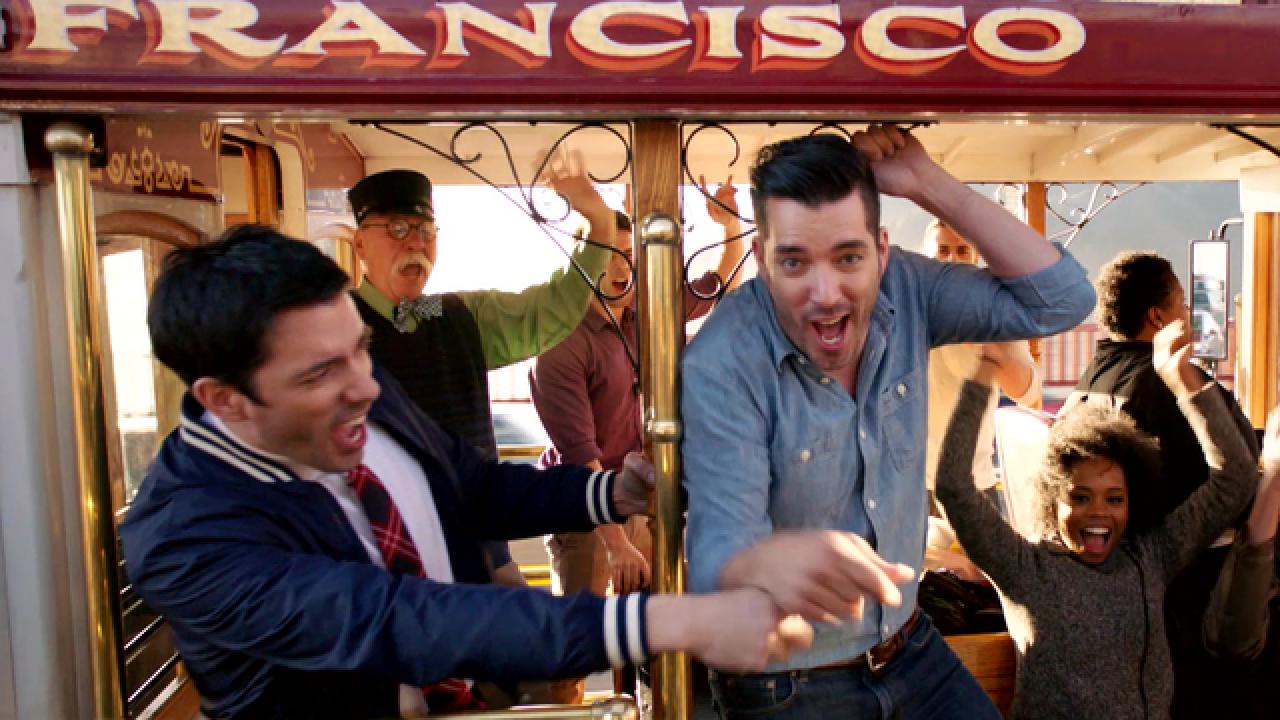 The whole thing kicks off with the Living Room Challenge on May 23 at 9|8c in an episode titled "San Francisco Bay Showdown". Tune in to witness the amazing Scott Bros. designs, and to see who makes that epic climb up the Lyon Street steps — as the winner looks on and jeers without mercy.