From Blank Slate to Stylish Abode
When new homeowners had no idea how to decorate an open layout living and dining area, designer Valerie Ruddy stepped in to save the day.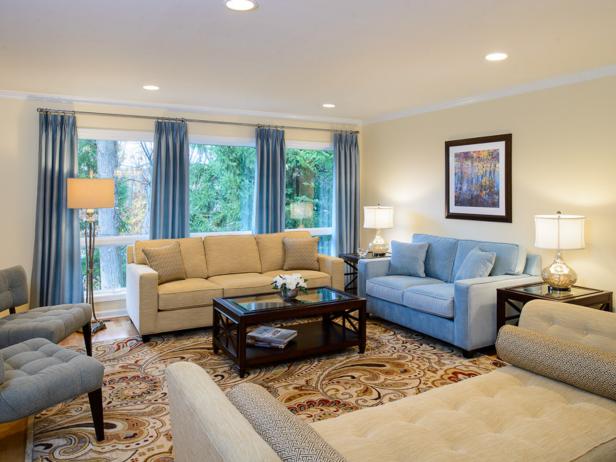 Neutral Living Room With Blue Accents
A palette of cream and blue sets the mood of this comfortable living space, with the large area rug unifying the style and forming a powerful anchor.
A couple had no clue how to furnish their open plan living/dining/foyer in the home they had recently purchased. Their wish list was an updated contemporary look that would provide enough room for their large gatherings. Designer Valerie Ruddy developed a plan that met both functional and aesthetic desires and also fit totally within their budget of $20,000.
Describe the homeowner's wish list.
The homeowners hoped to create an entryway, living and dining room in their open concept home. The homeowners entertain family and friends often and needed a versatile space that allows for individual activities, but will visually appear cohesive.
What was the biggest issue the design addressed?
The biggest issue was creating spaces that allow for many different scenarios – whether they are entertaining formally or casually. We also wanted to make the furnishings comfortable for small or large groups.
How did the end result match your original vision?
I have to say that this design went fairly smoothly. We had an issue getting the wall color right since this room gets sunlight from two sides of the house, and initially the colors we liked appeared too bright when there was full sun coming from the side of the home. We toned down the final selection and came up with great colors that the homeowners love.
Describe an obstacle in the space.
Since we needed to design and furnish three separate spaces, the budget was my biggest obstacle. We were able to come up with vendors that would allow us to accomplish a furniture, lighting, window treatment and accessory plan in a modest way, which still looked attractive.
What lessons did you learn from this project?
We knew going into this project that we would need to be careful with our budget. So, we are still in the process of completing one section of the space as we prioritized the process for the clients. They loved that we started with as a main plan and were able to stick with it over time with a great result. Every couple of months, the couple called, and we would get a few more things done. This worked out wonderfully, so that the clients were comfortable with the progression, and we kept to their price list.
What are the hidden gems that make a big difference?
The long center white bench with pillows, which straddles the dining and living areas, provides seating to both spaces when needed and subtly divides them at the same time. Benches are wonderfully versatile pieces that we use often for this reason and others.