Outdated Home Brought Back to Life
Designer Paula Grace Halewski worked closely with a couple of homeowners to bring their outdated home into their present-day style. Their home is now a showstopper full of color and personality.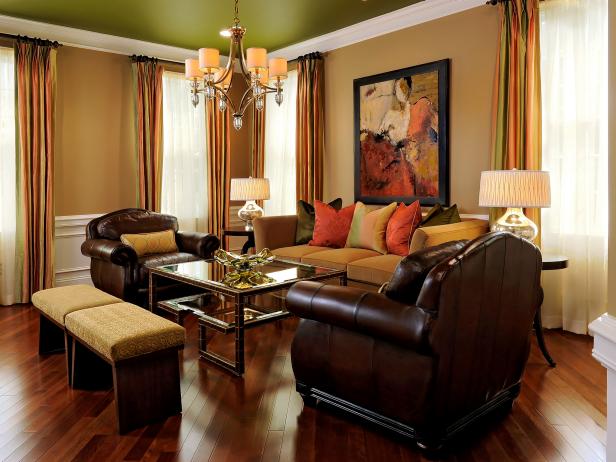 Colorful Ceiling Gives Alluring Detail to Living Room
Color infuses every corner of this living room, starting with the green ceiling and brown walls. A sofa covered with colorful throw pillows, a pair of leather armchairs and a pair of benches surround the glass-topped coffee table, creating an intimate sitting area.
What were the main items on the owners' wish list for remodeling/redesigning their home?
My clients felt their home didn't reflect them. The palette was not to their liking and they felt the style was outdated. They wanted color and grandeur, a space that reflected their sense of self and their success. They wanted a place to wow family and friends that was also comfortable and livable.
Homeowners might not realize what the true issues are in a space. What was the single-biggest issue you wanted to address for the owners and why?
The main issue for this lovely couple was that they played it safe with their previous designer and weren't happy with the results. Each time they worked with that designer to select items, they chose something familiar, something they grew up with or something they thought was "right" (like buying matching furniture sets). The end result was a style created out of their past, one completely familiar and completely boring. That style didn't reflect all they had accomplished and their true personalities. I wanted to portray their true selves and give them the color, grandeur and comfort they wanted. And that's exactly what we did.
What was your biggest obstacle in this space and how did you overcome it?
The first challenge was helping my clients envision what their home could be. We looked at completed rooms and individual furnishings and they'd tell me what they liked and didn't like, and how it made them feel. I showed them familiar rooms and pieces that were more in line with how they see themselves now. We then looked at rooms we were working on and defined how they wanted each space to function, feel and portray them. When we assessed the results from our exercises, we had a clear vision of what we were doing, and they were more open to taking risks. Another challenge was making their home unique to distinguish it from similar surrounding homes. I created many custom-designed pieces especially for them and their home.
Everything doesn't always go according to plan. How does the end result match up with your original vision for the space? What changed and why?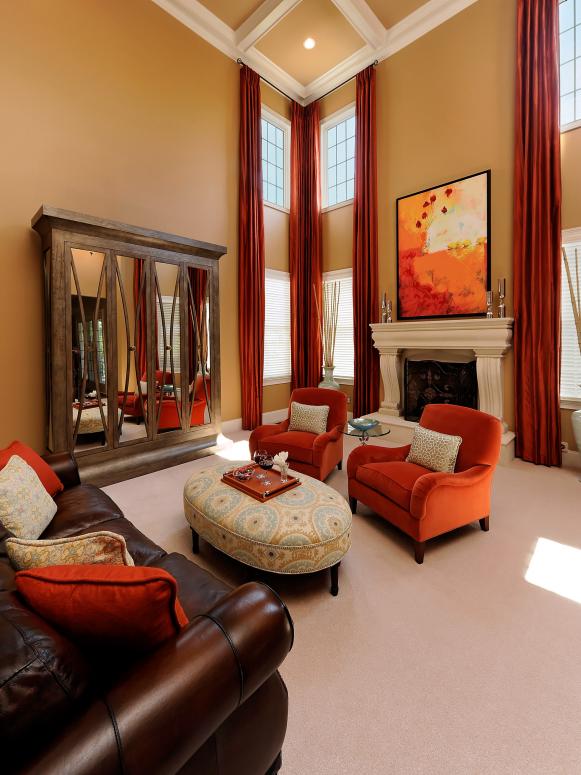 High Coffered Ceiling Stuns In Neutral Living Room
A coffered ceiling with white beams holds court over this two-story transitional living room. The room's dominant color is orange, as seen in the lengthy silk drapes, armchairs, artwork and throw pillows. The room offers plenty of seating and space for entertaining.
We actually ended up changing more than originally planned. The owners so enjoyed how their home was taking shape that they wanted to continue on that path. The existing two-story beige drapes in the family room were fairly new so we tried hard to keep them; however, the room didn't have that "wow" factor they were looking for. I told them to have the impact they wanted the drapes would need to be bolder. It scared them when I suggested two-story orange silk drapes, but they agreed. The gentleman of the home called and told me that when he first saw the new drapes, he had the exact feeling he wants people to have when they walk in the room. That made me smile.
What surprised you the most about this project and what lessons did you learn? How does that impact the way you'd approach a similar project going forward?
What surprised me the most was the numerous risks they took. We developed a strong trust. All of us are busy, and this project reinforced the value of slowing down and taking things step by step. Together we created their home, which they love, and that's what I enjoy doing: creating together.
Our readers love the small details. What are the "hidden gems" in your plan that really made a big difference in the overall success of your design?
These clients love the colors orange and green. As you look though the pictures, you can see that one or both of these colors is in each room. The trick is to not have the exact same color in all the rooms, but to distinguish each space. This helps with harmony: unity and diversity. Also, when working with a couple I have each take the lead in one main room. He took the lead in the living room; she in the dining room. This way each person feels truly represented in the home.