An Award-Winning Desert Oasis
This desert oasis, located in Tucson, AZ and designed by Elizabeth Przygoda-Montgomery, is an outdoor haven. This space was voted the overall winner of HGTV's Ultimate Outdoor Awards 2018 - and it's easy to see why.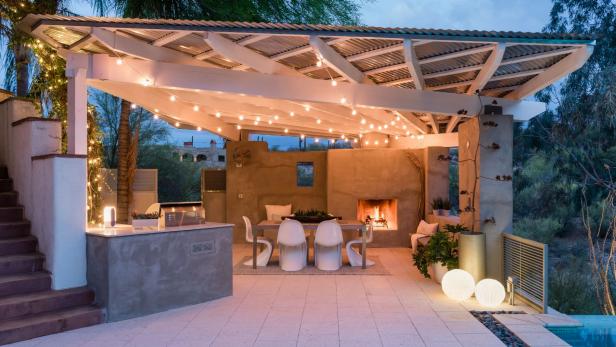 Bistro Lights, Fireplace Illuminate Outdoor Dining Space
At night, bistro lights and a working fireplace cast an enchanting glow across this chic dining space. With a table set for six, the owners and their guests can enjoy dinner al fresco and then head to the fire pit for drinks.
Whether you're looking to cool down by taking a dip in the pool, be shaded from the summer heat or enjoy the warmth of the fire on a cool desert night, this outdoor oasis truly has it all. Not only does this backyard include all the amenities you could desire, it also has vast Tucson, AZ views and native plants, that help embrace the nearby surroundings. Designer, Elizabeth Przygoda-Montgomery, principal of BOXHILL, created this space with intention and functionality in mind.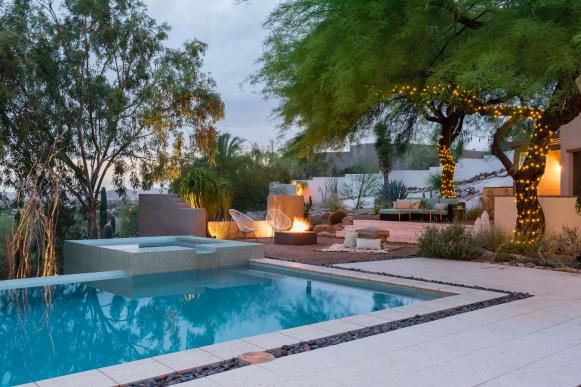 Modern Backyard Glows in the Evening
With twinkling string lights and a roaring fire pit, this modern backyard practically glows at sunset. In turn, visitors can make use of the space no matter what time of day.
While the overall design of this space is visually pleasing, it also includes intricate details working to meet the client's needs for optimal outdoor enjoyment in the varying desert climate.
Taking a closer look, the pavers seen surrounding the pool and covered patio area, are a light color, which helps keep the pool deck cool during the high temperature times of the day. The color and material does not absorb heat to the degree a dark color would, meaning no burning toes after a dip in the pool. Contrasting the light pool surround, are black Mexican Beach pebbles that outline the infinity look-alike pool.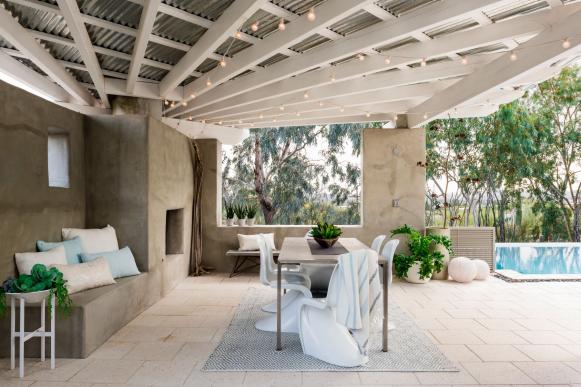 Covered Lounge Doubles as Cool Dining Area
With a corrugated metal roof and large cutouts, this outdoor lounge offers shelter from the afternoon sun and encourages cool breezes. Throw pillows and an area rug in soft, neutral hues help showcase the subtle texture of the structure itself: the brushed concrete, the beams radiating from the built-in fireplace and the unique pattern of the tile flooring.
Upon first glance, it appears the pool is infinity edge, but actually, the water does not flow over the side of the pool, unlike a negative edge pool.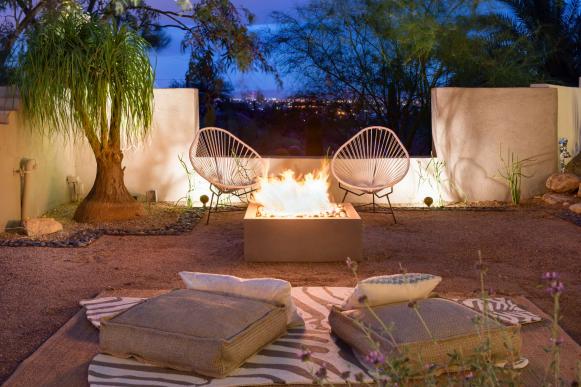 Notched Garden Wall Showcases City Skyline
Clean lines and low-level garden walls provide sweeping views of the desert and city skyline below. In turn, the backyard turns an everyday feature into a stunning visual display and so celebrates the local landscape.
Under the shade structure, you have a respite from the hot Tucson sun, while the firepit offers warmth during the chilly desert nights.
This backyard works both for day and night enjoyment and every detail has been thought out to create an outdoor space that is stylish and functional.
Elizabeth explains how you too can create a functional and appealing outdoor oasis, "create an outdoor space that gives people a reason to go there. Design your outdoor space like you would inside."
This coastal home, designed by Jennifer Mehditash, is a beautiful blue and white beachy escape. This home was voted the 2018 Faces of Design Awards overall winner and it's easy to see why.
Tasked with creating a new home on a tiny lot in a historic neighborhood under demanding architecture codes, Cavin and Claire Costello found creative uses for space and common materials. The result is an award-winning design that's caught the eye of many Phoenix homeowners, who now want some of the same features in their own houses.