Custom Home Blends Natural Inspiration With Industrial Style
A couple with a love of outdoors and career rooted in the steel industry turn to Carrie Maniaci to create their custom dream home. The Dallas designer delivers with a design that blends natural inspiration with industrial elements and touches of fun.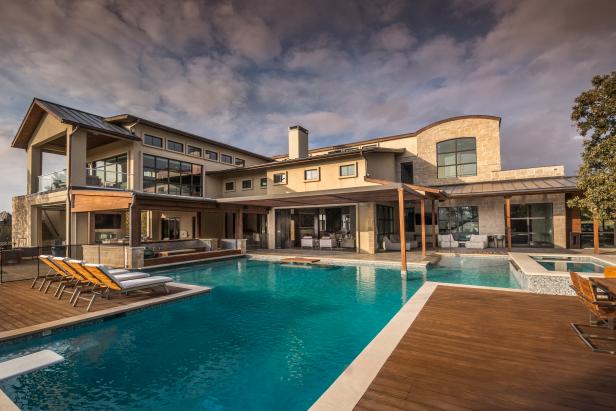 Contemporary Home Boasts Large Outdoor Space
This outdoor oasis is complete with a dining, living and kitchen area all conveniently placed right next to the pool. A pair of nano walls open up to the backyard to extend the indoor living area.
Designer Carrie Maniaci's clients knew they wanted their custom-designed home to reflect their love of nature. What the couple ended up with was something that incorporated even more of their life story.
They loved everything that went with nature. We kept the wood, a lot of natural stone and a lot of glass, so it kind of blurred the lines of indoor and outdoor living.
Interior Designer Carrie Maniaci
The Dallas designer infused industrial elements into the natural design to honor the husband's career in the steel industry and managed to suprise the couple, who was expecting a new baby, with a secret nursery design that revealed their child's gender.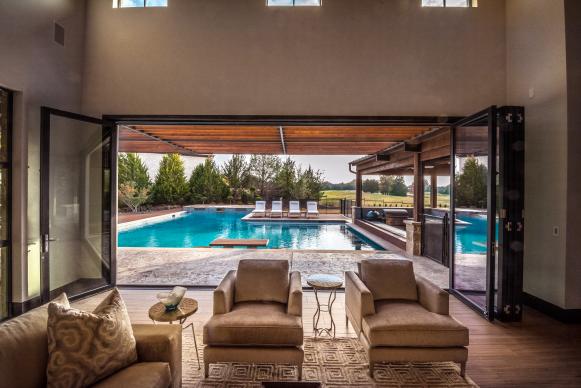 Contemporary Living Room with Glass Walls
A pair of glass nano walls open up the living room to expand to the outdoor entertaining area. An easy transition between spaces is perfect for entertain and helps connect the interior with the outdoors.
The connection to the outdoors went beyond reflecting it in the interiors. Maniaci created an outdoor oasis that transitioned easily into the living room thanks to a retractable glass wall.
"Not only does it feel like it expands your square footage, but it's just easy entertaining," Maniaci says. Opening up the back wall leads directly to the pool area for a seamless transition between spaces.
Making the rooms flow as easily as the outdoor spaces was a matter of keeping the design simple. Each space is open to the next, connected by the repetition of wood and steel elements.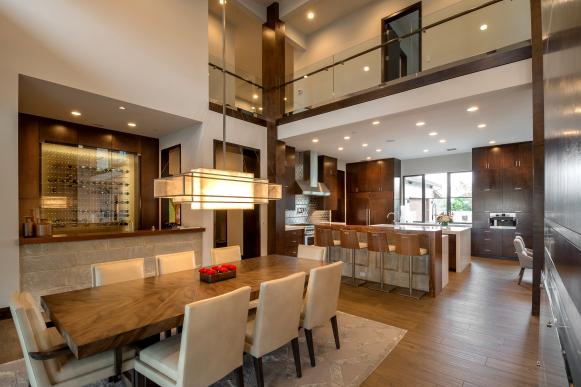 Great Room with Italian Dining Table
An open great room with lots of space for entertaining was important to this homeowner, so to tie the space together designer Carrie Maniaci focused on wood elements with stainless steel accents. The Italian Olive Ash dining table makes a perfect center piece and is like a work of art.
Maniaci limited clutter and chose specific fixtures, furniture or fabric to stand out in each room. "We didn't want a lot of clutter in the house," she says. "We wanted significant pieces so even though the colors flowed and the feel felt the same, I tried to make every room feel like it had it's own designated focal point."
Maniaci's favorite focal point is the Italian olive ash table in the dining room, which she describes as "a piece of art."
Where things deviated from the natural-meets-industrial plan was in the children's rooms. She took simple concepts and turned them into one-of-a-kind bedrooms with themes of a birch forest and a race track. She made sure to choose fabrics and colors that stood out while also maintaining an easy-to-clean space that's often important for kids.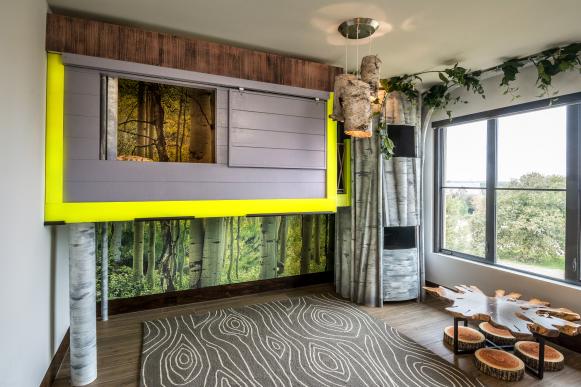 Birch Forest Inspired Kids Room
"We wanted something that would be fun for the kids and spark their imagination," said interior designer Carrie Maniaci about this birch forest bedroom. Custom murals and materials make this room come alive while the custom built bunk bed really sets this space apart.
"We wanted something that would be fun for the kids and spark their imagination," Maniaci says.
Maniaci's own imagination was sparked with the nursery design. During the build the couple found out they were pregnant with baby number three. Without looking at it first, the couple provided the sonogram to Maniaci, who was tasked with keeping the nursery design — and the baby's gender — a secret.
She showed the couple a design concept for a girl and another for a boy, and that was the last they saw until the day they brought home their daughter.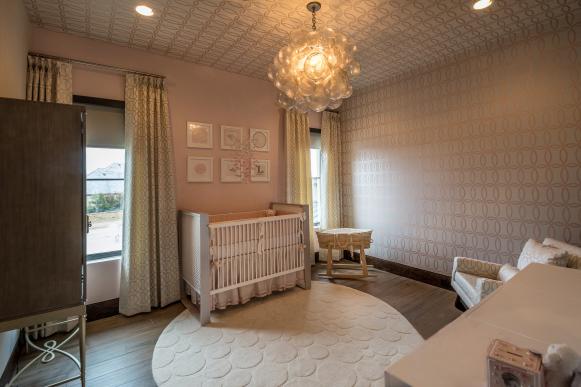 Contemporary Soft Pink Nursery
An ultra feminine nursery for the little girl of the house was very important for designer Carrie Maniaci. She kept things streamlined and simple, putting real emphasis on what was around the room.
"I would get excited and want to show (the wife) something, but I had to keep it to myself," Maniaci says."When she came home and saw the nursery she cried," Maniaci says. "She just thought it was the prettiest room in the whole house."
Maniaci found other ways to add fun into the home's design, such as a nook with a golf simulator. It has its own little alcove in the house that opens right up to the bar and game room upstairs, perfect for entertaining.
"The whole project took it's own turn," Maniaci says. "It just created itself, and one idea kind of sparked the next idea when we saw how everything was coming along."