Trending Toward Urban Living
A growing migration out of the suburbs is leading to higher demand for urban properties.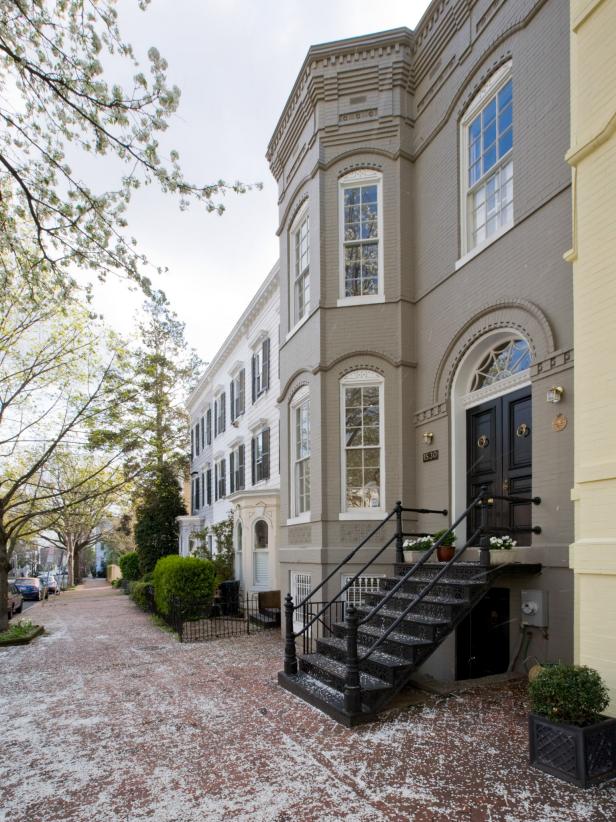 Classic Townhouse With Transitional Interior
Located in Georgetown, this D.C. home gives off a traditional townhouse vibe from the outside, but the inside features a newly-redone transitional design, which incorporates modern style with classic design elements.
The quintessential American dream used to include a suburban house with big yard, but homebuyers are increasingly dreaming of a walkable urban lifestyle along with their dog and two kids.
Flight from urban areas began after World War II, when thousands of returning soldiers and their young families needed inexpensive housing. In Leviitown, an early Long Island, N.Y., suburb, developers built more than 17,000 virtually identical Cape Cods. The development served as a model for later 'burbs, and the middle class migration out of the city continued until a peak in the 1980s.
A decade ago, downtown dwellers were rare outside metropolitan hubs like Philadelphia, New York and Chicago. Today, even in a struggling real estate market, property values are high for downtown listings -- and so is buyer demand.
"The housing market collapse really hasn't impacted Denver urban buyers. Inventory is low, and lots of buyers are sitting on the sidelines waiting for a property," says John Skrabec, owner of Live Urban Real Estate in Denver, Colo. "If a downtown home is priced right and shows well, it sells quickly."
So what's driving buyers towards the city? Changing demographics are part of the puzzle. The children of the first generation of suburbanites are now aging empty-nesters, and they're increasingly trading in their plot of land in the suburbs for sleek downtown condos. The birth rate dropped by almost 50 percent between 1950 and 2000, so there are fewer families with children to fill the spots in suburbia.
Rising fuel costs are another major factor. After payments on mortgages or rent, owning and driving vehicles is the second-biggest expense for most households.
Housing costs tend to fall as you move further from urban employment centers, but transportation costs rise. Once you reach a certain distance, typically 12 to 15 miles from the city center, the increase in transportation costs outweigh the housing savings, according to a report from the Center for Neighborhood Technology. As fuel costs rise, living in the suburbs gets more and more costly.
Living in a walkable area with access to public transit also decreases the total number of miles you drive per year. According to the Housing and Transportation Index, an average downtown dweller in Boston's Roxbury neighborhood drives average 7,000 miles per year. Though Dedham, Mass. is still in "greater Boston," drivers there log almost three times as many miles on the odometer -- an average of 20,500 per year. Urban living can save you thousands of dollars per year in fuel costs and vehicle maintenance.
The price difference makes the old real estate adage "drive till you qualify" seem as "outdated as buying a gas-guzzling SUV," quipped a recent article from the Congress on New Urbansim. In a June 2008 Coldwell Banker survey, 78 percent of sales associates said that rising gas prices are increasing their clients' desire to live in an urban setting. The agents also said clients had increased interest in walkable communities with access to public transit.
For the same reasons -- walkability, shorter commutes and access to amenities -- new urbanist towns and mixed-use suburban developments are becoming another attractive option for buyers. Throughout the United States, small neighborhoods that combine residential, retail, cultural and educational spaces, like Kentlands, Md.; Celebration, Fla. and Stapleton, Colo. are gaining in popularity.
"If gasoline and heating costs continue to rise, conventional suburban living may not be much of a bargain in the future, said Christopher B. Leinberger, an urban land use expert and real estate developer, in a recent article in The Atlantic Monthly. "And as more Americans, particularly affluent Americans, move into urban communities, families may find that some of the suburbs' other big advantages -- better schools and safer communities -- have eroded."
Over the next 20 years, developers will likely produce many millions of new and renovated townhouses, condos and small-lot houses -- as well as modify current large-lot suburbs -- to meet changing demands.