11 Tips For Hiring Good Contractors (And Avoiding Bad Ones)
Veteran contractor Skip Bedell, star of the TV show Catch a Contractor, offers insider advice for picking the right contractor for your home renovation.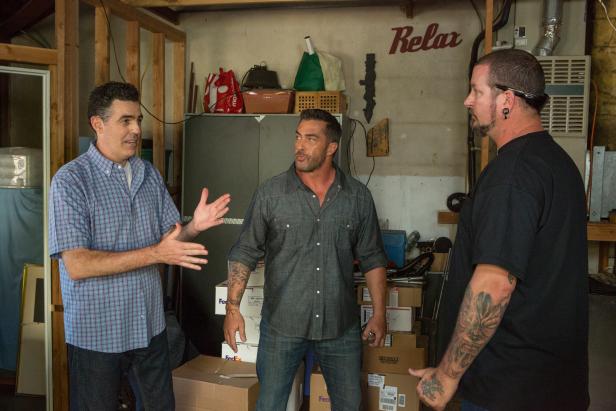 Contractor Skip Bedell in Catch a Contractor
Skip Bedell, center, is a contractor based on Long Island, N.Y. With his co-star Adam Carolla (left), he tracks down bad contractors in the television show Catch a Contractor.
Renovations are stressful events when things go right, so imagine how it must feel when things go horribly wrong — specifically, if your contractor turns out to be a bad apple. That's the premise of the new TV show Catch a Contractor. In the show, which airs on Spike TV, Adam Carolla (who was a contractor before he was an entertainer) and veteran contractor Skip Bedell track down bad contractors and confront them about their shoddy work. The offenses include everything from leaky roofs to half-finished projects.
We spoke with Bedell, who runs Big Dog Building and Remodeling in Long Island, N.Y., for tips on hiring a good contractor and avoiding the bad ones. Catch a Contractor airs Sunday nights at 10 p.m.

1) Don't automatically pick the cheapest estimate
"I think it's really important that people get a few estimates, but don't go with the cheapest one necessarily. When you're dealing with an estimate that's substantially lower than some of the other estimates that you're getting, there's usually a good reason why. The materials are going to be pretty close from contractor to contractor because it takes 'X' amount of lumber and accessories and so forth to get the job done. But where a lot of guys cut corners is in the labor, and if you're dealing with a low-cost contractor you're probably going to wind up getting low-cost labor, which means they might be using a lot of day laborers rather than full-time employees or qualified tradesmen."

2) Make sure they're licensed and insured
"If they're not licensed and not insured, you don't want them in your house. Period. End of story. The license is a huge help in that if you have a problem later on, you can go to the licensing agency and get assistance in filing any complaints. They will send out an inspector and see what the problem is and enforce the fact that the contractor needs to get it done right. If you don't have a licensed person in your home, you don't have a leg to stand on."

3) Pick contractors who know their crew well
"There are guys out there that call themselves professionals that actually pick up their workers every day on the corner. You want to make sure the company is using qualified carpenters, licensed and bonded plumbers, electricians — all the proper people. … Also, if they use subcontractors, you want to ask if they have established relationships with these people. How long have they been working with them? You want to make sure that he's using people that he's worked with a long time, that he has faith in and relies on, because the bottom line is you're only as good as the people that you send out on the job."
4) Ask for referrals — and call them
"Just like in real estate they say 'location, location, location,' in this business it's all about referrals, referrals, referrals. You have to get referrals for the type of work that you're looking to have done. Get as many as they'll provide. Then once you have that list of referrals, call them. I speak to people that say, 'I got a couple referrals, but the guy seemed like he really knew what he was talking about, so I didn't actually go and speak to any of the referrals.' Call them. Pick up the phone, ask them a lot of questions, and if possible go and see [the completed work]. I've found that if people are really proud of the job that was done on their house, most of the time they don't mind letting other people come by and see it."

5) Get a detailed written estimate
"Before you decide on a contractor, make sure you get a written estimate. A written estimate is huge. You want to have as descriptive an estimate as possible, listing every aspect of the work: the materials, the labor, price. And if you can get them to break down the price, that's great. A lot of contractors won't do that. A lot of contractors give you one blanket price for everything. It's not necessarily a bad thing, but it's nice if you can have it broken down because this way you can see what the materials and the labor are going to cost and you can use that to measure against other estimates that you may have."

6) Don't pay more than 10% or $1,000 upfront
"You should not ever pay more than 10% or a thousand dollars for your initial payment. If someone is asking you for a huge chunk of money before they've done any work at all, that can raise a red flag. There are certain jobs that require a lot of outlay in the beginning because they may require high-end specialty stuff that has to be special ordered. In those cases, the contract would have to lay out what those costs are going to be."

7) Make sure the contract has a payment schedule
"It's important that your contract have a clear payment schedule. This is really, really important. One of the biggest problems I see is disputes over money. Typically it's the money that they've paid out against the amount of work that's been done. 'I gave you 60% of the money but the job is not even 10% done.' In order to eliminate any problems like that, get a very clear payment schedule that lists exactly what's going to be done at each payment. Essentially you're going to be making payments based upon the progress of the work. 'We're going to take the 10% deposit upfront, then we're going to start the work. Upon completion of the framing we're going to take another 10% payment. Upon completion of insulation and drywall we're going to take another 15% payment.' And so on and so forth."
8) Get a clear start date and projected completion date
"You want to have a clear start date and an estimated completion date. This is hugely important, because another big problem that people run into is when a contractor says it's going to take two weeks to do your job and six months later he's still there because he only came one day a week. A lot of times jobs do take longer than they think, so in the contract or in your conversation with a contractor, get a clear understanding of how they plan to handle delays."

9) Look for the three-day cancellation clause
"Make sure you have a three-day cancellation clause in the contract. Most states that I know of have what they call a three-day 'right to rescind.' That gives you time to read through your contract, so if you find something that you don't like in the small print, you have three days to cancel the contract and get your deposit back. If you have a contract that doesn't have that in there, that's a problem."

10) Make sure the contractor secures your house
"Ask them very specific questions regarding how they plan to secure your house: What do you do to make sure there's not going to be air quality problems? What do you do to secure the dust? What do you do to protect the furnishings, floors and walls? What do you do to protect my children? You're going to have 10 guys coming in and out of the door a hundred times during the course of each day. What do you do to make sure that the house is safe and secure for everyone in it? It's hugely important to know that they're going to take care of the house when you go off to work each day."

11) Expect daily updates
"The contractor should want to talk to you on a regular basis. If you have a job that's going on for a couple weeks, there's no reason you shouldn't speak to each other each day and get a quick summary. It only takes five minutes. It's important that those lines of communication stay open and that the contractor wants to keep you abreast of everything that's happening and any changes or problems that might've occurred."