Revolutionize your small kitchen functionality and style to achieve optimal efficiency in a tiny kitchen with a makeover to the layout, decor and storage, without cramping your style.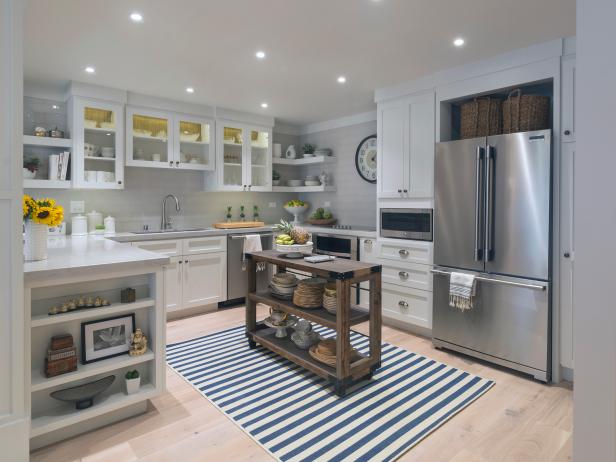 Small Kitchen Space with Plenty of Storage Options
A place for everything and everything in its place is the design motto of this elegant country kitchen. With lower cabinets on three sides of the space, upper cabinets scattered throughout and a rustic, storage island, this small kitchen has plenty of storage space to keep the homeowners organized.
It's not the size of the room, it's about making the right design choices with the square footage you have. In the case of a small kitchen makeover, use your space to create a new and improved cooking, dining and gathering center.
Small to major tweaks can go a long way to delivering a made-over kitchen with improved functionality and style. Consider creating a small kitchen makeover to-do list for reimagining your compact space.
Before diving into a kitchen makeover, establish the scope of your project. First, assess the layout of your small kitchen. Ask yourself whether the current room configuration is the most efficient use of space or if it could benefit from smarter planning to the tune of a galley-style floor plan or the addition of an eat-in kitchen nook. Know that transitioning to a narrow galley layout will likely call for a "musical chairs" of the kitchen's major appliances to improve upon the natural work flow. On the other hand, it's all about customization to fit an underused corner of your small kitchen with an L-shaped built-in bench.
After addressing the floor plan issue, consider the effectiveness of the kitchen's cabinetry for storage and style. Will raising the cabinets to the ceiling allow for more storage? If you decide yes, then you're consequently increasing the depth of your counter space and expanding room for a dramatic backsplash. For a cabinetry alternative, questions whether open shelves will create an air of spaciousness? If you take on this project, then you're increasing efficiency by placing essentials in plain sight; plus, it updates the room's aesthetic by displaying everyday dishes and glassware.
Ultimately, a kitchen makeover is often made up of a series of DIY weekend projects, which tend to be small tweaks that add up to a big difference in your small kitchen. These include updating the hardware, installing modern appliances and replacing or repositioning the faucet. A shiny chrome faucet cheers up a sink, while unique cabinet and drawer pulls can convey a sense of your personal style.
Your small kitchen makeover should also include slapping on a new coat of paint and refurbishing the window treatments, upholstery and rugs that will complement your color choice. Never underestimate the transformative power of paint! Whether you go for a soft tone-on-tone look or pair a neutral color with the pop of an accent shade, a new, lustrous paint job can instantly refresh a room. Although simple design elements help make small kitchens appear larger, it's also nice to introduce a small dose of color or pattern drama. This can be done through a Roman shade above the sink or by accent pillows on the eat-in banquette, thus connecting the look of the kitchen with that of the rest of the house.
More Small Kitchen Design Ideas
Inspiration for a Small Kitchen