Laundry Room Cabinet Ideas
Add storage and beauty to your laundry room with cabinets.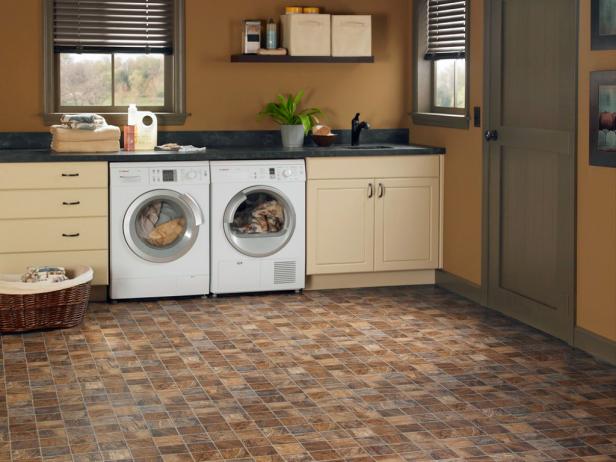 CI_Mannington-slate-laundry-room-flooring_4x3
"A laundry room or mudroom is going to get knocked around, so you want something strong," says Joseph Jovinelli, VP at FLOORMAX. But homeowners also want to keep things casual or rustic in there, too. The solution is slate-look porcelain, which, he says "looks almost indistinguishable" from natural stone, but is impervious to moisture. Given the vibration of the washing machine and dryer, Joseph says that extra care and attention need to be given to preparation and installation. Photo courtesy of Mannington
Few things will give a laundry room a finished look the way cabinets will. Laundry room cabinets can keep bottles of soap, fabric softener, household cleaners and other supplies out of sight. Cabinets are a particularly appealing option if your laundry room is part of a mudroom with an exterior door that is used as an entrance to your home on a regular basis.
In addition to adding storage capacity, cabinets can add beauty to your laundry room. You can find inexpensive stock models at the local home improvement store, or salvage a set from a thrift store. Some stores sell deeper cabinets manufactured specifically for laundry room use. Often, all it takes is some elbow grease to clean up and add a fresh coat of paint or stain to create a fresh new look for old cabinets.
If your budget allows, you can hire a contractor to build custom cabinets for you room. The contractor will tailor the cabinets to your family's needs and the dimensions of your room. You may opt for standard above-counter cabinets, or add a floor-to-ceiling cabinet to keep brooms, mops and other tall items out of view. Installing cabinets so they go all the way up the wall to the ceiling will maximize your space for storage. Store little-used items such as seasonal and holiday decorations up high, and keep a folding step stool handy when you need to reach them.
Although cabinets will certainly hide items from view, you may want to install at least one cabinet with a glass-front door. Setting a collection of vases, pitchers or other pottery pieces behind a glass-front cabinet can make a nice focal point in a room where decor is often overlooked.
Walls aren't the only spaces where cabinets can be used. A standalone cabinet, entertainment center, wardrobe or armoire can be repurposed to hold some of your laundry or cleaning supplies. You can also designate a cabinet or armoire as a center for sewing or crafts. Even a small floor cabinet can add to the aesthetics of your laundry room while providing necessary storage. And don't forget the area under your washer and dryer; a sturdy cabinet under appliances is a great way to add storage while elevating the appliances to make loading and unloading less taxing on your lower back. A sink with cabinets underneath will provide yet another place to keep cleaning supplies under wraps when not in use. You can also hide hampers in cabinets by using a wire mesh roll-out hamper that slides into your cabinet, or have a pull-out drawer custom built.
Other Ideas for Laundry Room Organization and Storage
Other Laundry Room Design Ideas