Great Colors to Paint a Bedroom
Finding the perfect paint colors for your bedroom will help you create a personal retreat you will love.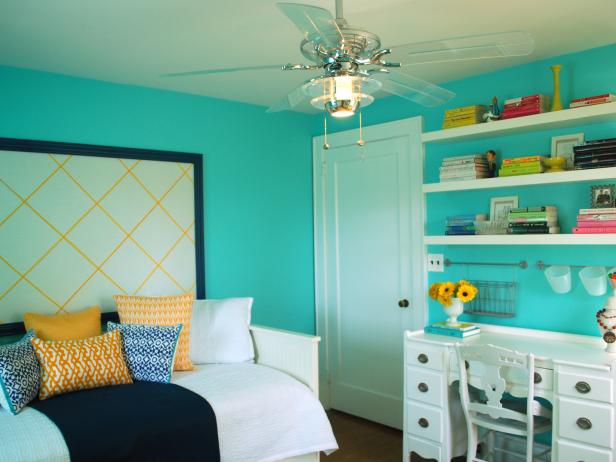 Original_Contrasting-Colors-Camila-Pavone-Bedroom-Office_4x3
Add even more interest to a room by picking one color and using it in a variety of hues. Each shade of blue, from navy to turquoise, in this bedroom works great with the yellow individually. Too many colors can often muddy a palette, but the contrasting yellow is the glue that holds them all together. Photo courtesy of Camila Pavone
Choosing great paint colors for your bedroom can seem overwhelming, if you're unsure where to start. But if you keep a few guidelines in mind, the process can be fun.
First, some basics you'll want to consider: Do you want to go light and airy, or dark and cozy? Do you prefer solid hues on your walls, or paint with some type of pattern? Stripes, stencil patterns, sponge painting and textures can add a touch of style to any bedroom. Consider a colorful mural in a child's room for a personal touch. Smaller patterns lend themselves to a more traditional look, while larger patterns and geometric shapes, bold stripes and sweeps are more compatible with a contemporary look.
Whether you're choosing paint for your bedroom or a family member's room, consider the occupant's age. For a room in which adults will sleep, neutral shades are popular, but don't be afraid of color. Rich reds and warm browns can create a sultry and romantic mood, while gold tones can add a touch of luxury. Consider an accent wall, such as the wall behind the bed's headboard, in a bright or dark color if you feel timid about adding too much color. If you love cheery shades of yellow or orange, try painting in a muted shade of that color.
Bright reds and oranges may not be the best colors for adults seeking a space to unwind in the evenings, but if one of those hues is your child's favorite, go for it. Touches of a bright shade will turn your bedroom into a cheery space.
The same goes for purple, a favorite of teen and tween girls: that color stimulates brain activity, so it's a good choice if your child studies in their room. A child's bedroom is a great place to stray from traditional colors, so let your child use his or her creativity to create their perfect space.
For a tranquil, spa-like space, soft neutrals with touches of warm brown and cool, soothing blues are good choices. Soft green hues can also create a calming effect. White can also create a soothing atmosphere; pair it with soft shades and neutrals or, for a contemporary looks that pops, bright or black accents. Lighter shades and pastels can also help a small room feel larger and more airy. Also consider your ceiling. Some interior designers recommend ordering your ceiling paint with about half the colorant of your wall paint for a soothing, coordinated look.
Other Bedroom Paint Color Ideas
Get More Ideas for Bedrooms