7 Ways to Make Your Bedroom Feel Like a Boutique Hotel
You'll never have to check out of this hotel room.
There are few things in life that feel quite as indulgent as staying at a luxe boutique hotel. Somehow those hotel beds always manage to feel like a fluffy cloud and the sheets feel as soft as spun silk. And don't even get me started on the bathrobes.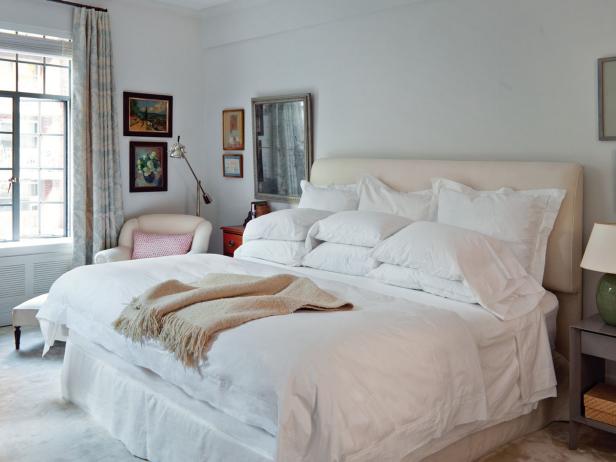 Transitional Master Bedroom With Luxe Bed
A contemporary upholstered bed with lots of pillows looks right at home amid lush curtains and soft white linens in this inviting master bedroom.
But you don't have to spend hundreds of dollars or hop on a plane to experience the magic of your favorite hotel room. There are a few easy things you can do to recreate the same luxurious vibe in your own bedroom...and it all starts with the sheets.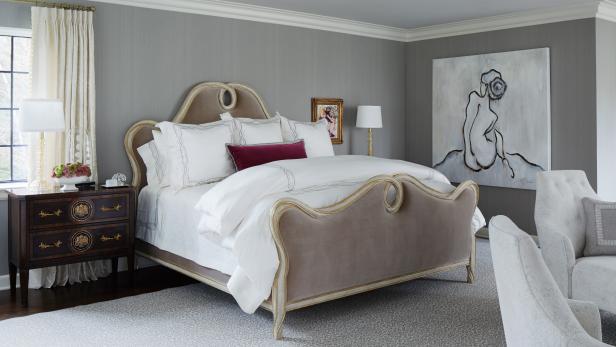 Gold Encrusted Master Bed
Trying to find a bed that was a centerpiece without being overwhelming was a challenge but designer Kim Scodro was able to settle on this 24k gold encrusted bed. Subtle hints of gold give it enough sheen to call the eye without being over the top.
The easiest way to snazz up your bedroom is to outfit your bed with a gorgeous set of sheets. To keep the hotel room look, go for a crisp, white set of sheets that are at least 300 thread count. Hotel rooms tend to use sateen or percale sheets, but you should choose the material that feels most comfortable to you.
If you want to splurge, you can have your sheets professionally laundered, so they come home nice and pressed. And if you find a brand of linens that you truly love, consider purchasing two or three sets so you always have them on hand.
You'll notice that almost all hotel rooms have lamps or sconces on either side of the bed. This always helps pull the room together visually and also allows you to turn off the overhead light and create a warm and cozy mood in your space. Sconces tend to look better in matched pairs, but lamps can easily be mixed and matched.
If you already have lamps or sconces but don't feel like the lighting is quite right, try lower wattage or even a soft color like pink.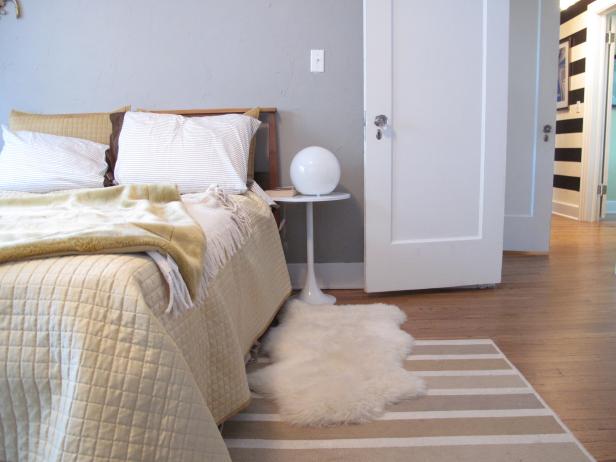 Layered Rugs in a Contemporary Bedroom
Layered rugs, a hallmark of contemporary design, are a stylish touch in this serene bedroom. The small tulip table tucked beside the bed is a modern accent, in addition to the white globe light. Neutral bed linens and pale gray walls keep the look understated yet inviting.
The perfect soft, fluffy rug might even make you forget that you don't yet have the sheets you've been coveting or the perfect lighting setup. If you find a small rug that you love, like sheepskin, you could buy a few and place them around each of the three sides of your bed. Remember that you will usually be standing on this rug with bare feet, so the softer (and the fluffier!), the better.
Luxury hotels spend a lot of time thinking through the pillow combinations on their beds. Oftentimes you'll see large, square pillows, or Euro pillows, anchoring the back of your hotel bed. They offer visual impact but are functional, too.
These pillows are the ones I always grab when I want to zone out in bed and watch a movie or get lost in a book. They let you lean back and get super comfy without having to lay down in bed. While they do require specially-sized pillowcases, they do an amazing job of helping make your bed look (and feel!) super luxe, so they're worth a bit of extra effort.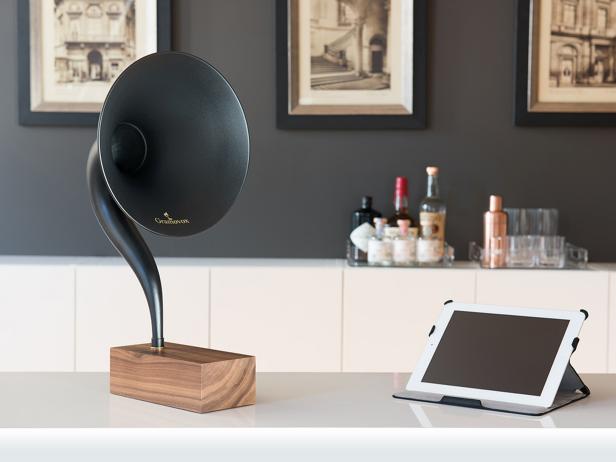 Gramovox Bluetooth Gramophone
The Gramovox Bluetooth Gramophone has a sleek design, yet with a vintage sound even great-aunt Sylvie would approve of. The Bluetooth 4.0-enabled speaker has a range of 30 feet and a battery life of 15 hours, so if you Lindy Hop across the room, you can still control the music.
Another great way to up the luxe factor in your bedroom is to add a wireless speaker. This is also a good option if you don't have a TV (or want to ditch your TV). These speakers sync up with your phone or computer and allow you to listen to music, podcasts or even books.
Trick Out Your Bedside Table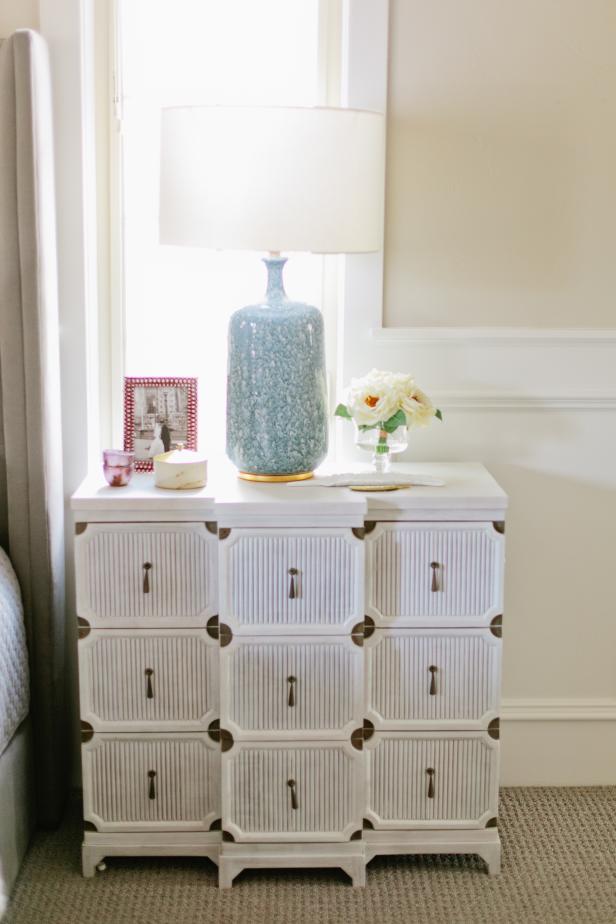 Unique Nightstand in Master Retreat
A unique nightstand adds character and dimension to this bedside space. Atop, muted pops of color bring a lively feel to the space with the natural light illuminating each feature.
Hotels always have ample room to keep all of your stuff handy, especially on the bedside table. If you're lucky enough to have room for a bedside table, set it up in a way that works for you and helps bring the most luxe into your life.
If you love creams and lotions, keep your favorite hand cream nearby so you can always grab it, and if you love to read, keep a stack of your favorite books or magazines on hand along with a special reading light. Having the things you love most nearby will always make your bedroom feel like a special spot.
For a truly luxe indulgence, get yourself a plush bathrobe. If you have a favorite from a particular hotel, you can often purchase it directly from the hotel and have it charged to your room (or if you're still lusting after a robe from a previous trip, call the hotel to see if they can send you one). This sort of a splurge will help you bring that same vacation vibe home and will keep the memories alive from your special trip.