7 Updated Entertainment Centers for Displaying More Than Just Your TV
Entertainment centers have been getting more minimalistic in the past few years, but what if you have things to display? Check out these seven wall units that help you store your stuff in style.
I spend a lot of time watching live sports on TV, so pro football's championship weekend always gets me focused on one piece of furniture in particular: the entertainment center. While I like the clean look of my basic television console, I've been itching for something a little larger on which to display books and family photos. But I don't want to end up with a big, heavy wall unit reminiscent of what my parents had in the '90s. That's why I love these entertainment centers that provide extra space for display and storage while maintaining a clean look.
Living Room With Industrial Reclaimed Wood Cabinets
This sleek living room solves any storage problems with the ingenious addition of built-in cabinets surrounding the wall-mounted flatscreen. The mix of open and closed shelving gives places both to hide clutter and display attractive accessories.
This rustic entertainment center with industrial touches by FLO Design Studio uses a few tricks to keep it from weighing down the room. Pipe pieces act as feet to the unit, and the clearance between the cabinetry and the floor offer a lightness to the look. The open shelves appear to float against the wall, and the unit is made from light-toned reclaimed wood.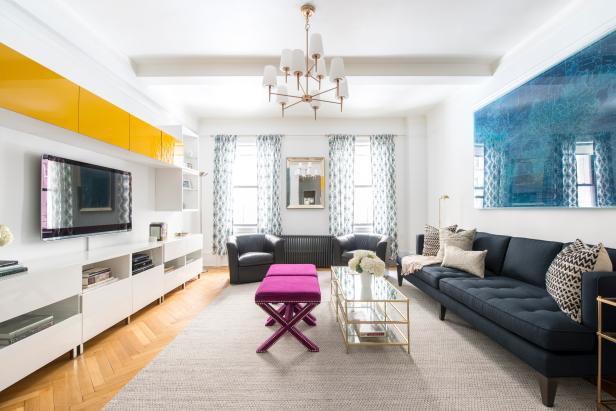 Contemporary Living Room Boasts Balanced Design
This living room is a study in balance. Bold blue artwork on the back wall counterbalances the vibrant yellow cabinets on the opposite wall, and matching windows, curtains and chairs create pleasing symmetry at the far end of the space.
Sammy Goh, for Homepolish
Justin DiPiero kept things crisp and clean by sticking with a minimalist console – and then added two more just like it along with overhead cabinetry and two shelf units to create a modular system that looks more like built-in contemporary cabinetry. Modular units, like what you might find at IKEA, are great for mixing-and-matching to create a custom look.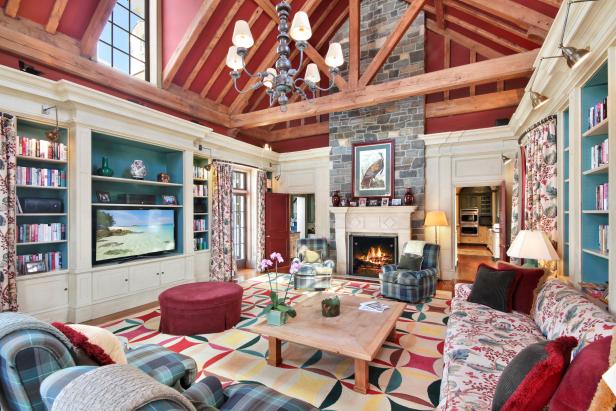 Living Room: Georgian Mansion in Chappaqua, New York
The large living room combines very different colors and patterns with natural wood and stone details for a look that's at once both rustic and refined. Sky-high ceilings help bring an open quality to the space.
Houlihan Lawrence, a member of Luxury Portfolio International
This built-in wall unit might feel a little more traditional, but the color scheme gives it an updated look. The crisp white molding isn't exclusive to the wall unit; it wraps around the perimeter of the room for a completely custom look. The contrast of the teal painted on the inside adds a fun, contemporary look to the space and allows the book collection to pop.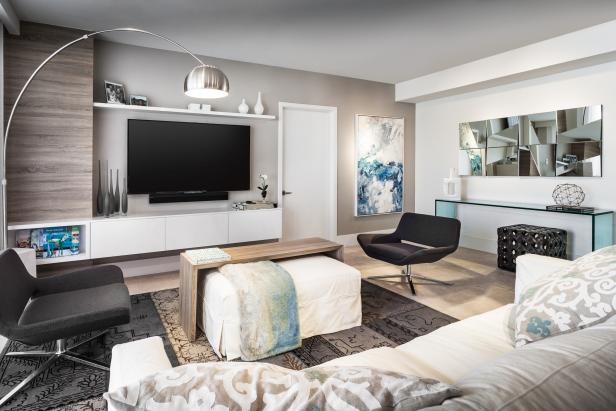 Gray Contemporary Living Room With Arc Lamp
This sophisticated living room uses the graceful curve of an arc lamp and armchairs with rounded edges to soften its crisp, clean vertical and horizontal lines. Surrounded by white and pale gray, the black of the television becomes a striking visual statement.
If you've got a basic TV console, you may not need to completely replace it to gain more display space. 2id Interiors shows how a simple floating shelf above the television provides a simple solution to the need for more display real estate.
Wall units can work in small spaces, too. The mix-and-match option works best in tighter areas as it allows you to create a setup that best suits the available space. The key to keeping an entertainment center from overwhelming a small room is to include as much visual space as possible, which Fraley and Co. does well in this family room with floating shelves.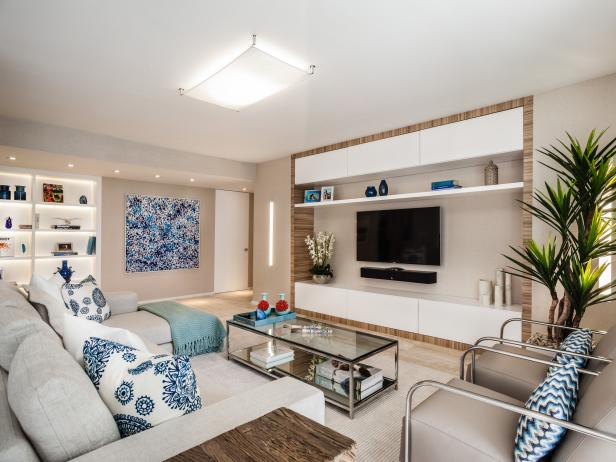 Neutral Contemporary Living Room With Media Center
Set back into the wall, this living room's built-in entertainment center features soft neutral colors and simple lines. Closed cabinets and open shelves offer a wide variety of storage and display possibilities.
If you've got the budget to accommodate a custom solution, might I suggest a built-in entertainment niche? I love how 2id Interiors trimmed this niche in exotic wood and then added simple white cabinets and a shelf. With this treatment, the TV and sound bar almost feel like works of art!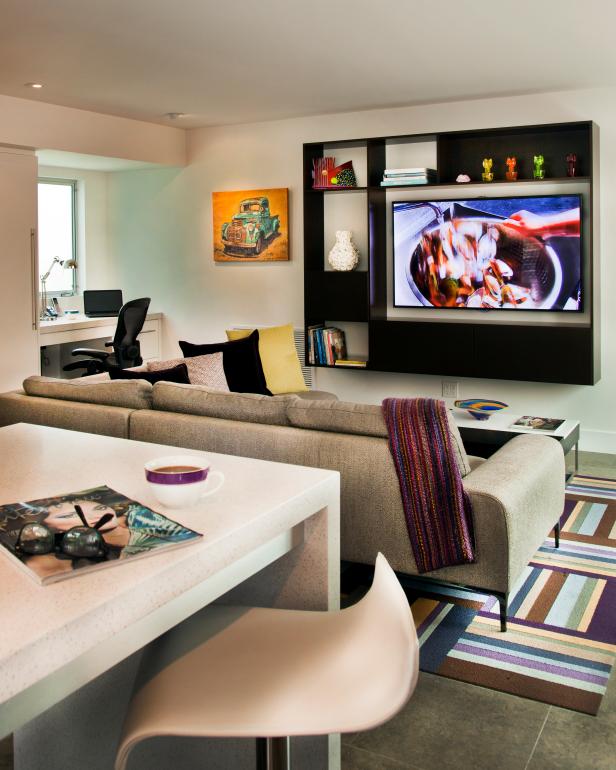 Contemporary Neutral Living Room With Striped Rug
Contemporary, neutral furnishings are the ideal backdrop for these homeowners' eclectic and colorful art collection. The rug and throw help pull the colors out into the center of the living room.
Another good way to accommodate a larger entertainment center in a smaller space? Hang it! Bill Bocken anchored this sleek unit to the wall to keep the floor space open and create a frame around the TV at optimal viewing height.