Spin Control: Make a Spiral Planter
Quick and easy steps for making a striking vortex-planter.
Potted plants are a great addition to any patio. From a design perspective they add color and texture. They bring the beauty of nature a little closer and often times create the transition from your home to your backyard.
In order to create some interest in terms of size and shape it is best to choose a variety of planters and heights. If the planters you love don't have enough height here is the perfect solution for you.
This spiral planter not only gives your plants a lift, but the reed material adds another textural and natural element.

You will need:
• Wide pot
• Reed fencing (bamboo would work, too)
• Gravel or other drainage material
• Potting soil (about twice what you would usually need to fill the pot)
• Tape measure
• Painter's tape
• Wire cutters
• Utility scissors
• Plants
The Latest From Our Blogs
Catch up on the latest HGTV show and design news right here.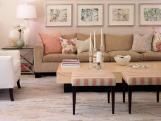 Found a living space you love in HGTV's Photo Library? Get the look in your own home with products from Wayfair.