Now Viewing
Our Favorite Designer Bathrooms
Before you start your bathroom remodeling project, get inspired by our favorite new spaces from top designers.
Keep in mind: Price and stock could change after publish date, and we may make money from these affiliate links.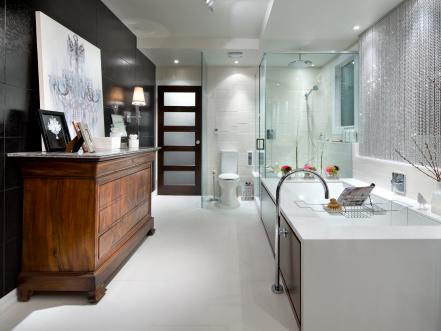 BBP
A Touch of History
To warm up this contemporary black-and-white space, designer
Candice Olson
added an antique storage hutch. A modern print of a classic chandelier further bridges the old and new.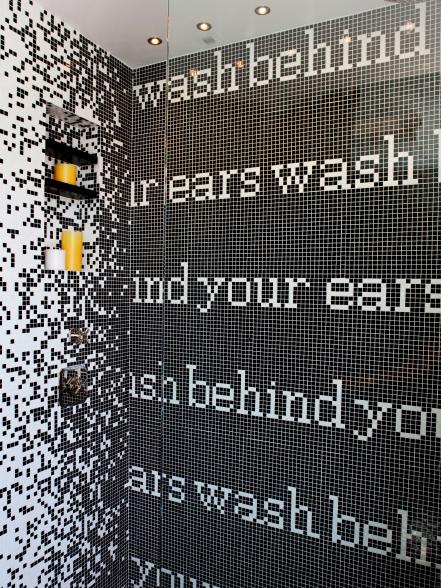 Old Meets New
The design team at
De Meza Architecture
wanted to combine traditional and modern elements in this 1920s-era bathroom. Designers Gregg De Meza, Jennifer Gustafson and Michelle Nelson nodded to tradition with black-and-white tile, but updated the look with a glass tile mosaic that features a whimsical message in pixilated type.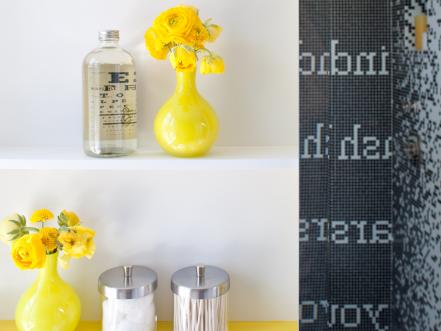 Bursts of Color
Small pops of citrine add visual interest to the classic black-and-white palette of this bathroom. This display shelving slides out of the way to reveal a medicine cabinet that houses bathroom essentials. Design by Gregg De Meza, Jennifer Gustafson and Michelle Nelson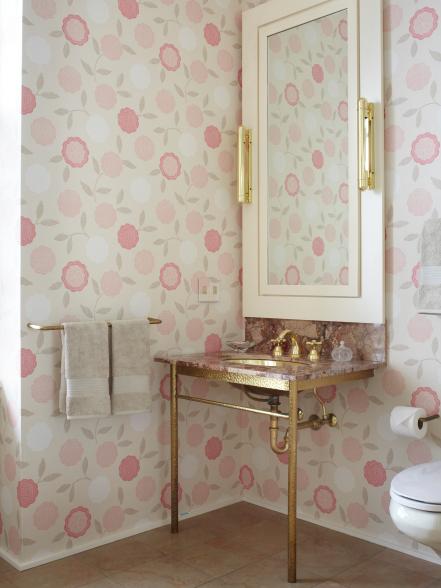 A Touch of Glitz
A washstand is a great choice in a bathroom where storage isn't an issue, like this feminine powder room. Designer Christina Stillwaugh of
Jessica Lagrange Interiors
combined the gold sink and sconces with a dramatic, large-scale wallpaper that celebrates the pink tones in the stone floor. Photo by Werner Straube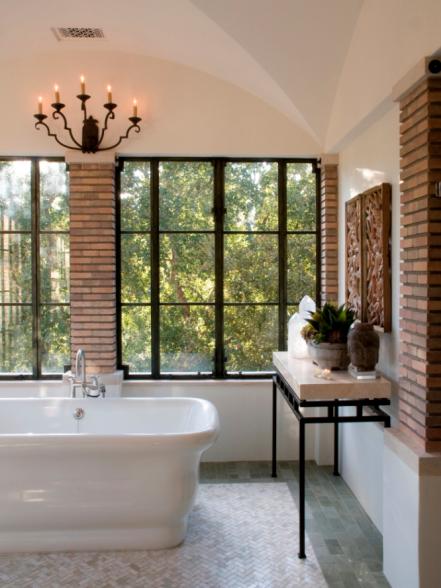 Fred Licht
A Room With a View
A neutral palette and minimal furnishings allow the architectural elements in this airy bathroom to shine, like the vaulted ceiling, herringbone tile and picture windows. Design by
SFA Architects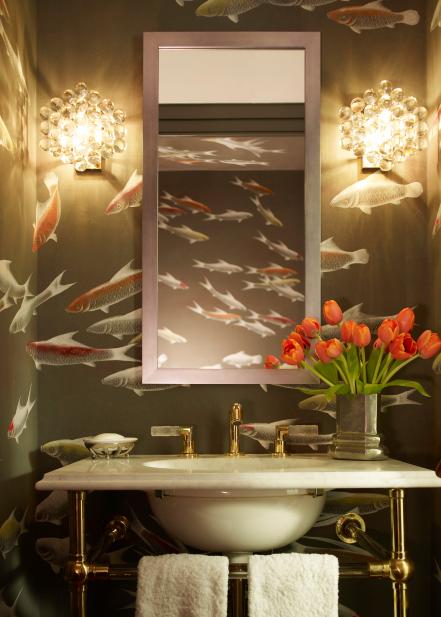 Water, Water, Everywhere
The walls of this California powder room are covered with hand-painted de Gournay wallpaper. The bubbly, Italian glass antique sconces and the frosted glass tap handles extend the watery theme of the fish wallpaper. Design by Katie Ridder; photo by Eric Paisecki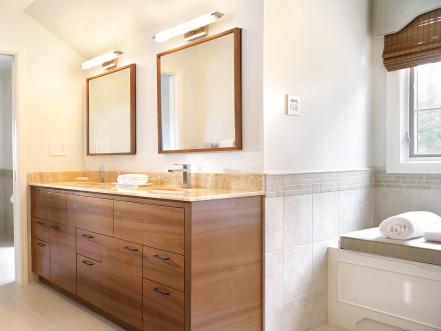 Natural Glow
This modern bathroom's custom walnut vanity features a lighted honey onyx countertop, designed to enhance the beauty of the stone's natural properties and to create an ambient glow. Design by Nancy Mikulich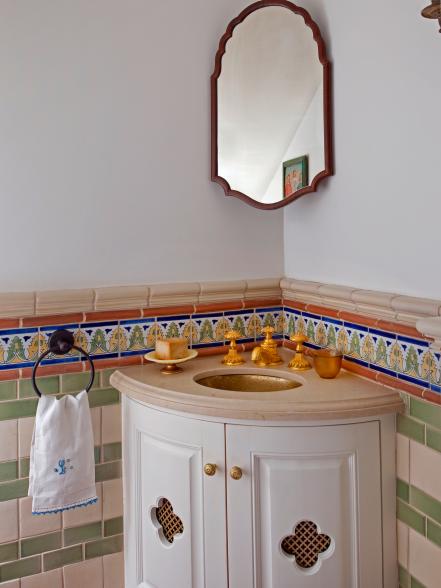 Effortless Eclectic Style
Designer Ashley Astelford carved an inviting powder room out of a niche under the staircase in this 1920s Dallas home. The art deco mirror pays tribute to the home's heritage, while fresh surfaces modernize the space.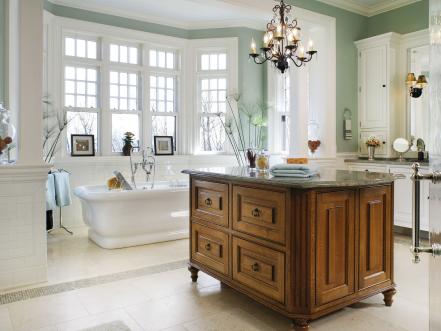 His-and-Hers Luxury
This bath creates a luxurious space for a couple. A freestanding quarter-sawn island centered in the room matches the quartered oak double doors and offers continuity moving into the room. Each spouse has his or her own space with two large, white painted vanities, double medicine cabinets and framed mirrors. Design by Peter Ross Salerno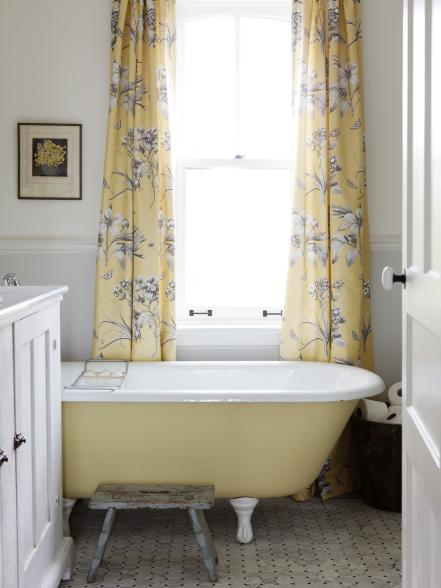 Modern Country
A soft color scheme of yellow, white and graphite makes the main bathroom in
Sarah Richardson's
farmhouse feel like a country afternoon: bright and fresh. A vintage bathtub and other timeworn treasures fit the old-fashioned home.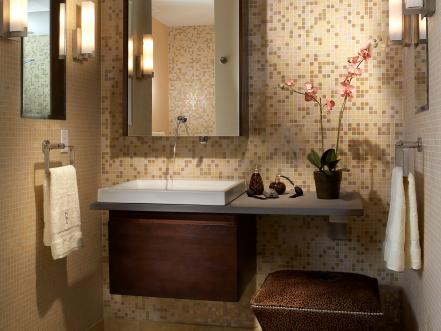 Airy Asian-Inspired Escape
Designer Joseph Pubilones used a combination of neutral tiles — pale peach, copper and bronze — to create a mosaic that adds interest without too much proverbial volume. The floating vanity adds to the room's airy allure. Photo by Daniel Newcomb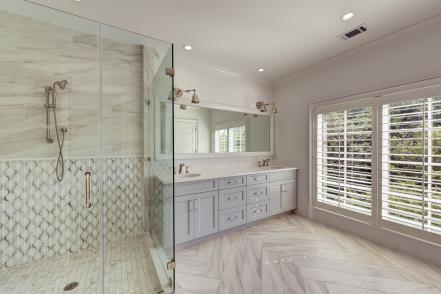 Sea Island Properties, a member of Luxury Portfolio International
Wow-Factor Shower
More and more homeowners are opting for luxurious showers in lieu of seldom-used tubs. This stunning floor-to-ceiling shower enclosure embodies the trend.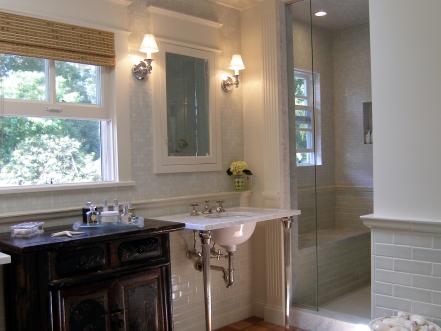 Classic and Clean
This timeless master bath uses cool wall tiles and muted lighting to create a refuge from the daily hustle and bustle. Minimal furnishing and accessories keep rejuvenation the focus of the space. Design by Lori Gilder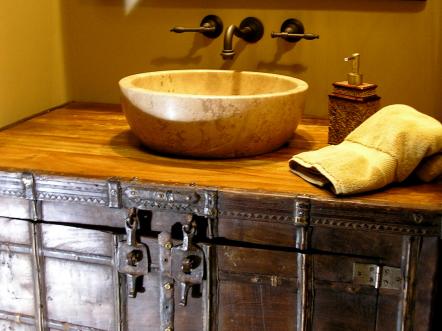 Rustic Flair
Designer Dan Heldenbrand used a stone bowl sink and a rustic wood-and-iron cabinet to create a Western-inspired theme in this desert home. Oil-rubbed bronze fixtures and a distressed wood countertop complete the look.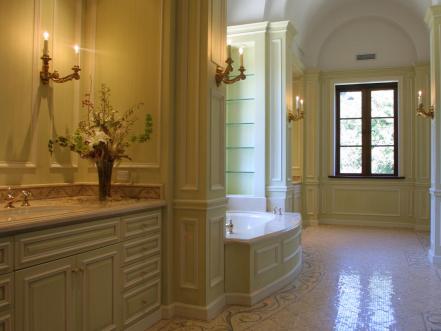 Mediterranean Luxe
Inspired by the Tuscan architecture of this estate, this palatial master bath features custom-designed mosaics. The vine motif on the floor border continues in the backsplash.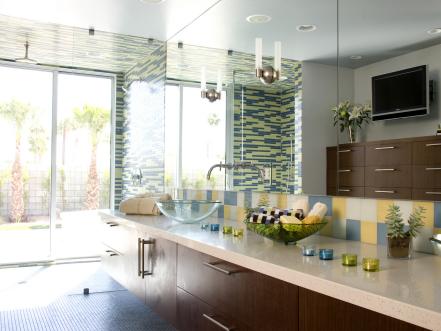 Cool Colors
Imagine getting ready for the day in this elegant, spa-like space. Glass tile on the backsplash and in the couple-friendly shower adds playful color and excitement to the room, while a flat-screen TV allows you to be entertained and prepared before you step out into the world.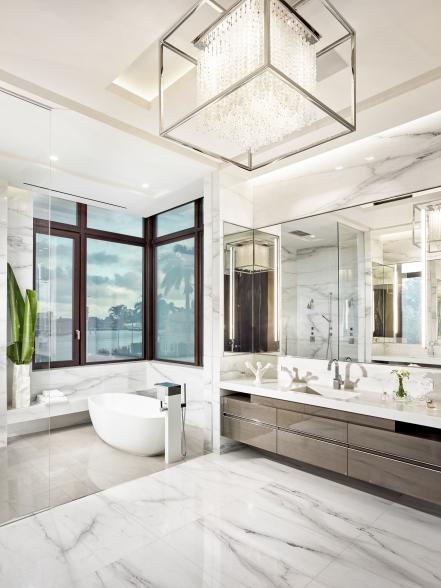 Barry Grossman
Waterfront White Spa Bathroom With Chandelier
Designer b+g design, inc. gets four stars for this spa bathroom design. Is it because of its stunning water views? Its heavenly soaking tub? Its floor-to-ceiling marble? Yes. Just yes.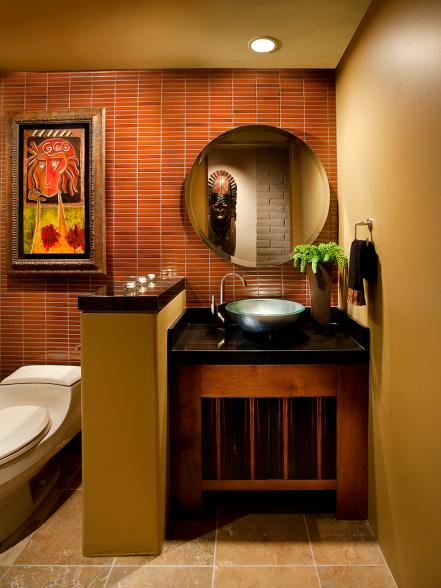 Global Chic
A round mirror and bi-colored red horizontal tiles mounted in straight lines give this globally-furnished room a contemporary look. Worldly accessories, like the carved wooden mask and tribal-inspired drawing, look right at home against the warm backdrop. Design by Amy Bubier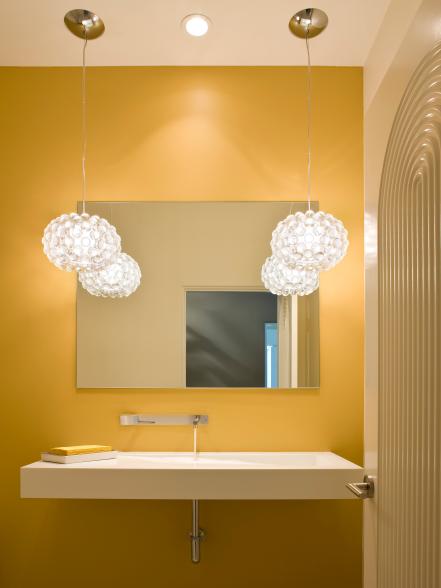 Modern Minimalism
Sometimes, less really is more. In this contemporary space, a stark, angular sink and sparse furnishings let details like the bubbly pendant lights and textured door shine through. Design by Elizabeth Rosensteel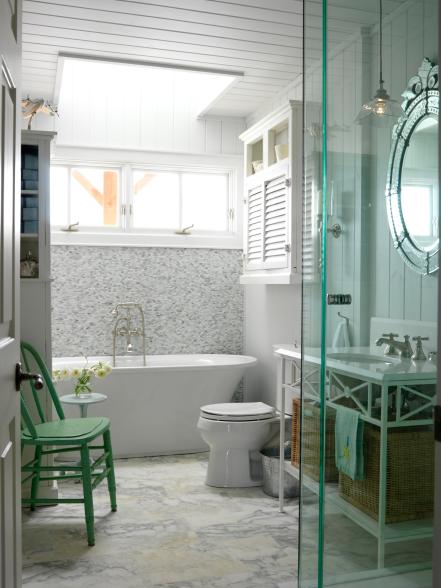 Colors from Nature
Designer
Sarah Richardson
incorporated colors from nature in the master bathroom to create a charming cottage look. Mint green, split-face mosaic tile, exotic marble flooring and moonstone details spruce up inexpensive white tiles for maximum impact at a low cost. A marble top and luxurious mirror dress up the charming, quaint vanity, and the two shutter cabinets provide vintage-inspired storage. The transom window above the freestanding tub gives privacy yet fills the space with plenty of natural light.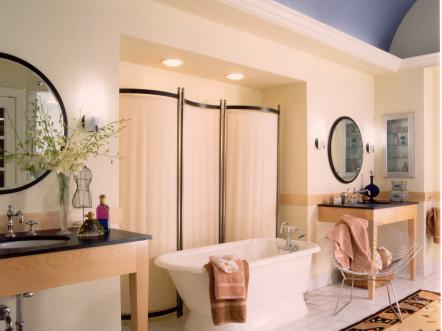 Modern Meets Deco
Graceful curves and geometric forms meet in this master bathroom. The blue vaulted ceiling was created from unclaimed attic space; its shape is repeated by the soft fabric screen. An antique tub contrasts with custom slate-topped his-and-her vanities. Design by Van Tullis; photo by Beth Singer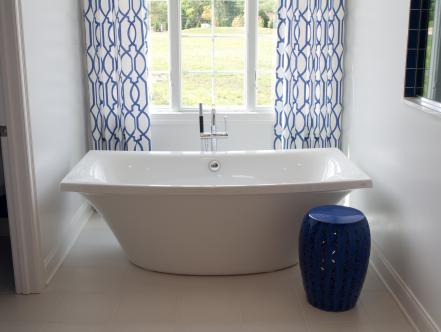 Travis Neely
Moroccan-Inspired Getaway
This fresh and crips bathroom's white walls and tub make the standout elements — the cobalt blue Moroccan drum table and lattice-print curtains — stand out all the more. Design by Alisha Gwen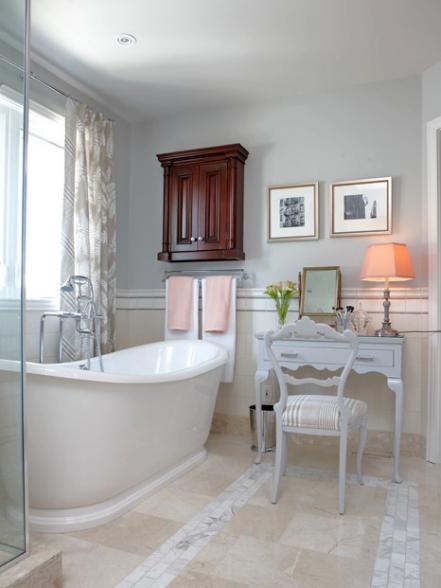 Stacey Brandford Photography
Sit Down and Stay Awhile
Designer Sarah Richardson created an oasis of calm in this elegant bathroom with delicate apricot details and an indulgent soaking tub. A vintage chair and vanity next to the tub provide a place to linger and prepare for the day.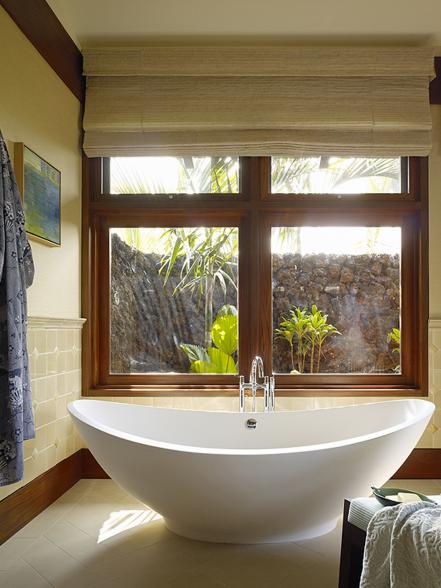 A Secret Garden
To get maximum natural light without compromising bathroom privacy, this bathroom features a walled garden outside the picture windows. A contemporary soaking tub provides a spot enjoy the view, undisturbed. Design by
Slifer Designs