Money-Saving Tips for Splurge-Worthy Decor
Whether it's the leather Chesterfield sofa you've had your eye on forever or the modern art piece you want hanging over your mantel, sometimes you have to do a little budget editing to achieve your decorating dreams. Follow our tips for trimming a little here and there so you'll be sitting in your Eames lounge chair in no time.

Just the essentials, please. Take a break from spending on anything that isn't an absolute necessity (bills, groceries, gas). Simply refraining from your morning coffee stop could potentially save you up to $150 a month. But don't worry, this doesn't have to be a forever change. Try it for a month — no dining out, buying new clothes or going to the movies — and see how much you'll be able to add to your design fund.
Unsubscribe from Retailer E-mails

Eliminate the temptation at its source. Remove yourself from your favorite retailer's newsletters (and even take a break from following them on social media) to keep impulse buys at bay. If you don't see an amazing sale, you won't feel like you're missing out and that extra $$$ goes straight into your decorating bank.
Take a Look at Monthly Expenses

Go over your credit card bill and bank account statement with a fine-tooth comb. Determine which expenses you can cut: the gym you're not going to, the TV or internet bill you can reduce or any unused subscriptions.
Find the Right Credit Card

Research different cashback credit cards so you can earn money for the dollars you're already spending. Some cards have varied percentages on different areas of your spending, such as earning three percent on dining, two percent on groceries and one percent on everything else. Set aside the money you're getting back to go toward your major purchase.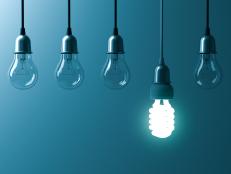 Show your love for the earth by creating a home that has less impact on the environment. And bonus points: it'll also keep extra cash in your bank account.