5 Easy Ways to Make Your Home More Energy Efficient
Show your love for the earth by creating a home that has less impact on the environment. And bonus points: it'll also keep extra cash in your bank account.

Definitely one of the simplest ways to start creating a more responsible home is to change out your lightbulbs. Energy Star®, a label backed by the Environmental Protection Agency (EPA) to certify energy-and-cost-saving products, suggests that switching out your five most frequently used light fixtures will save you $70 a year in energy costs. Opt for compact fluorescent or LED bulbs, which use significantly less energy and last longer than incandescent bulbs.

One of the first resource-saving techniques we master as kids is turning off the water when it's not needed, but now there are options for keeping our water use to a minimum even when the faucets are turned on. Not only do low-flow fixtures use less water, score one for Mother Earth, but they also reduce your utility bill, score one for your wallet. The easiest and simplest change, (plus, you can do it yourself), is to switch out your showerheads and sink faucets. Look for the EPA WaterSense® label, a voluntary partnership program sponsored by the EPA that certifies that the products use at least 20 percent less water.

Programmable thermostat, that is. This resourceful tool will save your home major money and energy if programmed properly. Use the settings to adjust the temperature when you're at work, sleeping or away on vacation.

Keep your home warmer in the winter and colder in the summer, as well as reduce heating and cooling costs — typically around $200 a year — by insulating your home properly. Start by patching up all those pesky drafts by using weather stripping on your doors and caulk around your windows. For a step up in the energy-saving game, add insulation and seal any air leaks in your attic. This may require a contractor but is worth the comfort it'll add to your home.

Save money and help prevent climate change by trading out your appliances for energy-efficient models. Start with your clothes dryer, since it uses the most energy of any other appliance, and then take a look at your refrigerator. Luckily, Energy Star® has taken the guesswork out of finding appliances you can feel good about putting in your home.
This article is for educational purposes only, and is not intended to provide medical or legal advice, or to indicate the availability or suitability of any product or service for your unique circumstances.
Capital One does not provide, endorse, or guarantee any third-party product, service, information or recommendation listed above. The third parties listed are solely responsible for their products and services, and all trademarks listed are the property of their respective owners.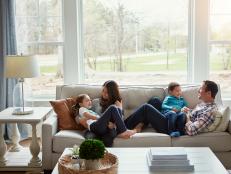 No matter what size budget you're working with, you want to get the most out of every dollar. Discover where to invest and where to cut back to create a living room you love.