Mina Starsiak Hawk Is Pregnant With Her Second Child
Mina and her husband, Stephen, are expecting a second child in September 2020. The announcement comes after a long struggle with infertility that Mina chronicled on her personal Instagram account.
After five months of their in vitro fertilization (IVF) process, Mina Starsiak Hawk and her husband Stephen announced that they are expecting their second child. They are due in September. Mina kept track of her family's fertility journey through a highlighted Instagram story.
After trying unsuccessfully to have a second child for a year on their own, Mina and Stephen turned to the IVF process for another option late in 2019. The announcement comes after a successful intrauterine insemination (IUI). The couple turned to this option after being told that their chance of success using IVF was around one percent.
The pregnancy comes after one doctor told the family that their only option would be for Mina to use a donor egg. In December 2019, the couple was told that another round of IVF would be unsuccessful. After deliberation with Stephen, this led Mina to say "We're doing the reasonable thing and getting a second opinion, although I don't have high hopes it will result in anything different."
At the end of the same December post, Mina remarked "There's more to come. I'm not sure what it is yet. But it doesn't feel over."
Mina and her husband, Stephen, welcome Charlotte Drew to the world.
Mina's instincts turned out to be right. In what she calls a "hail mary," the couple opted for the IUI procedure. Mina found out she was pregnant a few weeks later.
As Mina said in her recorded Instagram highlight, she and Stephen did not have any trouble conceiving their son, Jack. However, she goes on to mention that she found out it was common for it to be more difficult to conceive a second child. One of the reasons Mina chose to share her struggles with infertility is because it does affect so many.
Mina's Journey's to Baby Number Two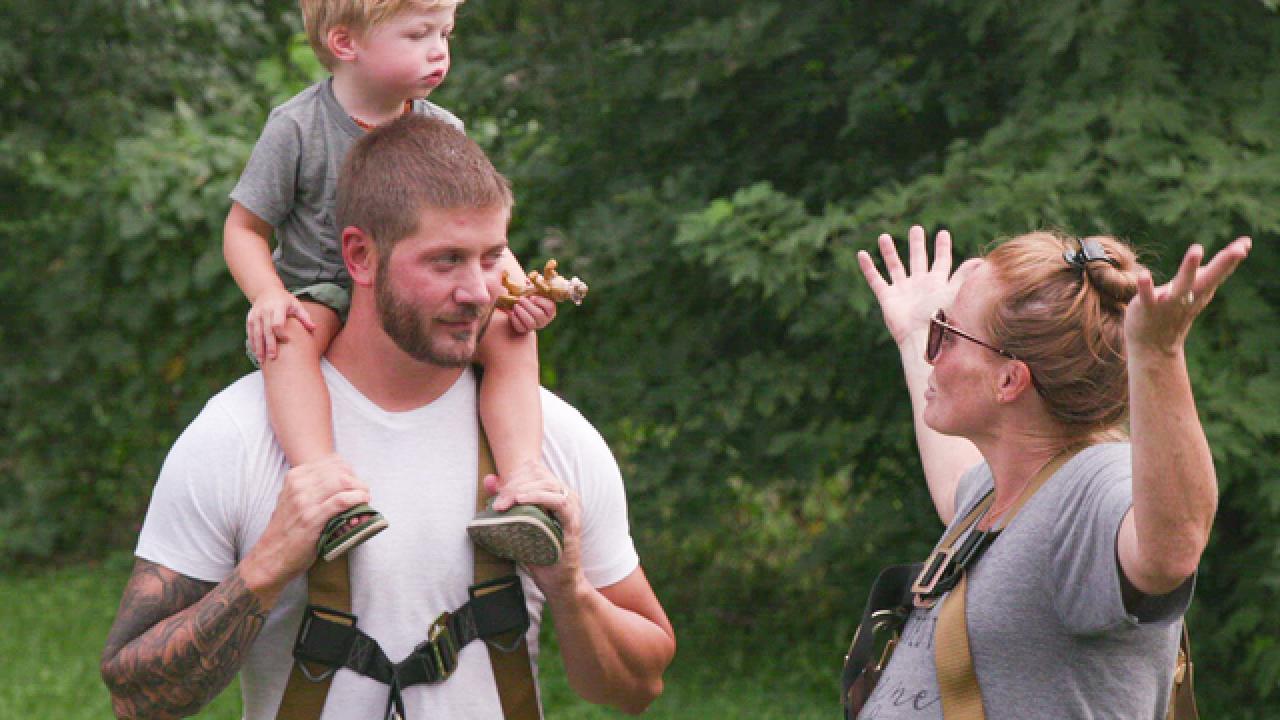 "I do it because of the literal hundreds, likely thousands of women that have thanked me because allowing my struggle to be public has helped them in one way or another; mostly just not feeling alone because so many people just don't talk about these things. It's a silent struggle that no one gets until they're there," Mina said.
Mina was aware that her documentation may be alienating to some of her followers, but she always prefaced her posts and stories with a "warning" about the content. She only shared one instance of a follower being negative about the whole thing; but she handled it with grace, saying in a response that the commenter did not know her family's whole story.
After watching Mina renovate houses on Good Bones, it's no surprise how tough and open she was during this process. Her intentions with chronicling the process were clear the whole time.
"I chose to go through this publicly simply to help the people it seems to help."
Read the full story in the new issue of People magazine, on newsstands Friday March 13. For more resources and information on infertility, please visit resolve.org.
Quotes have been minimally edited for clarity and punctuation.