Fixer Upper 'Design On Her Mind' - Season 3, Pt 1
Go behind the design, room-by-room, with Joanna Gaines in these web-exclusive videos from the home renovatino projects in Fixer Upper's season 3.
The Ferguson Project: Functional, Open Kitchen 01:21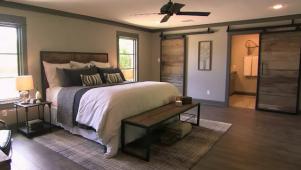 Now Playing
The Ridley Project: Bachelor Pad Bedroom 01:32
Joanna used modern design touches like refinished wooden doors and modern shelving to create a classic ranch style. This bachelor pad bedroom is masculine, but still light and airy at the same time.