Fixer Upper: Joanna's Design Quick Tips
Get bite-sized design inspiration from Joanna Gaines in these Fixer Upper Quick Tips videos. From bookshelves and mantels to repurposing vintage salvage finds to creating gorgeous table settings, see how you can incorporate Jo's style in your own home.
Joanna's Repurposing Tips 01:17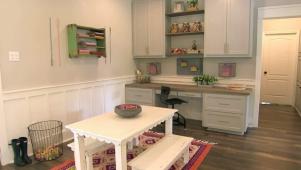 Now Playing
Organzing a Kids' Playroom 01:10
Control the mess in the kids' room by using containers and embracing color.