Historical Home Gets a Glamorous Update
Remodeling a home built by celebrated architect Paul Revere Williams is no small task, but designer Scott Thomas expertly updated the look while honoring the history of the Los Angeles home.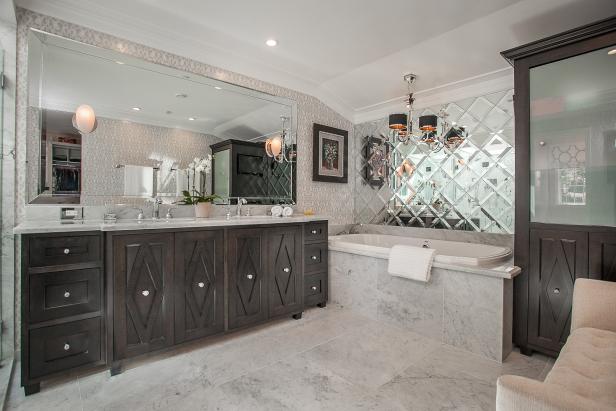 Old Hollywood Inspired Master Bathroom With Custom Mahogany Cabinets
Only the best materials were used to create the grand elegance that fills this room. A textured mirror, Carrara marble and custom mahogany cabinets all give the space a refined sophistication.
When renovating a 1920s house steeped in history, where does one begin? Designer Scott Thomas says understanding a space and its needs is step one – something that can't be done without getting to know the home and its owners.
Empty-nesters Alan and Lisa Stern wanted to update their Paul Revere Williams-designed Los Angeles home. Williams, best known for his work on the L.A. International Airport and Beverly Hills Hotel, designed homes for many famous Hollywood stars, and part of Lisa Stern's vision for the home was to add some of that old Hollywood glamour to it.
I want this to be glamorous and I want everyone to be blown away by it when they walk in.
Home Owner Lisa Stern
The Stern's home, built in 1929, originally belonged to director and filmmaker Billy Wilder, whose work on films such as Some Like it Hot, The Apartment and Sunset Blvd. also served as inspiration during the remodeling project. "I mean can you imagine the people who sat at the bar here? Why don't we do old Hollywood glamor?" Thomas recalls.
As Art Deco fans, the Sterns wanted to maintain the existing design elements in the architecture while cultivating a clean and luxurious look in every room. Thomas made thoughtful updates while preserving the home's footprint and character. "I want it to look like it should have been that way," he says.
That process shines in the master bathroom. From the textured, mirrored wall to the custom mahogany cabinets, every element was crucial to building the old Hollywood feel. A vintage style shouldn't exclude updated necessities, though. Thomas added marble floors and countertops, a walk-in shower with a skylight, and custom wallpaper.
Thomas believes that "simplicity creates serenity," evident in his master bedroom design. Wanting the room to be elegant but appropriate, he applied a hotel-style layout with luxurious accents. The bold curtains, Thomas's favorite feature in the room, are an elegant way to divide the rooms while adding a sense of drama to the quiet space.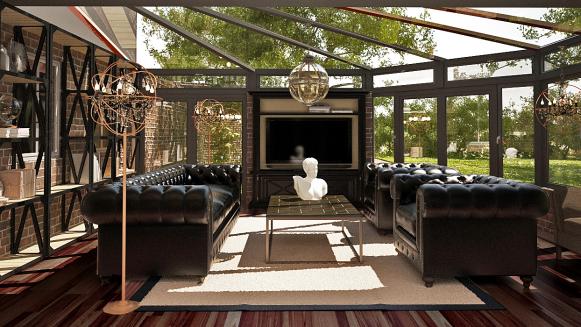 Art Deco-Inspired Conservatory
This Art Deco-inspired conservatory is designer Scott Thomas' interpretation of a man cave. He gave it a clean, masculine look by using books, brick and adding a little bit of shine. Special transition windows allow the space to go from morning to night without the use of curtains or shades.
In the conservatory, Thomas wanted to keep the look masculine while continuing to honor the home's history, so he kept the original brick on the side of the house in place. "That is supposed to be my version of a man cave," Thomas says. "We have some shine, and we have some books and brick, and to me it kind of screams boy time."
To re-create the energy and serenity found in the Wilder home and all of Thomas's projects, the designer suggests focusing on fabrics, colors and quality materials while keeping the style clean and simple. "You take the elements. You need patterns and textures and shine," he says. "Throw in one good pattern and use a complementary color scheme."