Lovely Girl's Bedroom Features Floral Wallpaper
This 9-year-olds bedroom, designed by Little Crown Interiors, is a dreamy feminine space that features a cozy reading nook. This stylish space has a floral accent wall and touches of pink, creating a sweet bedroom designed to grow with the child.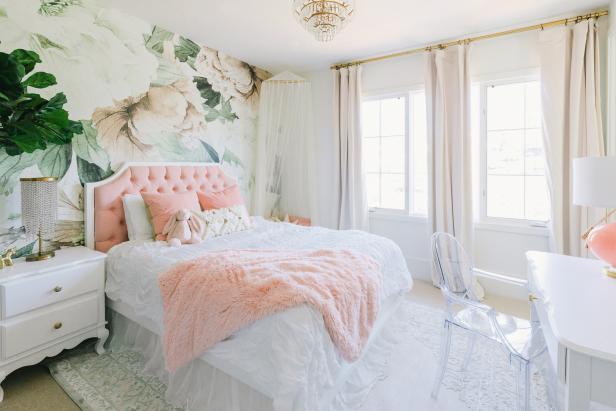 Floral Girl's Bedroom With Pink Accents
This girl's bedroom is a dreamy floral escape. The bedroom design features subtle pink accents and a floral accent wall.
What were the main items on your client's wish list for the redesign of this space?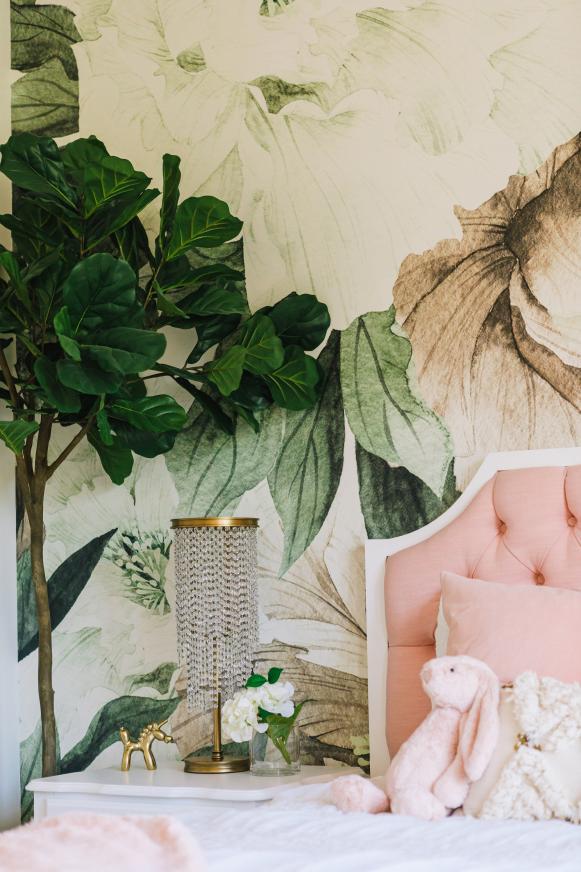 Girl's Bedroom Features Floral Wallpaper
This girl's bedroom features large print floral wallpaper and a pink upholstered headboard. The crystal and gold nightstand lamp add an elegant flair to the space.
My client knew right away that she wanted statement wallpaper. They just bought a new home and everything was a clean slate, so she wanted to add a fun accent wall to bring life into the space. She loved blush pink and green, so I found a great large-scale floral wallpaper in those tones with a gorgeous watercolor feel to it. After that, things came together pretty quickly. We chose quality furniture that can last her for years, and even added a personal touch with a custom upholstered headboard. She also really wanted a dreamcatcher in her room, so I made sure to feature one.
What changes did you make to the space to better suit the lifestyle of your client?
Since the home was brand new, they had no window treatments, and this room had a direct view to the neighbor's back yard. I chose soft velvet curtains with blackout protection to shield her room from the bright sun as well. She also needed a space to do homework, so we worked in a spot for a desk and chair.
What was your biggest obstacle in the redesign of the space?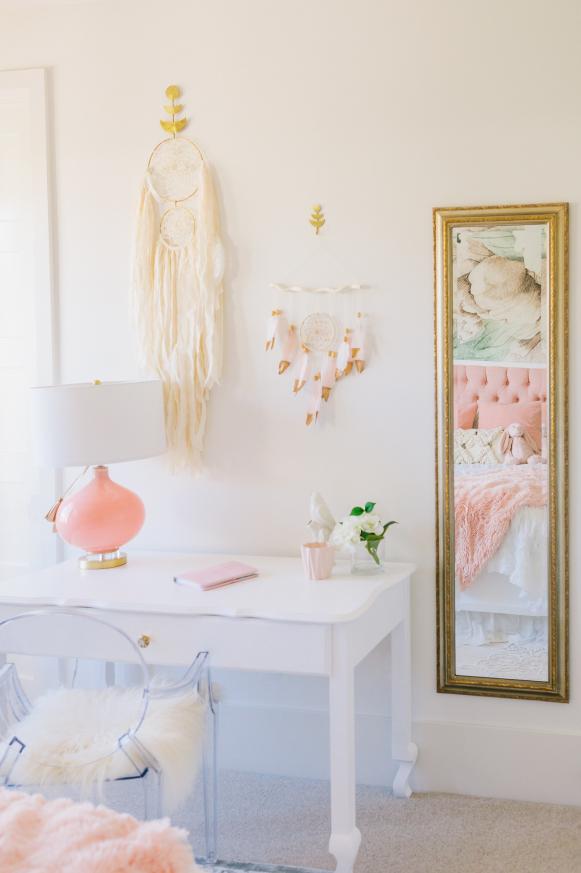 Bohemian Girl's Floral Bedroom With Desk
This girl's bedroom features a mix of bohemian decor and floral accents. There is a desk for homework with a lucite chair.
Kid's rooms are oftentimes the smallest room in the house, so layout issues are pretty common. This room was no exception, and because it had 3 doors and a large set of windows, our wall space was limited. We got a custom made desk to just the right size and managed to fit in a little canopy in the corner, which she really wanted.
What was the inspiration for this project?
My 9-year old client was really the inspiration. She is girly and sweet and I wanted her room to be a reflection of that. She wanted a space that felt cozy and pretty, and of course her parents wanted a space that could grow with her.
How did you select the floral accent wall?
Large florals have been a big trend lately! My client told me right away that that's something she wanted, and after I showed her this pattern, she was instantly in love.
What is your favorite detail in this space?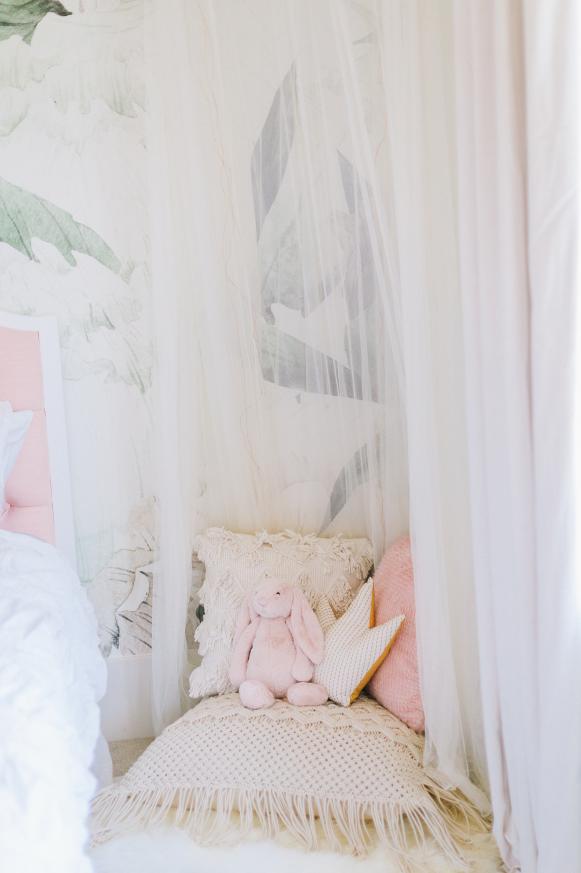 Girl's Bedroom Reading Nook
This girl's bedroom features a cozy reading nook perfect for curling up with a good book.
I love seeing how my clients use the space once it's done. I've gone back a few times for photoshoots or to drop things off, and have seen how she's accessorized with her own things, and how it's being lived in. My favorite element of this space is the corner canopy. Even though we were tight on space, we had a little room to add a small reading nook with pillows. We even put little string lights in the canopy so she can turn it on at night.