Why You Should Consider Rhode Island for Your Next Beach Getaway
Without a doubt, Rhode Island is home to some of New England's best beaches. And you've probably never heard of most of them.
It didn't take long to spot the green Del's umbrella at Portsmouth's Third Beach. Even without the jingles of ice cream trucks, we born-and-raised Rhode Islanders seem to have a homing device that can spot those iconic frozen lemonade stands from a mile away. And I was in luck: they hadn't yet run out of watermelon, the best flavor.
I sipped the sweet slush and looked out at the beach. There was almost too much to take in: Families scouring the shore for shells, windsurfers, standup paddleboarders, kayakers, swimmers and sailors.
Portsmouth is a town on Aquidneck Island, which you know even if you've never heard of it — it's also home to Newport. For centuries, the wealthiest Americans have built summer "cottages" here that make most ordinary homes look like dollhouses. Unlike the rockier New England beaches to the north, Aquidneck's beaches are soft sand.
I recently spent a few weeks back home in Rhode Island, partly to visit family and partly to explore, with fresh eyes, all the places I'd taken for granted as a kid. I took a beach weekend and did all the things you roll your eyes at when you're a local.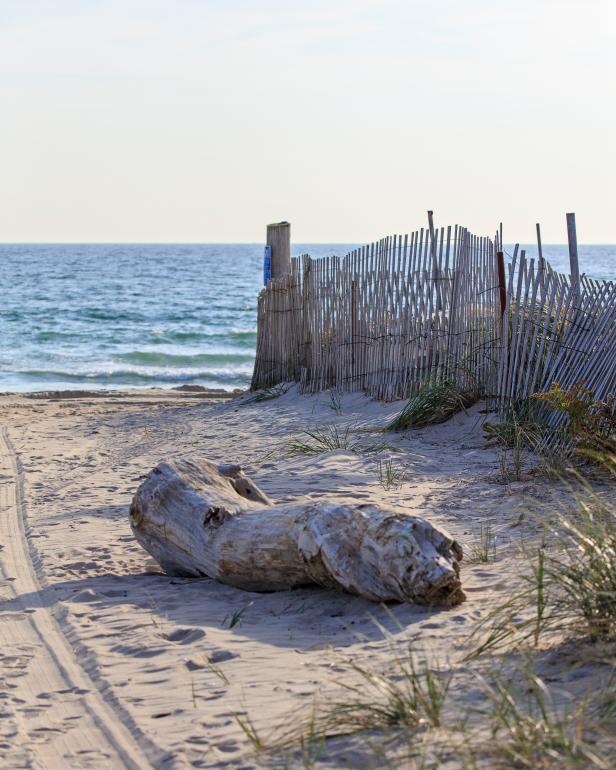 Rhode Island's Misquamicut State Beach
If you've ever met a Rhode Islander who hasn't told you that Taylor Swift owns a house on Watch Hill in Westerly, not far from this beach, you should ask them if they were secretly born in Massachusetts. State pride runs deep, and Misquamicut State Beach is a local favorite.
Rhode Island Commerce Corporation
I took a surf lesson at Narragansett Town Beach with Warm Winds and was shocked to find the shore anything but crowded. The waves went easy on me, and I was able to stand (albeit briefly) after a few tries. I spent the night a few minutes away at The Break, where you can smell the salty air from your window, and rode a bike down to the water at 5 a.m. to catch the sunrise over the Atlantic. A few fishing vessels bobbed along the horizon line. I wondered what they were catching.
After the sun was fully hidden behind cotton candy clouds, I pedaled hard toward Scarborough, the beach of my childhood. The state has dozens of beaches, and everyone has a favorite. Like the neverending debate over who has the better seafood, Iggy's or Aunt Carrie's, Rhode Islanders will go to bat for their beach as if it were truly their own.
Dawn Holmes / Block Island Tourism Council
Many of the stereotypes of small-state life are entirely true — it does seem like everyone knows everyone, or at least knows a friend of a friend of your friend's friend. It's impossible not to notice it if you're paying attention. In an Uber on the way to the Westerly airport to catch a 15-minute scenic flight to Block Island, our driver overheard us talking about the Glass Float Project and proclaimed that she's friends with the artist. Since 2011, Eben Horton has worked with the island to hide hundreds of blown glass orbs for people to find. Our driver made a show of reaching out to him to ask for hints (no dice; we got no hints, we found no floats).
As renowned as Newport is, the state's best beaches are undoubtedly on Block Island, a lightning-quick, 12-minute flight from the mainland on New England Airlines, or a 40-minute ride on the Block Island Ferry, yet seemingly a world away. The decades-old Block Island Ferry jingle sounds like it should belong to the Caribbean, and spotty cell service forces you onto "island time." It's easily the best beach town in New England, and one of the best along the whole East Coast, too. It's all classic New England clapboard houses, unspoiled woods ripe for exploration (and glass float scavenges) and endless beaches that pass for tropical in the right light.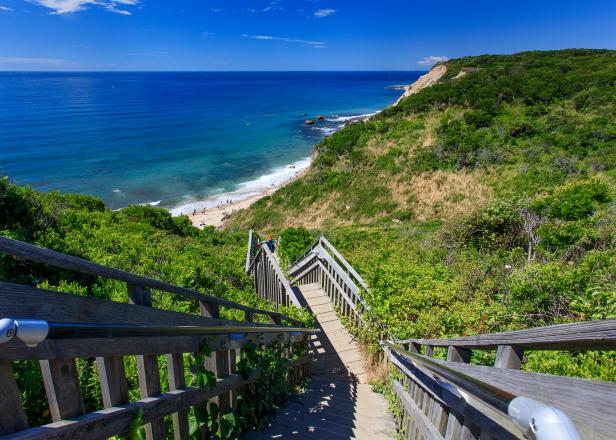 Mohegan Bluffs Beach is Rhode Island's Best-Kept Secret
On a foggy day, with the light just right, you might forget you're in the Atlantic Ocean a short trip from mainland Rhode Island. With jagged cliffs and clear, tropical-blue water, Mohegan Bluffs might just be New England's most unique (and secluded) beach. Few care to take the long staircase down to the beach, so those who do are rewarded with solitude.
Rhode Island Commerce Corporation
All the beaches on the island are public. There are so many of them, and they are all so different. Mansion Beach is one of the most popular for its views and soft sand. The dramatic Mohegan Bluffs is rarely crowded for the steep cliffs and long staircase down to the water, and it is always worth the hike. West Beach, just past the island's former landfill, is a phenomenal place to search for sea glass and other treasures and to watch sailboats race just offshore.
I've yet to find a place quite like it, nor a place that offers everything Rhode Island does along with the same Alaska-sized serving of local pride. I know that's impossible to believe until you see it. But if you grab a Del's and park yourself on a beach or a bench, you'll see the love and quirkiness as you watch everyone around you. (Do yourself a favor, though, and say no to the straws and spoons—locals almost always skip them, and they will immediately know you're a tourist.)
Stay at The Break in Narragansett, which offers cruiser bikes for guests to borrow. It's a short ride to Scarborough and Narragansett Town Beaches. Have dinner at Matunuck Oyster Bar, where oysters are farmed on site (the restaurant offers free farm tours once a week) and rise early in the morning for a trip to Block Island. Take the Block Island Ferry from Point Judith, where you'll likely spot quite a few fishing vessels. Rent a bike or moped to explore the island, and take at least one full loop—you won't want to miss Rodman's Hollow for short hikes, Mohegan Bluffs for a secluded walk along the beach, and the 1661 Farm and Garden, home to an eclectic mini zoo including camels, kangaroos, llamas, goats and lemurs. Don't forget to grab a Del's frozen lemonade in the harbor before getting on the ferry to head back to the mainland—it's practically illegal to visit Rhode Island and not have one.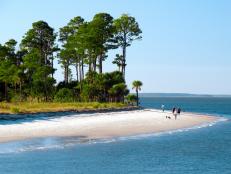 South Carolina is the perfect destination for beach lovers.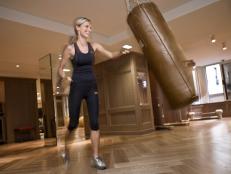 These 3 hotels won't let you derail your diet and excercise routine.