Small Bathroom Decorating Ideas
Gather small bathroom decorating ideas, and get ready to add style and appeal to a snug bathroom space.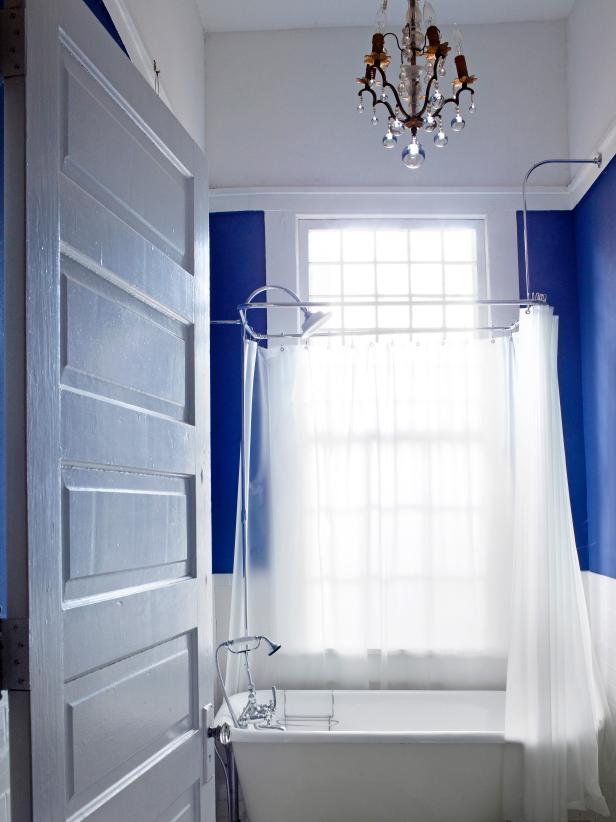 Royal Blue Bathroom With White Slipper Tub
A translucent shower curtain surrounds the freestanding white bathtub creating a functional shower. Bold blue walls pop against white trim and wainscoting. White molding placed below the line of the ceiling creates a visually smaller space, and a sparkling chandelier adds a touch of glamor to the space
If you're remodeling or installing a bathroom, you'll want to browse small bathroom decorating ideas. While the blueprint for your bathroom won't change based on how it's decorated, you can "expand" the space with a few strategic decorating ideas, creating a space that's elegant, attractive and efficient.
Small bathrooms can be a design and decorating challenge, but with the right combination of fixtures, surfaces, colors, decor and lighting, it's possible to create the illusion of a much larger space. In recent years, bathrooms have begun to expand significantly in size — master bathrooms in newer homes can be positively palatial affairs, for example. Older homes tend to feature much smaller bathrooms throughout, and even newer construction often features half baths that can benefit from the decorating tricks that help create the illusion of more space.
One of the first tenets of small bathroom decor is to consider color and light. Generally speaking, a bathroom — or any space for that matter — will always seem larger if it's lighter and brighter. For this reason, be sure to take full advantage of any natural light available in your small bathroom. Make sure any curtains or shades are translucent, and keep windowsills free of any items that would obstruct sunlight from entering the space. Similarly, when choosing paint colors or a color scheme for the entire space, focus on lighter, livelier hues.
Your choice of an overall stylistic approach for your bathroom can also serve to expand or contract the space. Although any style can work in a small space if it's minimal enough, traditional, rustic or country styles tend to feature more adornment and decor than contemporary and modern styles, which are generally more sleek and streamlined. A great example of a space-saving fixture that works well in a more updated design is a pedestal sink. This efficient space saver can work great with a simple, straightforward style.
Lighting can go a long way towards creating the appearance of more space in a small bathroom. Task and decorative lighting can be strategically deployed to open up the bathroom, with the sink and shower areas illuminated specifically with task lights, and space over and below cabinets decoratively illuminated to create height and depth in the space.
Another way to add height and depth is with your choices for surface patterns. For walls, consider beadboard or wallpaper with vertical stripes to add a sense of height to the entire space. Hardwood floors or tile should run the length of the space to make it seem longer, and tilework on walls should be perpendicular to flooring, to create further depth in the space. Finally, for wall tilework, consider adding unbroken, continual horizontal line designs; these will serve to create the illusion of a space that keeps going everywhere you look.
More Bathroom Decorating Ideas
More Bathroom Styles for Your Home