9 Spring-Perfect Easter Tables
Let these stunning spring table settings inspire your own Easter celebration — no matter what you're planning.
Easter may not get as much attention as some other holidays (we're looking at you, Christmas), but it's actually one of the most fun celebrations to decorate for. Think about it, Easter colors are bright and cheery, it's one of the only big spring holidays and baby animals have become synonymous with the day — what could be better?
So this year, we're challenging ourselves, and you, to step up the spring celebration and create a tablescape worthy of attention — and an Instagram or two.
Let these nine inspiring tables show you how it's done.
Show your love for the Easter Bunny with a series of sweet ceramic rabbit figurines, and pump up the spring-friendly vibe with soft buttery yellows and vibrant grassy greens.
Live Tabletop Easter Decor
01:46
Consider adding an extra spark to your Easter tabletop decor by using live plants. Here's how.
We all know there's more to spring than just pastels, so why not try something a little more daring, like unapologetically bright blooms in fuchsia and neon green? If you're not ready to give up on soft colors completely, you can always add in some pastel pink flowers, too.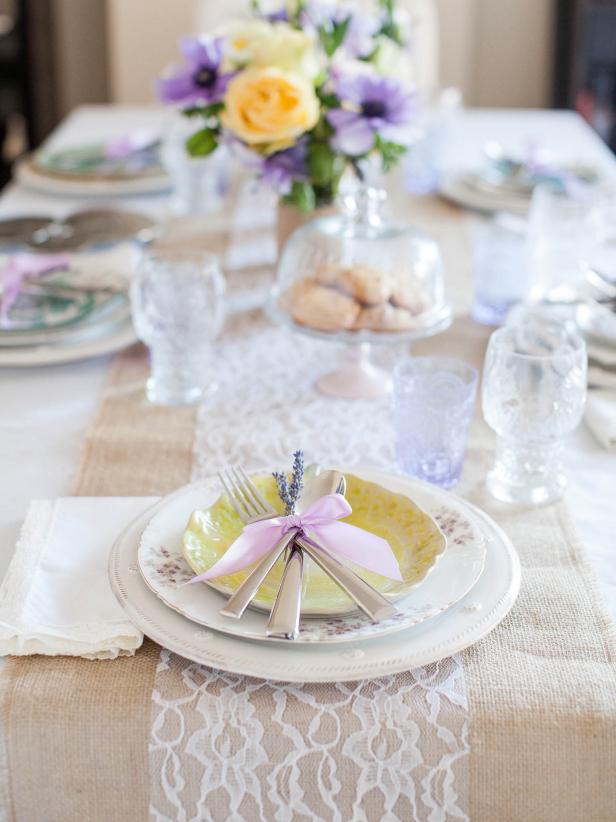 Spring-Inspired Vintage Table Setting
Cover the table with a white linen tablecloth, then add a burlap runner topped with lace as a subtle nod to the vintage-inspired theme. Add a feminine touch by building on a foundation of pretty pastel hues.
Cheyenne Mojica Photography
Add a little rustic romance to your Easter table by layering a piece of lace over a burlap runner and crafting a centerpiece out of puprle and yellow flowers. Tie the look together (literally) with a coordinating ribbon and lavendar sprig at each place setting.
Easter and chocolate go together almost as well as chocolate and cake, or chocolate and ice cream, or even chocolate and peanut butter. Let the delectable dessert take center stage by using plenty of brown accents in your tablescape and decorating with actual chocolate bunnies...yum!
Sure, you could use this color combo for lunch or dinner, but there's something particularly special about using the sky-inspired palette to decorate for a morning meal. Especially considering mimosas, deviled eggs and lemonade match the yellow so perfectly.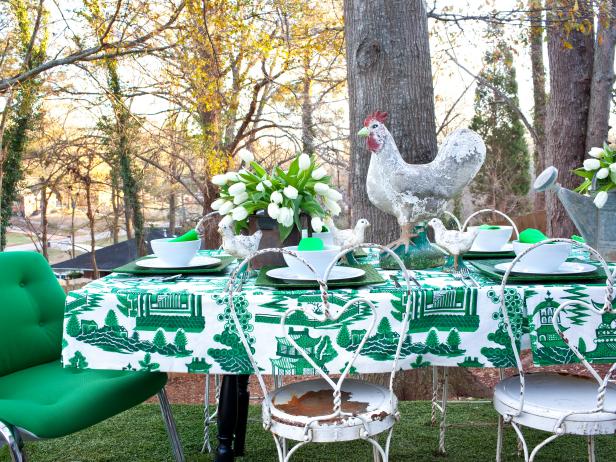 Green and White Outdoor Spring Table Setting
Weather permitting, take your spring parties outdoors. Here, designer Brian Patrick Flynn used a green and white color palette for the table's linens and place settings and puts mismatched vintage chairs to work for seating. Instead of a standard centerpiece, he used chicken lawn ornaments and watering cans filled with fresh tulips.
St. Paddy's Day has come and gone, but our love of green prevails. Luckily, bright green is a great choice for Easter too, and we love how fresh the shade looks when paired with crisp whites.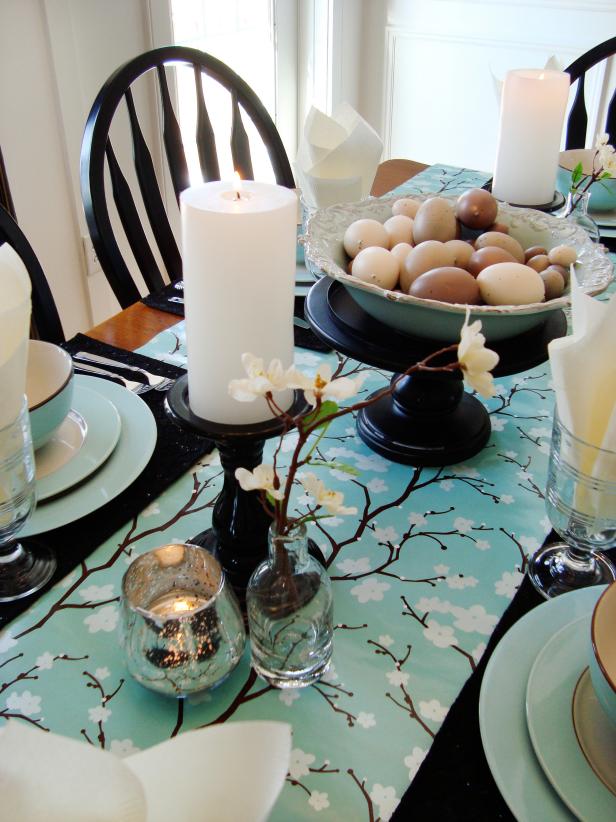 Nature-Inspired Spring Centerpiece
Celebrate the start of spring with an inviting nature-inspired tablescape. "A simple blossom-themed wrapping paper is the inspiration for this table setting to welcome spring. A variety of candles and a pedestal holding an egg-filled bowl add to the fresh feel of the table," Katrina Giles of Seaside Interiors says. For a subtle contrast and touch of drama, black place mats are added beneath simple aqua dishes.
Play up Easter's egg-inspired side by decorating with a color that comes straight from some of the world's prettiest eggs. Keep the egg vibes going with a simple centerpiece filled with a variety of different colored eggs (either dyed or natural).
You don't have to retire your pink decor after Valentine's Day, the feminine hue is a great match for Easter, too. We're particularly partial to a tablescape that combines pink with yellow and white, or even gold.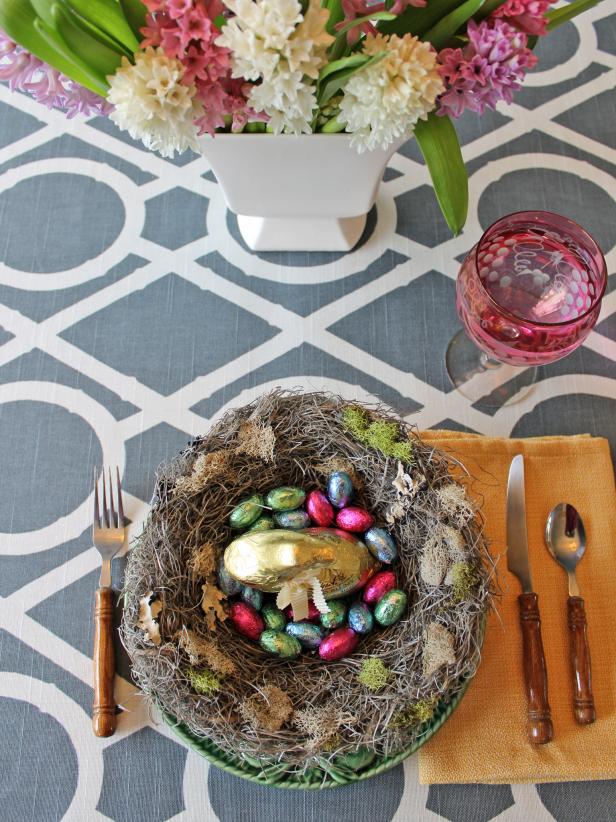 Springy Easter Table Setting
Use twine, Spanish moss and lichen to craft your own handmade bird's nest, then fill it with Easter candies for a sweet spring surprise. Get crafting with our step-by-step instructions.
Not all nest eggs involve money, and that's fine by us, as long as candy's involved. Fill a DIY bird's nest with a handful of chocolate eggs to create a fun and festive place setting.