10 Budget-Friendly Laundry Room Updates You Can Do in One Day or Less
Small changes can make a big impact.
While it would be amazing to have the time and budget for a full-scale laundry room renovation, most of us don't have either. But that doesn't mean that we're totally stuck.
There are a slew of easy, inexpensive changes you can make in your laundry room that can change the look of your space without much time or effort.
Here are our favorite ideas for easy, low-budget laundry room "renovation" projects that are super light on the "renovation" but heavy on the design impact.
An easy fix in almost any room is to switch out the lighting and upgrade it with something a bit more stylish. We often don't think of the laundry room when choosing light fixtures. But with new fixtures, or even a chic lamp, you can change the mood, look and vibe of your laundry room in no time at all.
This fix might seem silly since it won't really change up the look of your space that much, but it can really make a big difference in your overall look. If you have cabinets in your laundry room, consider switching out all the hardware to something on-trend. These leather pulls are a great option, but the sky's the limit when it comes to hardware.
If you have a sink in your laundry room, switching it out is a great option if you want to dip your toe in the renovation pool. Your options are limited by your budget; however, there are some lovely sinks that you can find in home improvement stores that will elevate your space. Pair your new sink with a new faucet for an extra design punch.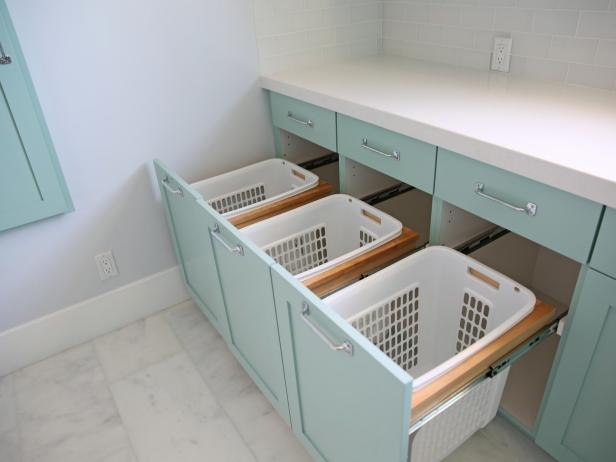 Sorting Bins in Blue and White Laundry Room
Sorting bins for lights, darks and towels don't have to be front and center. When Erin Rollins of the blog Sunny Side Up was redoing her laundry room, she created drawers that disguise her plastic baskets. "Laundry can be such a chore," she says, "so I wanted a room that made the process as streamlined as possible."
Retrofit the inside of your cabinets with additional storage options. In this example, wire laundry bins were installed to help manage the chaos of all the dirty laundry that a family might produce. You can add other upgrades, such as extra drawers, shelves or even extra storage for all of your pet items.
Even if you don't have cabinets in your laundry room, you still have options for extra storage. This system is installed on the back of the door and provides extra space for laundry essentials. You can also add floating shelves to your wall or bring in some furniture to store all of your laundry supplies.
6: Add an Additional Washer + Dryer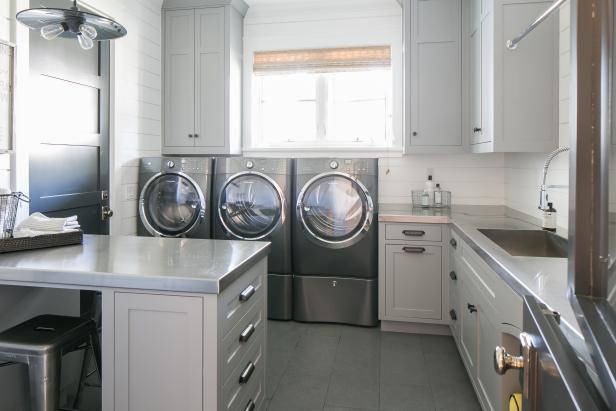 Transitional Laundry Room Showcases Shades of Gray
Stainless steel countertops ensure this laundry room is fit to endure some serious laundry catastrophes. Gray appliances and cabinets work well with the countertops, creating a tone-on-tone palette that feels calm and tidy.
Another great idea for those who have the space is to add an additional washer or dryer. For anyone with a large family who spends a lot of time doing laundry, an additional washer or dryer could end up being a relatively small investment. Instead of one load, two washers and/or two dryers allow you to always be doing two loads, and that could end up making a big difference in your day.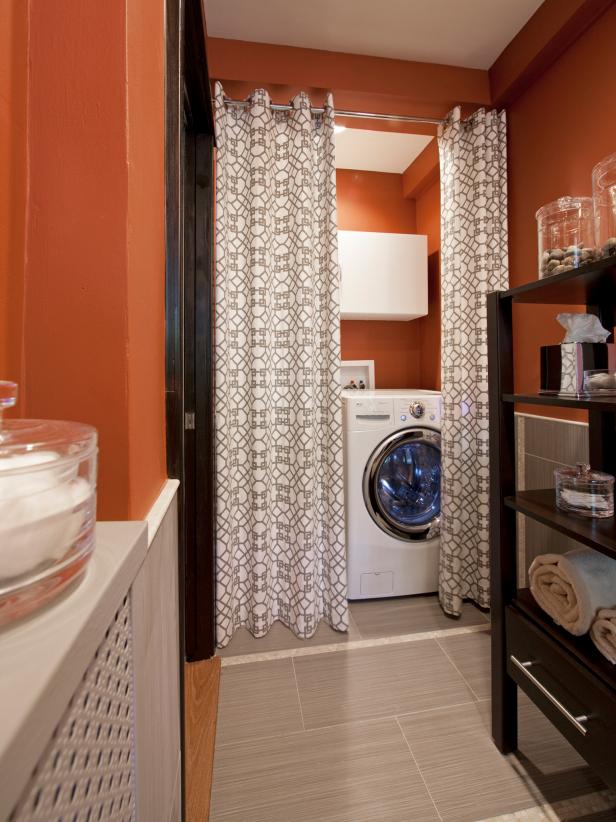 Bold Orange Laundry Room
Because they're already plumbed, bathrooms can be a great place to tuck in a washer and dryer. Natalie Sheedy of Natalie Sheedy Interiors took advantage of this long, narrow space, installing appliances at one end and screening them off with a pretty curtain. Extending the deep orange paint color into the laundry area makes it feel of a piece with the rest of the room.
Natalie Sheedy; Natalie Sheedy Interiors
Curtains are a great way to bring more order to your laundry room. You can easily use curtains instead of a door. Or you can add curtains to any windows you might have to bring in some color and pull the space together.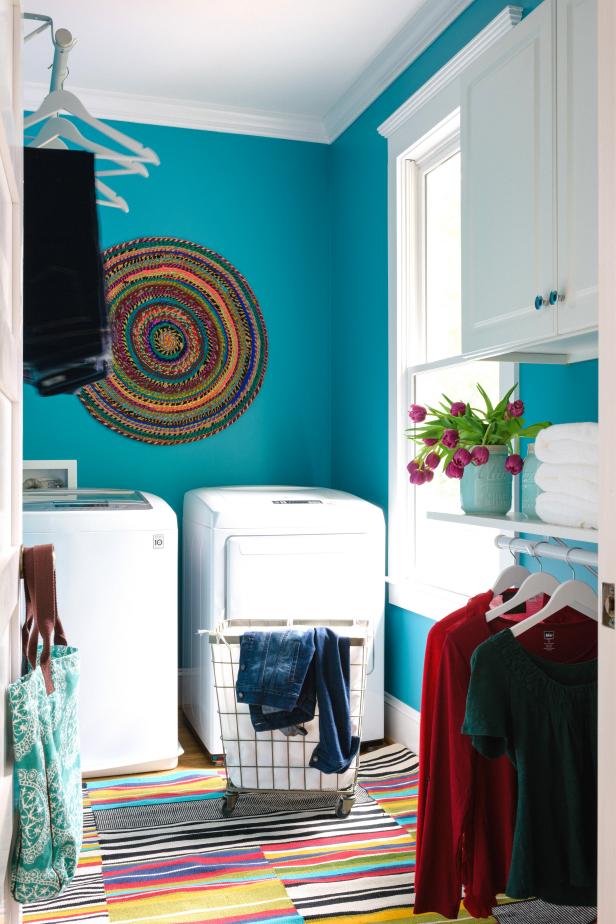 Turquoise Blue Transitional Laundry Room
This 6' x 8' laundry room is the happiest spot in the house thanks to turquoise paint, a technicolor area rug and a hand-woven bath mat used as art. When decorating task-related spaces, it's smart to get creative with decorating ideas that require little cost, but add big impact.
Adding artwork to your laundry room immediately elevates your space and makes it feel less like a utility room and more like a true living space. You can pick up on any design themes you already have going on in your home with your artwork. Or, go in a completely different direction, and do something fun and bold in your laundry room.
9: Paint or Add Wallpaper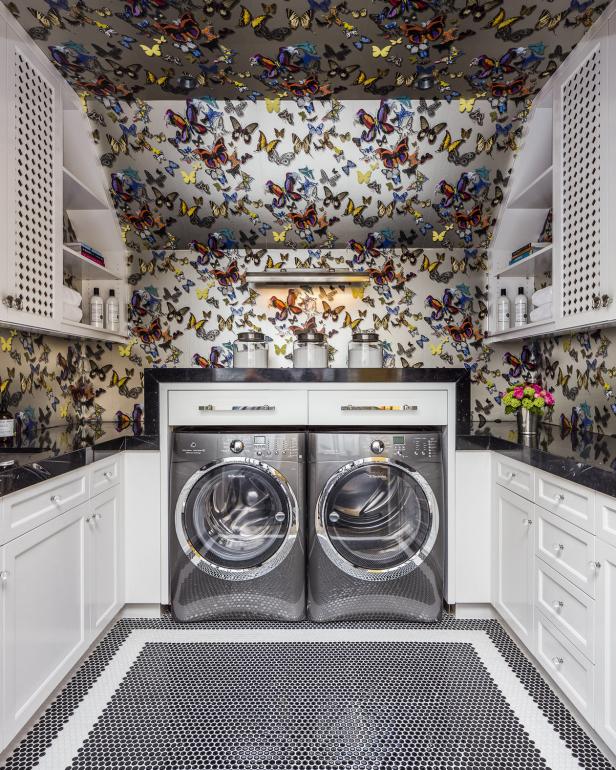 Butterfly Print Wallpaper Brings Laundry Room to Life
Subtle shadows on the Christian Lacroix wallpaper make the butterflies appear to float above the walls in the laundry room at the San Francisco Decorator Showcase 2015. The room is as functional as it is beautiful, with ample storage throughout, a sink in the corner and drying racks tucked above the washer and dryer.
Christopher Stark; Design by Evars + Anderson Interior Design
If you really want to quickly change the look of your laundry room, paint or wallpaper is the way to go. Since laundry rooms are typically small, it could be a fun spot to experiment with a bold wallpaper pattern. If you don't want to make the commitment to wallpaper, painting your space a fresh hue might be just the change you need.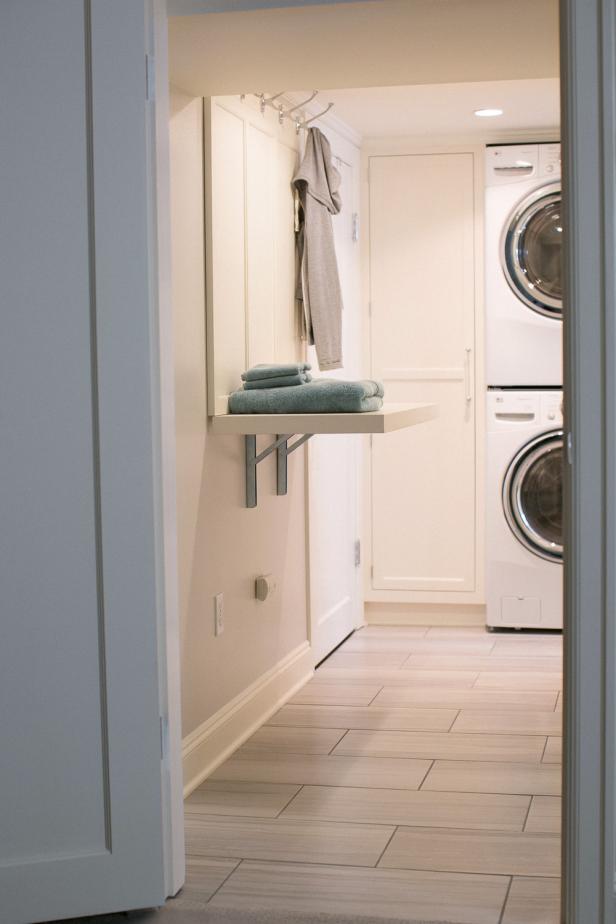 Folding Station in Contemporary Laundry Room
Designer Christina Tello integrated a small folding station into the laundry room design.
If you have the available wall space, add a folding table. This will provide a convenient spot to fold laundry, but it won't take up much space in the room.