Beyond Subway Tile: 9 Bold Bathroom Tile Designs
Add eye-catching color and texture to your bath with these ideas.
As we've mentioned before, we at HGTV.com love subway tile. In a kitchen or bathroom, it's timeless yet on-trend, and it complements just about any design style. But since subway tile is so popular, it can sometimes feel like it's the only option out there. If you're thinking of trying something a little different in your bath, get inspired by these bold, colorful tile designs.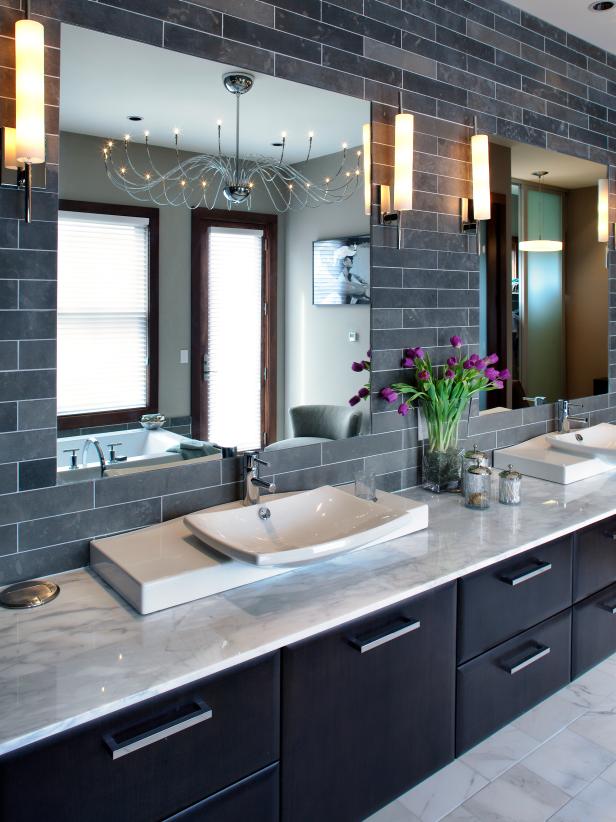 Contemporary Double-Vanity Bathroom With Gray Tiled Wall
This contemporary double-vanity bathroom features a gray-tiled wall and stylish accents including narrow wall sconces and flat basin-style sinks. The sleek black vanity has a white marble countertop and offers plenty of storage space for keeping the bathroom clutter free.
A tile backsplash in deep shades of gray sets a striking tone in this contemporary bathroom. Working with a dark-colored tile may seem daunting, but you can lighten up your space by incorporating at least one bright white element.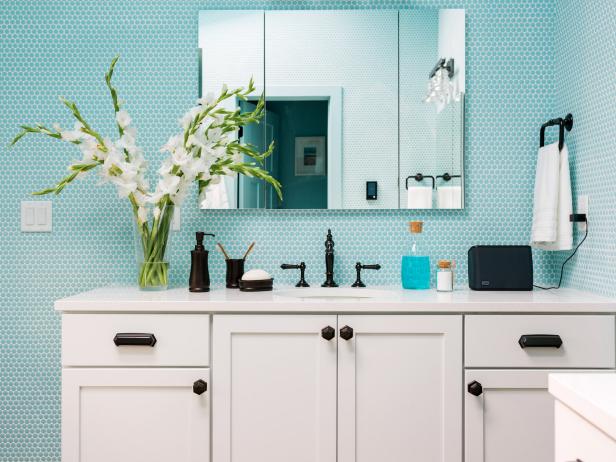 Vanity and Mirror
The master bath's larger vanity, with solid maple drawer fronts painted bright white, includes a 40-inch-wide by 30-inch-high medicine cabinet with anodized aluminum construction and a durable rust-free and chip-free finish.
Robert Peterson, Rustic White Photography
Like subway tile, penny tile is another classic that's currently in vogue. This timeless style is available in a variety of colors; for a bright, airy look, try a neutral or a light blue, as seen in the master bath of HGTV Urban Oasis 2016. For a glamorous space, opt for black, gold or silver tile.
Wood is a risky choice for the bathroom, but you can mimic its rustic, textural look with tile. Meant to imitate reclaimed oak, the tiles in this bath combine the rugged beauty of wood with the strength and durability of porcelain.
With their intricate patterns, the custom cement tiles in this bathroom lend a touch of Moroccan style to the space. Mirror strips on either side of the back wall add extra visual depth.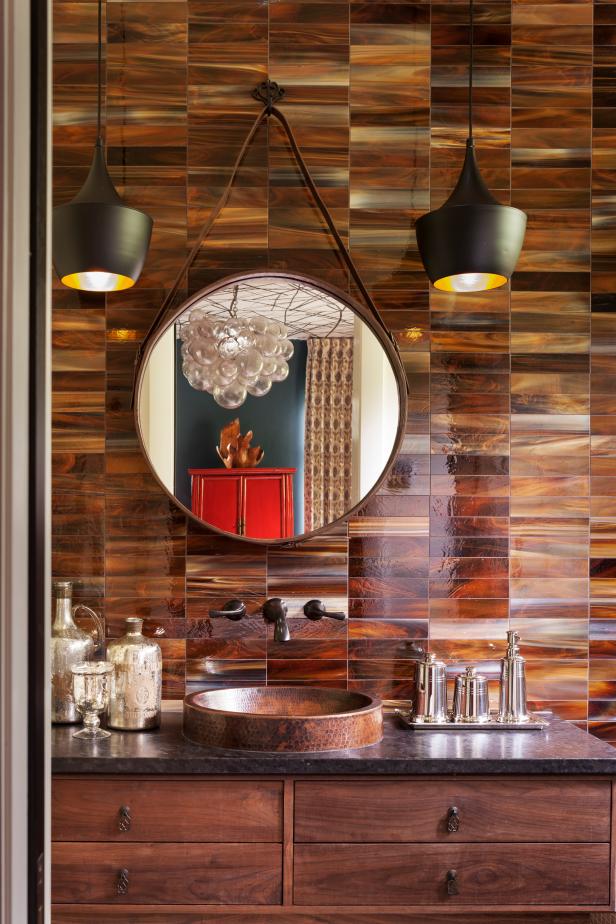 Bathroom Sink and Vanity With Brown Tile Backsplash
Richly detailed brown tiles decorate the backsplash of this sink picking up the similar hues in the wood vanity and sink. On the counter, silver dispensers elegantly finish off the scene.
Sporting various hues of brown, black and amber, tortoiseshell-inspired tiles look warm and slightly woodsy in this bathroom. A wood vanity, copper sink and mirror hung from a leather strap round out the space's naturally elegant look.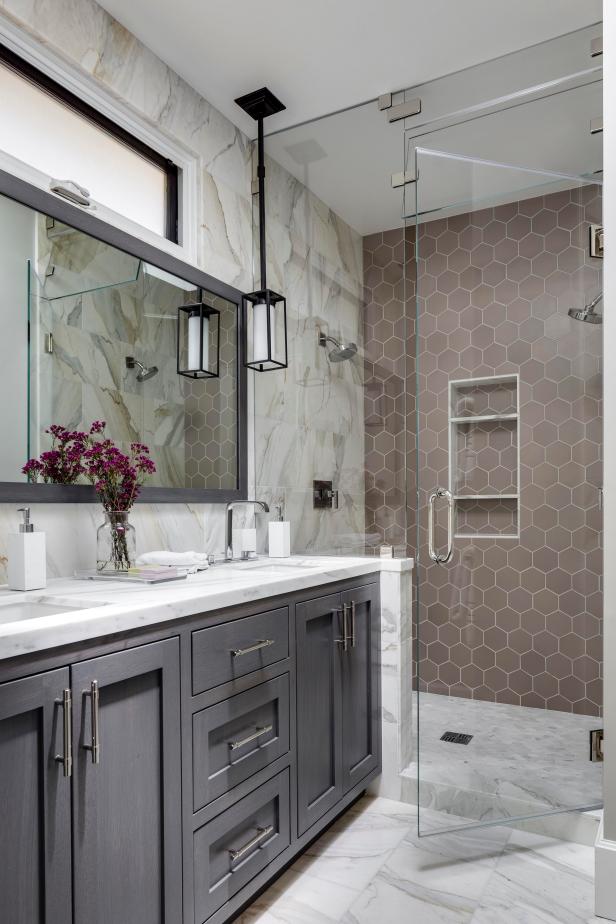 Transitional Master Bathroom With Taupe Hexagonal Tile
This beautiful bathroom features gray and white marble that continues from the floor to the backsplash and shower. This marble meets a wall of taupe hexagonal tile for an attractive design transition. A gray double vanity completes the stylish look.
It doesn't get much more luxurious than a marble bathroom. Here, marble tiles envelop the space, continuing from the floor all the way up the walls. In the shower, a wall of taupe, hexagon-shaped tiles adds warmth and interesting texture.
Geometric Tile Pattern Adds Extra Dimension to Powder Room
Geometric tile in varying color stretches from wall to floor to play a fun game with dimension and shape in this trend-forward Brooklyn powder room. A sleek, white floating vanity and simple mirror keep the attention focused on the dramatic tile.
A small powder room is the perfect place to play with a really bold tile. In this petite bath, geometric tiles cover the walls and floor, adding dimension to the space. The simple white vanity and frameless mirror keep the design from feeling overwhelming.
If you're especially crazy for color, try a mosaic tile backsplash in an array of hues. The key to pulling off this look is keeping the rest of the space fairly neutral. In this bathroom, white walls and a sleek, white vanity let the tilework take center stage.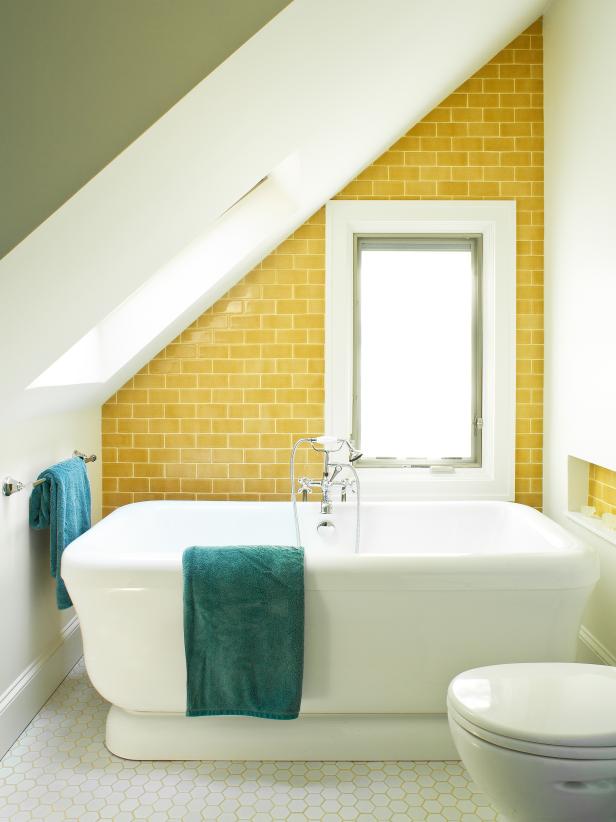 Yellow-Tiled Angled Bathroom Wall With Hexagonal Floors
Because pedestal tubs appear to float in their surroundings, they can be a wise choice for compact bathrooms. Not only do they take up less visual space, but their smaller footprint also exposes more flooring, which is preferable when showing off intricate hexagonal floor tiles like these.
If you simply can't resist the idea of a subway tile bathroom, consider putting a new twist on this timeless look, such as a bright color or an unexpected pattern. Vibrant yellow tiles help this compact bathroom feel larger.