How to Upcycle an Old Pallet Into a Cornhole Game
Liven up your next backyard bash with this vintage-inspired cornhole game made from discarded wood pallets.
2 pallets
cornhole bags, 3 of each color (you can purchase them online or at sport supply stores)
reciprocal saw
hammer or pry bar
compound miter saw
jig saw
safety goggles
measuring tape
pencil
nail gun and 2" nails
palm sander
medium- and fine-grit sanding pads
red and blue latex paint
large paintbrush
white spray paint
knife
Kraft paper
painter's tape
Using a reciprocal saw, cut the pallets apart until they are fully disassembled (Image 1). Carefully remove any old nails with a hammer or pry bar (Image 2).
Keep in mind, these frames won't be regulation size but they are packed with vintage charm. To build each frame, use the pallet's notched side boards. Measure, mark and cut these into (2) 39" pieces and (2) 21" pieces (Image 1). Assemble these into a rectangle, placing the 21" boards inside the two 39" pieces. Secure with a nail gun (Image 2). Repeat these steps for the second cornhole board.
Measure and mark the flat pallet boards at 24" across (Image 1), then cut with a compound miter saw (Image 2). Using the nail gun, attach boards atop the frame (Image 3).
Using flat pallet boards, measure and mark each leg at 10" long (Image 1), then cut one end at a 90-degree angle and the other on a 15-degree angle (Image 2). Using a nail gun, secure the legs to the top corners of each frame, angled side down (Image 3).
Mark the hole's location by first measuring horizontally to find the center, (at the 12" mark) then drop down vertically about 6" from the top of the board to make another mark (Image 1). This marks where the top of the hole will go. Trace around a 6" diameter object (Image 2), then, using a jigsaw, cut the hole out (Image 3).
Using a palm sander and first medium- then fine-grit sandpaper, sand the rough spots so the bags will slide a bit when they hit the boards (Image 1). Dust off boards after sanding. To add vintage color, dip the tip of a dry brush into latex paint, barely getting paint on the bristles. Using this dry brush method, lightly sweep color onto the boards (Image 2). To add a white stripe, protect the sides using Kraft paper secured with painter's tape. Lightly sweep white spray paint down the vertical center for an aged look (Image 3). Once dry, remove painter's tape and Kraft paper, position boards in a shady, backyard location and it's time for game on (Image 4)!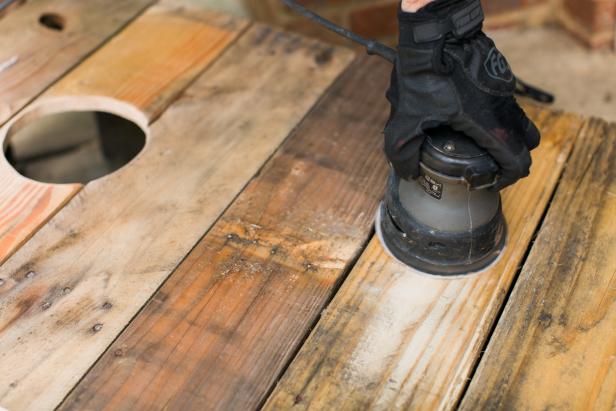 Flynnside Out Productions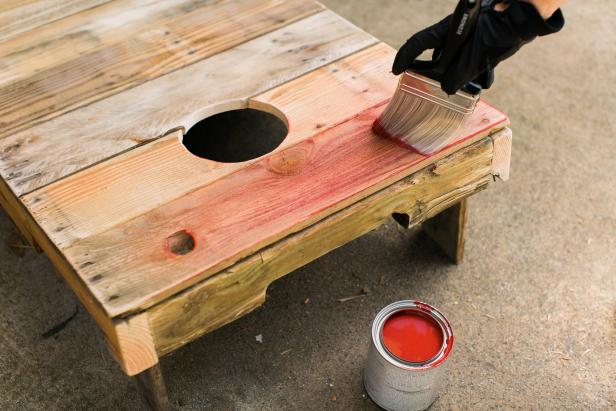 Flynnside Out Productions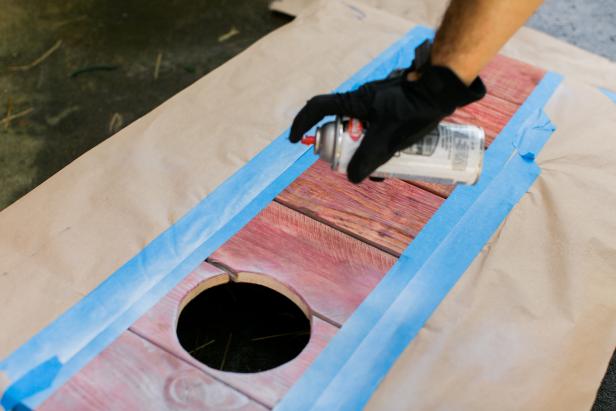 Flynnside Out Productions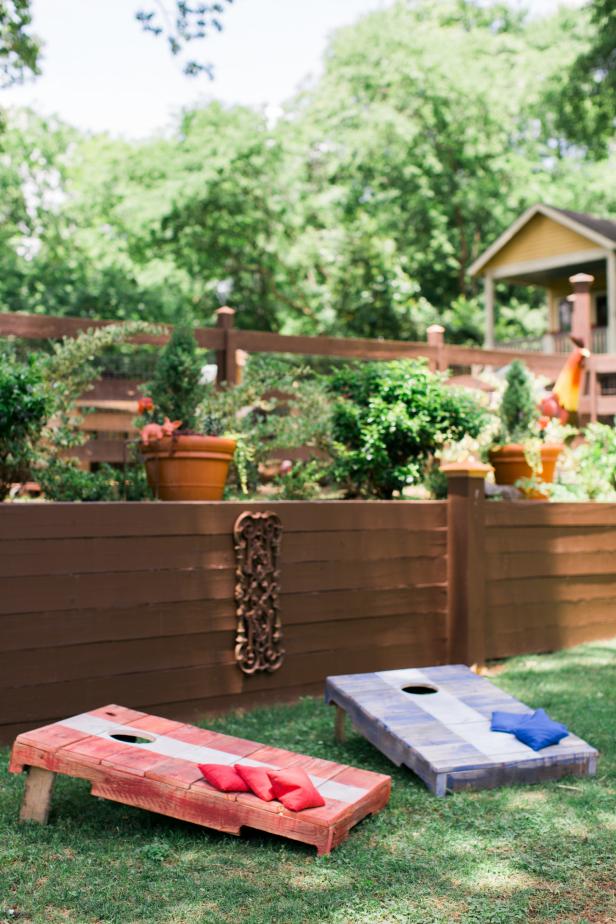 Flynnside Out Productions
More: Tailgate Party Tips
Tips for Hosting a Winning Tailgate Party
02:22
Learn how to throw a tailgate party that will score major points.