DIY Halloween: Easy and Affordable Viking Costume Under $25
A simple costume design, perfect for a little boy, combines store-bought accessories with items found around the house.
2 brown toilet seat covers
Long-sleeve white T-shirt
2 yards leather string in brown or black (cut into 5 pieces)
brown sweatpants
boots (snow boots or rain boots)
viking helmet and hammer
Trim Elastic off Seat Covers
Start by cutting the elastic inner ring off the seat covers. The little strings and pieces of fluff from the covers can be messy, so give yourself a few minutes to clean up.
Kids' Halloween Makeup Videos
Halloween Fairy Princess
Makeup application tutorial for a fairy princess Halloween costume.
Next, make a straight cut toward the center of the cover. Then, cut a small circle in the center that is just big enough to fit comfortably around the wearer's neck. Finally, cut a jagged line around the outside border of the cover.
Use sharp scissors or a craft knife to make two small cuts on each side of the circle and thread a piece of leather string, tying the "vest" together.
Any white T-shirt with long sleeves will work to complete the costume. Simply wrap a length of black or brown leather string around the wrists and tie. Pair the vest and white shirt with brown sweatpants and a thick brown belt.
Transform a regular pair of snow or rain boots (temporarily) by using the other toilet seat cover. Again, trim off the inside elastic border, then cut the seat cover in two pieces vertically.
Wrap one half of the cover around the top of each boot, securing with the last two remnants of the leather string.
Finish the costume with a Viking hat and Thor hammer, which can be found at a toy store or a party store. The hammer is made out of dense foam so kids can't really injure each other — but they do think it's the coolest thing ever.
The Latest From Our Blogs
Catch up on the latest HGTV show and design news right here.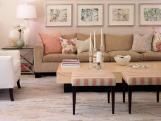 Found a living space you love in HGTV's Photo Library? Get the look in your own home with products from Wayfair.