How to Design a Snowman Wreath for the Holidays
No snow? No problem! This easy to make snowman wreath will get your friends and family in the holiday spirit, no matter what the temps.
White Yarn
Cardboard
Cup & Quarter (for tracing)
Pencil

Scissors
Wire Wreath Forms (3 diff sizes)
Snowman Accessories (hat/scarf)
Twigs (from your yard)

Command™ Outdoor Large Hook
First, get your supplies together, including three skeins of white yarn and three wire wreaths. Buy the wreath forms in three different sizes. Crafty hint: An 8", 12" and 16" combination makes a very well-proportioned snowman! And don't forget to grab some wintry accessories like a tall hat, a colorful scarf, and long twigs from your yard.
Step 2: Create Pom-Pom Guide
To make pom-poms, you'll need to make a cardboard guide. Place a 4 to 5-inch diameter glass on top of your cardboard scrap and trace around it. Then place a quarter in the center of that circle and trace around it, too. Cut out the smaller circle, leaving a gap, so you're left with a cardboard "C".
Place a short piece of "lead yarn" flat on the cardboard, mirroring the C shape. Now wrap the yarn around the cardboard about 3x, then clip the yarn along the outer edge of the guide. Tie off your pom-pom using the lead yarn.
Step 4: Add Pom-Poms to Wreaths
If you're crafting with a friend, one of you can make the pom-poms while the other ties them to the wire forms. Once they're all secure on the wreath, trim any excess yarn to neaten up the back of the wreath.
If you like to be precise, we used 56 pom-poms to create this snowman! And he's the perfect side for a door decoration. If you get carried away making pom-poms, don't sweat it. You can always use them to spruce up seasonal gift wrap or gift bags.
Once you've filled each wreath with your "snow-white" pom-poms, tie the three forms together using white yarn.
Finally, dress up your snowman with a dapper hat and cozy scarf. And don't forget to add a twig to each side of the center wreath, so he has arms! Hang from the door or window using a Command™ Outdoor Large Hook and enjoy!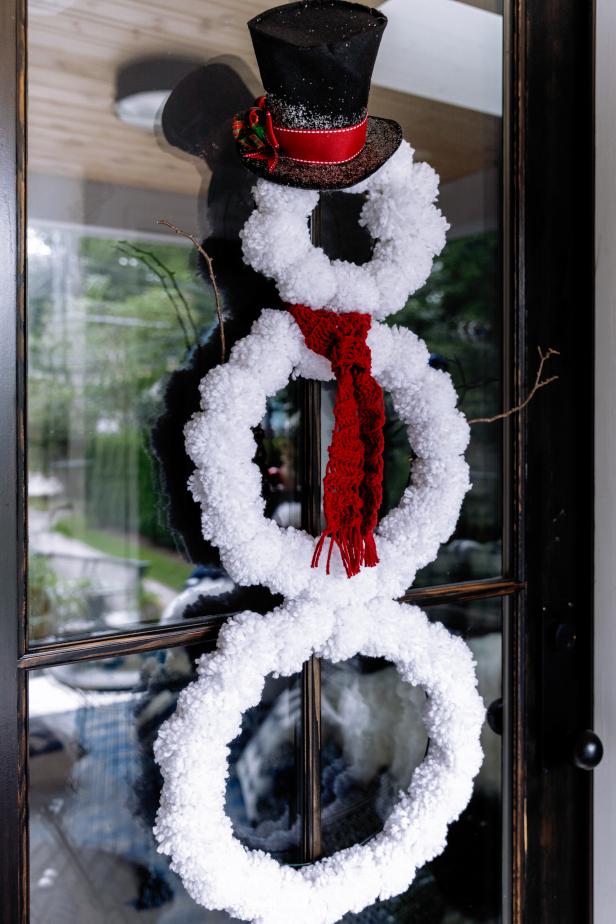 DIY Door Decor
Nothing sets the tone like a festive front door. If you're into some light crafting during the holidays, this dapper snowman is a must-make. It's essentially three wire wreath forms covered in DIY pom-poms. We love that it's easy to make and even easier to hang (one Command Hook, done!) It also folds up quickly when it's time to store it for next year.