What's Next in Home Control?
Discover the latest in home technology, from WiFi enabled devices to security systems.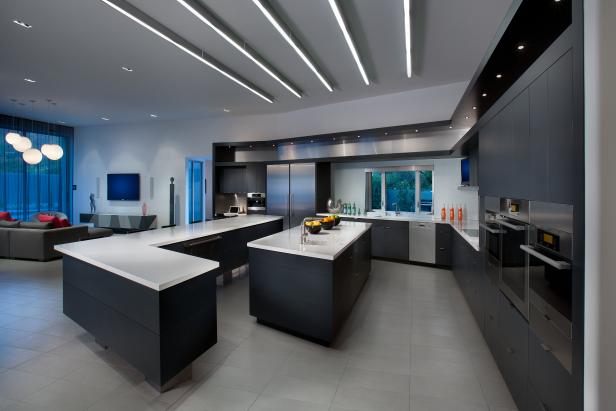 Open Plan, Modern Kitchen in Black, White and Gray Hues
This streamlined, open plan kitchen, designed by Angelica Henry, shows the dramatic side to modern design. The black laminate cabinetry and the stainless steel appliances and accents marry well with the linear elements in the room, such as the lighting arrangement and long, angular countertops, to give the space a lean, industrial and high-tech look.
There are plenty of high-tech options already on the market that are easily installed and simple to operate. Apps on smart devices such as phones and tablets can control audio/visual equipment, interior and exterior lighting, open and close garage and access doors, and alert you to security breaches in the home, among other things.
The next wave in home control resembles something out of a sci-fi movie. "Ambient computing devices in the home are waiting for you to tell them what to do," says Carley Knobloch, tech consultant on HGTV Smart Home 2016 project. Sitting on the kitchen counter, one discrete device is about the size of can of soup.
There's no pressing a button to activate it, instead you simply tell it what you want to do. For example, if you want to hear you playlist, simply tell it in your speaking voice. It can turn on the radio, select from your favorite tunes, answers questions you might have about anything, reads audiobooks, report the news of the day, give you traffic reports, weather, sports scores, travel information, you name it.
It can also control lights, your blinds and shades, open locks and turn your thermostat up or down depending on how comfortable you want to be in your home. Several companies have similar devices and you don't need to a computer programmer to set them up. They generally work with the "cloud" system of stored data and interface with your other smart devices. "You will not have to open your phone to turn down your furnace," says Knobloch.
Home security systems have come a long way since the lock and key. The newest electronic versions are housed in a single device so there are no contracts or monthly fees to pay to a security monitoring company. Once installed, they will send an alert to your smartphone if it detects a break in, a water leak, a freezing pipe situation, smoke, or fire issue.
Wireless doorbells with video feeds enable you to stream live audio/visual at your home's front door. If you are away from home, even across the world, you can see and speak with visitors who ring the bell.
Browse daily construction at HGTV Smart Home 2016. 
Customized lighting enables you to change your lighting experience using custom settings or programmable timers. For example, if you want to change the color of the hue of the illumination inside or outside your home, you can do so with an app on your smartphone.
Wi-fi enabled devices can control your heating and air-conditioning from where ever you are. In the kitchen, long since a hub of technology, new refrigerators show real time photos of their contents to show you what you have and what you're out of. No surprise trips to the market or shopping lists to write up.
Just check your smartphone or tablet before you head home. The new fridges also enable you to view expiration dates on food images so you don't waste food. You can even post your vacation photos on the door digitally!
Finally, home health is a fast growing segment of the high tech home market, says Knobloch. "It's going beyond climate control," she says.
New devices check the moisture level, carbon monoxide levels, allergy irritants such as dust or mold, and lets you know if the heat or air-conditioning is spiking and adjust it accordingly. "These devices micro measure the air to promote better health in the home," explains Knobloch.