Decorating Your Living Room: Where to Spend, Where to Save
No matter what size budget you're working with, you want to get the most out of every dollar. Discover where to invest and where to cut back to create a living room you love.

As the central piece of furniture in any living room and usually the number one gathering spot in your house, a comfortable sofa is one of your biggest furniture investments. Most sofas last for around 10 years, but a high-quality sofa can last twice as long. Look for one with classic lines and a durable yet neutral fabric (cotton, wool or leather) that will stand the test of time.

It's true: luxurious Oriental or Turkish rugs can last you a lifetime. But the price can be hard to fork over, especially if your house is full of pets and kids. It's much easier to stay calm cleaning or even just replacing a rug that cost a couple $100 rather than thousands. Good-quality rugs that don't break the bank are readily available at online or brick-and-mortar discount stores. Also, a rug is a simple way to completely transform the look of your room so choosing cheaper options allows you to change up the style of your room without feeling guilty.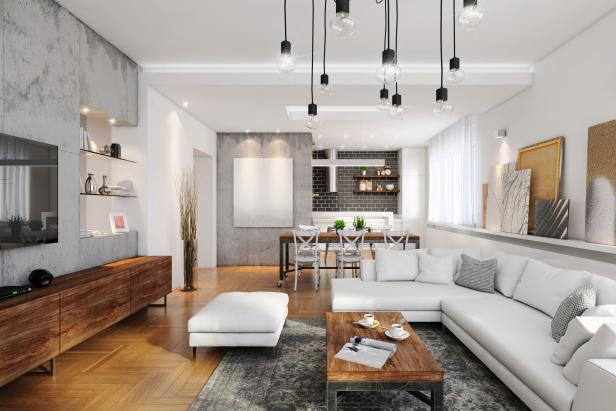 842254818
Modern hipster apartment interior. Open space loft, living room with dining room and kitchen in the back. Large white sofa, vintage decorative carpet, coffee table with coffee, seat, dining table with armchairs. Large pendant light. large windows with sunlight, green plant wall. lots of decoration. TV set. interior design copy space. Concrete wall, wooden parquet floor. sunlight render.

These statement-making pieces are worth the splurge since they're a permanent fixture in your home. A great light fixture elevates your room's design, especially in your living or dining spaces where you gather with your family and friends and can make the biggest impact.

Is something solely for decoration? Then, it's a good place to save money. Pillows are one of designers' favorite ways to quickly change the look of any living space, indoors or out. They're also an easy way to try out a trend you've been seeing all over Instagram. Don't waste your money on the accessories you'll want to trade out in in a couple months.

Start curating your own personal gallery. If you're buying what you love, art never goes out of style because it's just for you. The crucial step is to take your time and find pieces you'll enjoy for years (or even a lifetime!). Visit local galleries and look through online galleries to discover artists you like.

Not the star of your room, an occasional table doesn't require as big of an investment as your center-of-the-room coffee table. Affordable end and console tables are easy to find in any style you need, from modern to classic, so they will seamlessly fit into your room's design.
This article is for educational purposes only, and is not intended to provide medical or legal advice, or to indicate the availability or suitability of any product or service for your unique circumstances.
Capital One does not provide, endorse, or guarantee any third-party product, service, information or recommendation listed above. The third parties listed are solely responsible for their products and services, and all trademarks listed are the property of their respective owners.
Beside your actual home purchase, renovations are the biggest investment you'll make in your home. Avoid these mishaps to save you money and a lot of headaches.