Home Improvement Mistakes You Don't Want to Make
Beside your actual home purchase, renovations are the biggest investment you'll make in your home. Avoid these mishaps to save you money and a lot of headaches.
Skipping Hidden Improvements
Even if you can't see the insulation, wiring and piping behind the walls or you think the roof looks fine, it doesn't mean you should forgo the important renovating step of inspecting and potentially replacing these vital components of your home. While these overhauls aren't as fun as picking out new hardwood floors, you certainly don't want rain pouring in from a leaky roof and ruining your beautifully refurbished home.
Going With the Lowest Bid

As with most things in life, you get what you pay for and often the lowest price does not mean you'll get the best work. Get written bids from at least three contractors and make sure the quote is itemized so you know exactly what is included: their fee, permit fees, exact materials to be used, install costs, a waste removal plan, their insurance and warranty on their work. Those details on the bid show if the contractor is estimating the project correctly and is thorough.

There will be surprises during a home renovation. And while you may anticipate going over your budget a bit, you need to actually account for that overage. Make sure to add an additional 15 percent (and probably a little more if working on an older home) so that you can finish your projects without the additional stress of worrying where to find the money.

The old adage remains true: measure twice, cut once. Although we'd recommend measuring more than twice to really be safe, especially when it comes to cabinet installs. Make sure to check and recheck your cabinet measurements as well as how the appliances will fit in the layout.

Again, not the most enjoyable step of a renovation, but essential for a lot of projects. Make sure that you and/or your contractor get the necessary permits before starting your home renovation. If you do work without a permit and something happens, your homeowner's insurance might not cover it. Also, if you're caught doing work without the proper permits, your local government could issue a stop work order, potentially making you start all over again so inspectors can check your work.
This article is for educational purposes only, and is not intended to provide medical or legal advice, or to indicate the availability or suitability of any product or service for your unique circumstances.
Capital One does not provide, endorse, or guarantee any third-party product, service, information or recommendation listed above. The third parties listed are solely responsible for their products and services, and all trademarks listed are the property of their respective owners.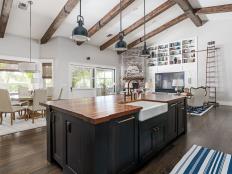 A home remodel is a major undertaking. Know where to save and where to splurge so you make the most of your investment.