10 Tips for Living With Pets + Kids in a Small Space
Tricks for housing a big life in a small home.
Small-space living can be a breeze when you live alone, or even with a roomie or S.O. Add kids and pets to the mix, and things get a bit more complicated. Our favorite little companions come with spatial needs, not to mention lots of stuff. The good news is it can be done, and I'm sharing practical tips on exactly how to do it.
1: Do away with unnecessary furniture.
Give away furniture that serves no purpose in your home, and be very intentional with any new furniture purchases. For example, avoid overindulging in kid or pet furniture, and steer clear of pieces that are entirely decorative. Instead, opt for furniture with hidden storage or multiple functionalities.
Think vertical. A lack of floor space means you should get creative with your wall space. When filling a blank wall, think less about decorating and more about being practical — though you can easily make practicality look pretty. For example, consider a stylish way to loft your cat's bed. (Sorry, dog owners; I don't think fido would appreciate a lofted bed.)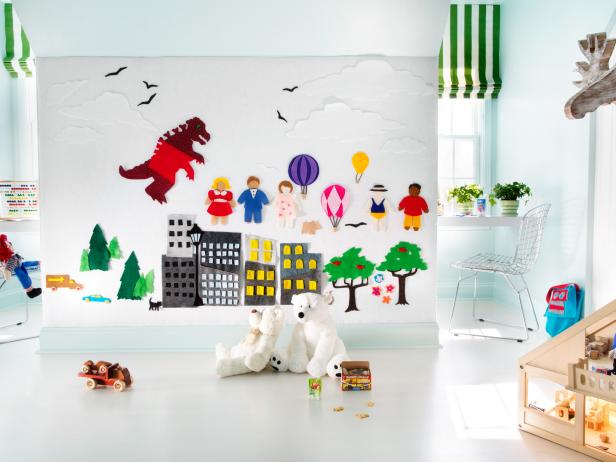 BPF_original_boys-bedroom-to-grow-into_dormers_4x3
In its original state, the inset areas around the dormers were a waste of space. To give these areas a true purpose, they were transformed into two separate homework nooks complete with custom floating desks. To create the custom desks, first 2X4 lumber and paint-grade plywood were both cut to size, mitered, attached with a nail gun, then sanded and painted.
Likewise, instead of buying an activity table for the kids, turn a blank wall into a super-cool felt activity wall.
3: Digitize artwork and mementos.
Try an app like Keepy to store kids' art, schoolwork and mementos. Snap a photo, upload and you're done. If you tend to be overly sentimental (guilty), this may seem unnatural at first. BUT, think of the space you can free up by recycling all that paper.
4: Make your entryway practical.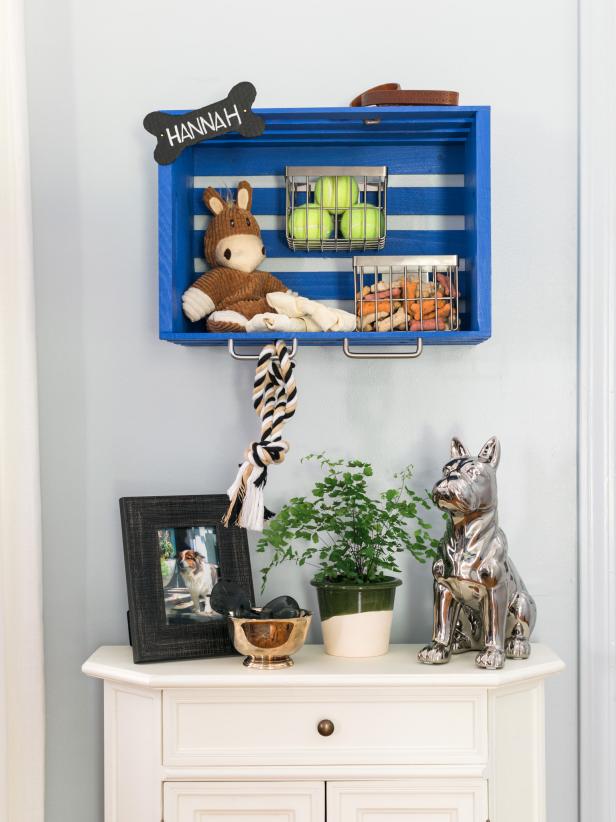 Pet-Friendly Entryway Storage
Pet owners can make their walks much more efficient by outfitting their entry as a pet station. Here a shallow console table is used to keep framed photos of the family dog on display along with a crate to hold essentials neatly and within arm's reach.
Flynnside Out Productions
Often, a home's entryway serves as nothing more than wasted space, but this isn't an option for small-space dwellers. Whether you have kids, pets or both, make your entryway a place that stylishly stores everyday items. Think peg racks, shelves or cubbies — whatever it takes to get the job done. Learn how to make this pet storage station for your entryway.
Baskets are tremendous at hiding clutter while still looking chic. You can place them almost anywhere — from the living room to the playroom to the bedroom — on shelves or on the floor. Search for on-trend varieties, and fill them with all your miscellaneous kid or pet things.
6: Invest in pretty kitchen canisters.
While you're on a mission to hide things, head to the kitchen and give your counters a once-over. Corral items that are frequently left out, like dog treats or kids' snacks, and buy pretty kitchen canisters to store them where they're easy to reach.
7: Hide pet bowls/the litter box.
8: Utilize unused space in a creative way.
Jessica McGowan/Getty Images, 2014, HGTV/Scripps Networks, LLC. All Rights Reserved
Take a moment to think about every nook and cranny in your home. Is there any unused space you could transform? For instance, the often-unused space under the stairs can serve as a cozy sleeping nook for a pet.
9: Make spaces work double-duty.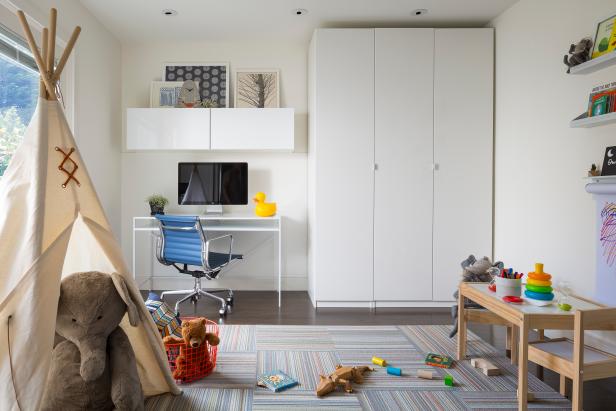 White Children's Playroom With Teepee
Colorful children's artwork and books add whimsy and interest to plain white walls. The tall white storage cabinet keeps toys and art supplies neatly tucked away.
When you've successfully utilized every last space, it's time to consider multifunctional rooms. For example, carve out a small workspace in your kitchen or playroom if you need a home office but don't have a spare room.
When all else fails, embrace the great outdoors. It's important to love your home, but it's also important to get outside when you can. Your little ones (the humans and animals, alike) will thank you.
Sometimes it's just a matter of turning a decorating "don't" into a "do" to make close quarters feel a whole lot bigger. Here, top designers and HGTV stars share their favorite insider tricks.