Home Remodeled Into Entertainer's Dream
A homeowner dreamed of a showcase-worthy home built and designed for entertaining. Design team Addison Bruley created a home perfect both indoors and out for hosting every occasion imaginable.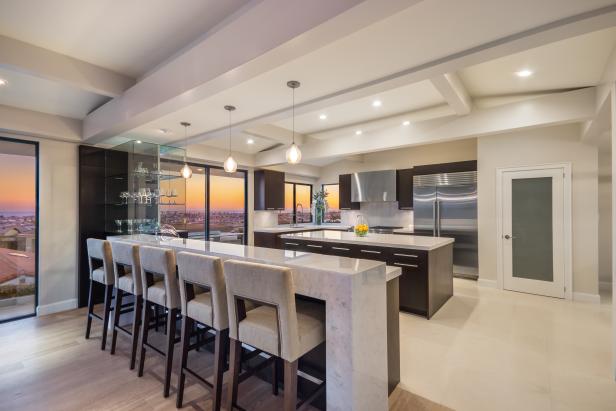 White Modern Open Plan Kitchen With Eating Bar
Casual dining gets the luxurious benefit of incomparable views and a white marble eating bar in this open plan kitchen. The design is modern with the focus on the large windows and sleek, efficient feel.
What were the main items on your client's wish list for remodeling/redesigning his home?
The client wanted a house that was an entertainer's dream and to maximize the property's square footage. He also wanted us to approve all materials including stucco color and texture, flooring, hardware, stone selection and lighting. We also approved cabinet design, furniture design and paint selection to ensure the entire project flowed together seamlessly.
What were the main objectives you set out to accomplish for your client? Was there a space that was most important to him?
Our client wanted to make sure the project remained on a set time frame for completion and budget, culminating in a stunning end result. We used our resources to make sure he was receiving the best product for the money along with a quick turnaround time. We custom-designed several pieces of furniture to make sure they fit the space perfectly and accentuated the architecture. The entertaining space and exterior courtyard were the most important spaces to our client.
How well did the home's original layout work for your client? What improvements and changes did you make so the home became more functional for your client? What makes this home unique to him?
The house before was very dark, closed off and not functional for entertaining. Throughout the design process unnecessary walls were removed in the kitchen, living room and dining room, while guest quarters were added over the garage to maximize the space. Many of the walls were opened up to accommodate large sliding and bifold doors that encourage guests to flow indoors and outdoors. Our client has a very fun and energetic personality and wanted a house that would showcase that as well as take advantage of the beautiful Southern California weather.
What was your biggest obstacle in the remodel/redesign of the home, and how did you overcome it? Any memorable moments?
Time management and staying within the budget were extremely important.
We were on a tight schedule with each vendor and stayed on top of delivery times. We also sourced furnishings, hardware and fixtures that were in stock — or able to be fabricated — within our time frame. One of the most important elements of a design project is time management, because if one item is backordered, it can create a domino effect and throw off the whole timeline. Sometimes if an item is backordered you must compromise and select an alternative.
After nearly 25 years in the design industry, we have superb resources and vendors that allow us to create our designs while staying within clients' budgets. Also knowing where to splurge on a piece and where to save money allows us to accomplish our goals and exceed client expectations.
Seeking design inspiration is what draws our readers in and makes them fall in love with a space. What was the inspiration for the overall style of this home?
Our design objective was to make the house a unique and gorgeous property where you want to entertain friends and family. We focused on specific pieces that would really pop and custom furniture that would maximize the layout and flow of the house. We loved the combination of dark woods with lighter stones and the contrast of light flooring paired with darker accents like rugs, art and accessories for a contemporary, layered look.
The custom master closet in this home is a dream come true for clothes lovers. Talk about how you designed this closet to meet your client's wish list for the space.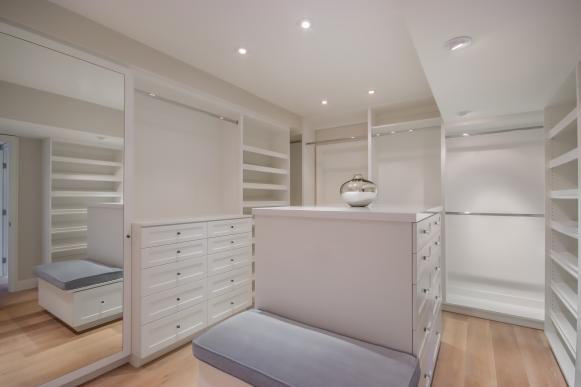 White Walk-In Closet and Gray Bench
This enormous walk-in closet is every fashionista's dream. Store everything you own in perfectly organized, easy-to-find style. Plus, with a bench and large mirror it doubles beautifully as a dressing room!
We worked with our cabinetmaker to really maximize the space in the master closet. It is not that large of a footprint, but we were able to have an enormous amount of storage and areas to display beautiful pieces and accessories. Our design team also incorporated hidden mirrors in the backs of the cabinet doors so they didn't take up wall space. We used light colors within the cabinets, a stone island top and paint to brighten the space, as well as recessed lighting. We also designed the island at bar height to maximize jewelry and accessories storage; we even designed shelving within for displaying sunglasses.
What was your favorite room/space to design in this home? What was the most difficult and why?
We really enjoyed designing the entire property down to the tiniest detail; however, we were very passionate about the kitchen and master bathroom. We had a custom glass cabinet in the kitchen peninsula that took several tradespeople to make it function properly and be aesthetically accurate, as we essentially wanted it to look as though it was floating.
We also had the master bathroom encased in slabs of marble and had the large mirrors recessed with custom lighting behind. It was quite difficult to make the mirror line up perfectly and flush with the marble without a large gap on the sides, but after careful planning it worked and looks amazing.
Was there a specific item, pattern or material that was essential to bringing the design together?
We wanted the entire house to flow well and used a series of neutral tones with pops of color throughout. We focused on grays, browns, light blues and dark navy in various textures that coordinated spectacularly. We also used polished chrome in most of the light fixtures, hardware, cocktail tables and accent pieces.
After all is said and done, what's the best thing about this house, in your opinion? What is your favorite feature, element or detail and why?
The courtyard with the pool and decks turned out gorgeous —it really comes to life at night — and is perfect for a party. Inside, the kitchen design works extremely well with the large island and peninsula, making it an entertainer's dream. The beautiful waterfall-edge detail on the stone peninsula really pops and flows beautifully with the white counters and marble backsplash.
The fireplace in the living room is a beautiful focal point on its own, but the bronze wallpaper surrounding it gives it an even more luxurious look and feel. How did you decide on bringing these elements together? What was the inspiration behind the fireplace's design?
We selected the wallpaper based on the colors in the marble for the stone fireplace. With all the grays and chrome in the house we wanted to warm it up with a bold textured wallpaper. We feel it really provides a great contrast to the light marble fireplace along with balancing the dark espresso kitchen cabinets from the opposite side of the room.
What makes this project uniquely yours? Is there a particular design element that you incorporate into every project you work on?
We create lavishly modern designs for our projects regardless if they are more traditional or contemporary. We feel that clean lines and well-placed art, accessories and textures should shine and pull a design together. We obsess over details and technical aspects for every project, including movement within a stone that is cut a specific way or how cabinets function.
Our readers love the small details. What are the "hidden gems" in your plan that really made a big difference in the overall success of your design?
For furnishings and accessories we like to use various textural elements that create interest — it might be a few pillows, a rug or wallpaper, but it adds an important element that is necessary when not using a lot of patterns.
We focus our stone design on maximizing the beauty of the veining or movement. We meet with the stone fabricator to make sure it is going to be used in the best way possible. It might be making sure a vein is running down the waterfalled edge on the peninsula or how the stone is going to wrap around the edge of the fireplace.
Paint selection is one of the most important steps when it comes to creating an environment that flows from one room to another or making a room really pop, such as our black and white powder bathroom.