Get expert decorating solutions that, no matter what your decorating style, will help transform your bedroom into a sanctuary.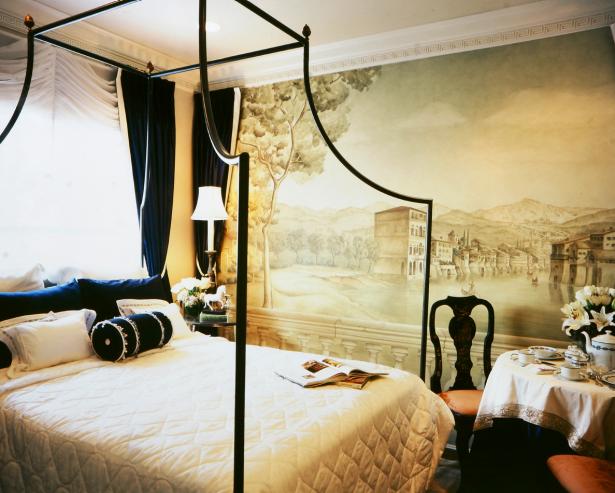 Bedroom-Donts-8-Ammie-Kim
This luxurious bedroom is an inspiring space to refresh and rejuvenate. Design by Ammie Kim
This luxurious bedroom is an inspiring space to refresh and rejuvenate. Design by Ammie Kim
Bedroom: Your Private Sanctuary
Even the most decorated houses often have a dirty little secret: a dull and dreary (or cluttered and chaotic) bedroom. Because it's a private space, this room is sometimes the last to get our decorating attention, making it the poor stepchild to the rest of our lovingly designed abode.
Neglecting to make the boudoir something special is mistake number one, interior designers say. This is a place you should love to spend time in, an indulgent oasis and welcoming haven from the stresses of the day. "The bedroom should not be overlooked; in fact, it should be the best room in the house," asserts Shelly Riehl David, an interior designer with offices in Palm Beach and Minneapolis. "You deserve to come home to a beautiful, relaxing space where you can close the door to the world."
Other common bedroom-design problems? Read on to find out — and to get expert solutions that, no matter what your decorating style, will help transform your bedroom into the lush cocoon or tranquil retreat you've been dreaming of.
Don't get us wrong — color is a powerful design tool, and should absolutely be used in the bedroom. But experts advise opting for restful shades and a soothing, monochromatic palate to keep the mood subdued. Soft greens, blues and lavenders create a feeling of calmness and serenity, while rich, lush hues like persimmon, brown and amber envelop you in cozy warmth.
But save the bright reds, yellows and oranges for other rooms. "Anything too vibrant will distract from the relaxing feeling you're trying to create," says Aimee Kim, a Los Angeles-based interior designer known for her luxe, yet peaceful, bedrooms. "Use toned-down versions of your favorite colors in the bedroom." That might mean choosing mauve instead of eggplant, or pumpkin instead of tangerine.
Don't Overlook the Ceiling
A gauzy canopy over the bed and a glamorous chandelier on the ceiling provide a treat for the eyes as you lie in bed. Design by Shelly Riehl David
Do you see a bland, blank surface as you lie in bed gazing up at the ceiling? If so, you're not alone. "Everyone ignores the ceiling," Shelly Riehl David laments. "Instead, make it a celebrated space" by adding eye-catching detail, subtle pattern or soft color. David's favorite trick is to paint the ceiling a slightly lighter version of the wall color. "Ask the paint store to knock down the color 20 percent for the ceiling," she suggests. Besides dressing it up, color visually lowers the ceiling and gives the space a feeling of comfort and intimacy.
You could also stencil or wallpaper the ceiling, add architectural elements in the form of beams or moldings or use a decorative paint treatment, David says. We've seen silver-leafed bedroom ceilings that are to die for. Other options for adding interest to the "fifth wall": Torchieres and uplights that wash the ceiling with warm pools of light; a canopy or tented bed that ensconces you in warmth and comfort as well as bringing color, pattern and texture to the surface above you; and an intricate medallion and sparkling chandelier that add to the room's ambiance and create a focal point.
Don't Choose Out-of-Scale Furniture
Another common problem that designers often correct is bedroom furniture that doesn't fit the space's size. "Unless your bedroom is huge, over-scaled furniture is a mistake," designer Aimee Kim cautions. If your ceilings are only eight feet high, for instance, opt for a low headboard instead of a four-poster that reaches for the rafters (and dwarfs the room).
Too-small furnishings can be a problem as well, getting lost in a large space and falling short on functionality. "Beds keep getting taller, and nightstands need to be taller, too, so you don't fall out of bed when you reach for a sip of water in the middle of the night," designer Shelly Riehl David says. Before buying furniture, make a simple, to-scale sketch of your bedroom as well as paper cutouts of the furnishings you're considering. That way, you can be sure ahead of time that everything fits and that the scale of various pieces complements each other.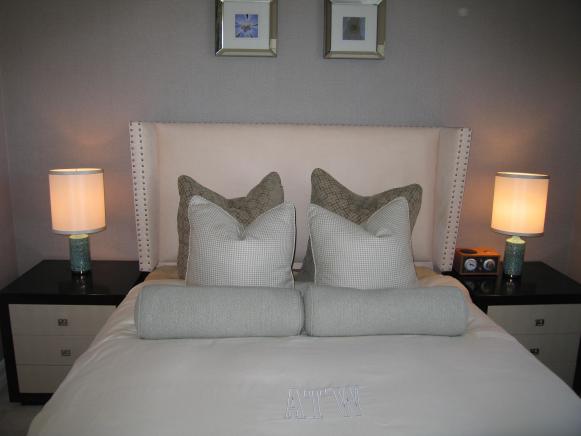 Bedroom-Donts-5-Lori-Dennis
Roomy nightstands provide plenty of space for necessary items, but keep them tucked out of sight. Design by Lori Dennis
Roomy nightstands provide plenty of space for necessary items, but keep them tucked out of sight. Design by Lori Dennis
When you picture a private sanctuary, do you envision piles of newspapers and drawers too stuffed to shut properly? We didn't think so. "Clutter equals stress, so the bedroom should be clutter-free," designer Shelly Riehl David says. The key element for creating a no-clutter zone: good storage.
Having a place to stash everything imparts a sense of calmness and order, so integrate hidden storage wherever you can:



Instead of puny bedside tables, choose generously sized nightstands with drawers or doors that let you hide books, magazines, reading glasses, lotion and other sundry items out of sight, but within easy reach. In fact, small dressers on either side of the bed serve the same function as nightstands, but have much more storage space.


Opt for a trunk or a storage bench at the foot of the bed to conceal extra bedding and throw pillows when they're not in use.


Consider a headboard with built-in shelves or sliding panels, or a bed with slide-out drawers underneath. Some clever new models even have mattresses that lift to reveal a large storage cavity.


And though it can be pricey, a built-in closet system will utilize every inch of potential storage in that space, helping you keep clothing chaos contained and out of the bedroom proper.


If new furniture or a closet re-do aren't in the budget right now, "storage boxes that slip under the bed and are hidden by a dust ruffle are a good solution," suggests Beverly Hills-based designer Lori Dennis.
Having to navigate an obstacle course of furniture to get to the closet, or sharing the bedroom with an abundance of dusty accessories are not elements that lend themselves to the tranquil, soothing vibe you're trying to create. Instead, keep the bedroom simple and serene. Remember: The look you're going for is beautifully spare, subtly sophisticated and elegantly understated.
"For smaller bedrooms, use only the furniture you absolutely need: A bed, nightstands, maybe a cozy chair and a small side table," designer Aimee Kim advises. "Put your dresser in the closet so it doesn't take up valuable space in the bedroom." When placing furniture, make sure to leave at least three feet between the bed and walls or tall pieces, such as armoires, and at least two feet between the bed and low furniture like tables and dressers. Do your best to keep traffic paths in the room unobstructed, too — if you have to circle around the bed to get from the bathroom to the closet, for instance, you may want to consider repositioning the bed.
When it comes to tchotchkes in this space, less is definitely more. "A lot of people over-accessorize in the bedroom," Kim says. "Be really judicious with accessories — one great piece of art and a few simple accents are all you need. And make sure that accessories work with the style and theme of the room." That means simple, minimal accessories in a modern bedroom, and maybe a beautiful seashell or two in a coastal- or beach-themed space. Kim also warns against using "visually disturbing" heavily tasseled, fringed and gathered window treatments and pillows.
Don't Forget a Cozy Sitting Spot
A quiet place to sit and read — or to sip your morning tea while you gaze out the window — is a wonderful gift to yourself. If the space in your bedroom allows, tuck a cushy armchair and footrest (or a pair, if you can fit them), a small table and a reading lamp into an unused corner or at the foot of your bed to create a reading or sitting area.

Not enough room? Window seats save floor space and make the most of natural light and views, so consider a built-in bench under the bedroom window. Lori Dennis recommends an upholstered headboard to make the bed more comfortable for sitting up. At the very least, Shelly Riehl David says, "put a bench at the end of the bed so you have a place to sit down and untie your shoes."
Don't Leave Yourself in the Dark
A single, glaring overhead light creates harsh shadows and doesn't do much to help you see what's in dresser drawers or make out the words in the book you're trying to read. A light mounted from the center of the ceiling is, after all, directing light behind the place you need it to. "Plus, the downlight casts under-eye shadows that would make even Gisele Bündchen look bad," designer Lori Dennis jokes.
Instead, layer lighting throughout the room. In a bedroom, just as in any other space, you need ambient (general, ceiling-mounted) lighting to illuminate the entire room; task lighting (on bedside tables and vanities) to provide focused light for reading and other activities; and accent lighting (in the form of wall sconces, torchieres or art lights) to add drama, wash the room in soft illumination and lend a cozy, welcoming vibe. "Lights at different levels and in different areas create a mood that's pleasing and romantic," Dennis explains.
Make sure lighting is adjustable, too: Bedside lamps with pivoting arms let you direct light exactly where you need it. Dimmers allow you to adjust wattage depending on the time of day and the mood you want. And having lights on separate switches lets you customize the level of illumination; you can turn on lights in just one area of the room without fear of waking your slumbering mate.
Don't Forget to Indulge in Luxurious Linens
The bedroom, more than any other space in your home, should be a tactile and sensual wonderland. "We spend a third of our lives in bed — we might as well do it in luxury," designer Shelly Riehl David reasons. Outfit yours with textiles: Adorn the bed with plush pillows, sumptuous sheets, cozy covers and oh-so-touchable throws that make it a place you can't wait to melt into at night.
When it comes to sheets, designers are unanimous in their preference for natural fibers like cotton (don't settle for less than 100 percent) or linen, and for high thread counts (aim for 350 or more). "Synthetic fabrics don't breathe," designer Lori Dennis explains. "Satin sheets may look great in movies, but they have two problems: They make you sweat like crazy and slide off the bed." David's favorite trick for giving sheets hotel-level luxury? Sending them to the drycleaner for professional washing and pressing, which doesn't cost much, but creates a crisp smoothness worthy of the Ritz.
Bedding isn't the only place for tactile treats in the bedroom: Drape a sinfully soft cashmere throw over the arm of your reading chair; upholster the walls with fabric or textured wallpaper; hang silk sheers or substantial curtains from a canopy bed; and create a soft landing by placing a plush rug at your bedside or by splurging on soft, natural-fiber carpeting for the bedroom.
Don't Shortchange Windows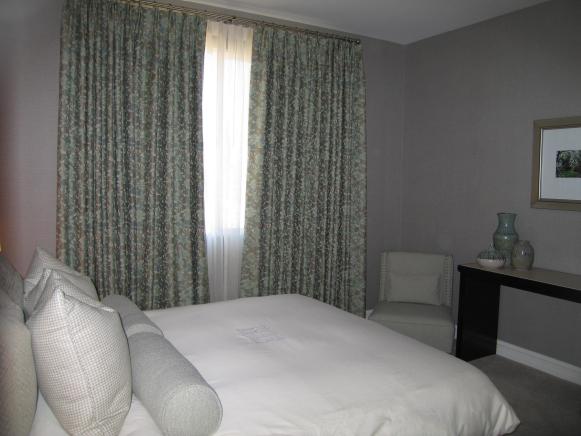 Bedroom-Donts-10-Lori-Dennis
Sheers layered under heavy, opaque curtains let you fill the room with sunlight or block it out for luxurious weekend sleep-ins. Design by Lori Dennis
Sheers layered under heavy, opaque curtains let you fill the room with sunlight or block it out for luxurious weekend sleep-ins. Design by Lori Dennis
What's standard issue in even the cheapest motel rooms, yet usually overlooked in our own bedrooms? Blackout window treatments. Thin curtains that let the rising sun peel your eyes open at first light or poorly sized shades or blinds that allow light to seep in around the edges don't allow for that most decadent of weekend indulgences: sleeping in. Instead, designers say, choose curtains or shades with sewn-in blackout linings, or opt for thicker, more opaque fabrics that block the sun's glare when you need them to but can be swept aside or pulled up when you want natural light to pour in. If you like the look of gauzy, transparent curtains that filter light and billow in the breeze, pair them with opaque roller blinds that can be pulled down to maintain privacy at night and to block morning light.
Another advantage of a beautifully dressed window? "Drapes frame the window and the view," designer Shelly Riehl David points out, "and offer another opportunity to incorporate texture, color, pattern and softness into the room."
Don't Bring the Everyday Into the Bedroom
A beeping cell phone; the ping of incoming e-mail; exercise equipment that seems to stare at you in silent judgment; and the drone of the nightly news turn the bedroom into yet another space where you have things to accomplish and responsibilities to fulfill. So check your cell phone, pager and PDA at the bedroom door. While you're at it, banish your treadmill, laptop and work files. Consider moving out the TV, too. "The less you can plug in, the better," says designer Lori Dennis. "The only things that should be going on in the bedroom are reading, sleeping and romance."
Be vigilant about keeping out these nagging reminders of the outside world, and you'll create a cherished place to relax and renew. In other words, a true sanctuary.