8 Space-Saving Organization Ideas for When You Don't Have a Walk-in Closet
You don't need a walk-in to have a closet that works for you.
I don't have a bucket list but if I did, "get a walk-in-closet" would definitely be on there. As someone who has lived in 800 square feet or less for the last 20 years, I've still never had a closet to call mine. I see walk-in closets with accessory islands and seating areas, and that's not what I'm dealing with in my small house. At all.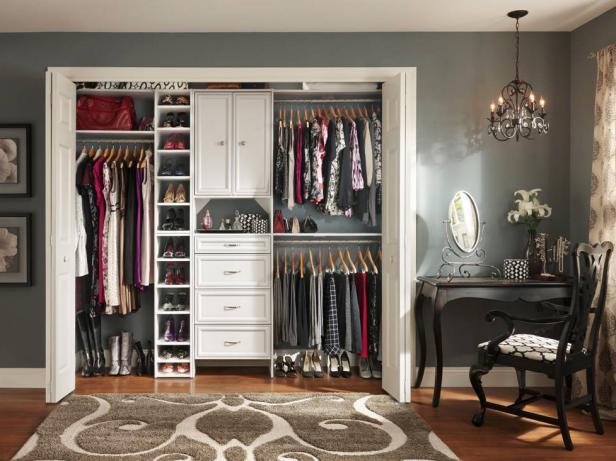 A Woman's Dressing Space
Getting ready in this space is nothing less than enjoyable. Shoes are neatly displayed in a vertical row alongside custom shelves, which feature a place for perfume and small items. When the doors are open you can easily locate all of your belongings. Photo courtesy of ClosetMaid.
For those of you who, like me, need to get organized with a reach-in closet (or don't have a closet at all), here are some tips and tricks that will help you along the way.
Take Off Your Closet Door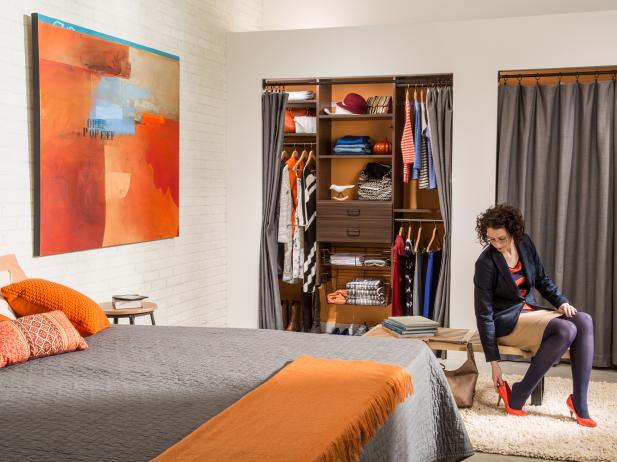 Cocoa Reach-In Closet
Design a solution to fit your lifestyle with a custom reach-in closet. Choose your own combination of hanging rods, open shelves, drawers, and baskets with full-extension glides, accommodating all of your clothes and accessories so you can put together the perfect outfit each day. An appealing Cocoa color and Oil-Rubbed Bronze hardware keep the entire look polished, making the closet one of your favorite features in the room.
One way to immediately get a bit of extra space is to remove the doors on your reach-in closet. Once the doors are off, you can choose to leave the closet open or add something simple like curtains. Removing the doors will allow you to store bulkier items or add some additional storage furniture that might not fit with closet doors.
If You Do Have Doors, Use Them
If you're going to keep your closet doors, consider how you might be able to use them to create even more storage space in your closet. Add hooks to keep your jewelry in place, or use an over-the-door organizer to store shoes, scarves or other small items. Even if you have an unusual item to store, think about how you might be able to use the extra space on your doors to grab more real estate.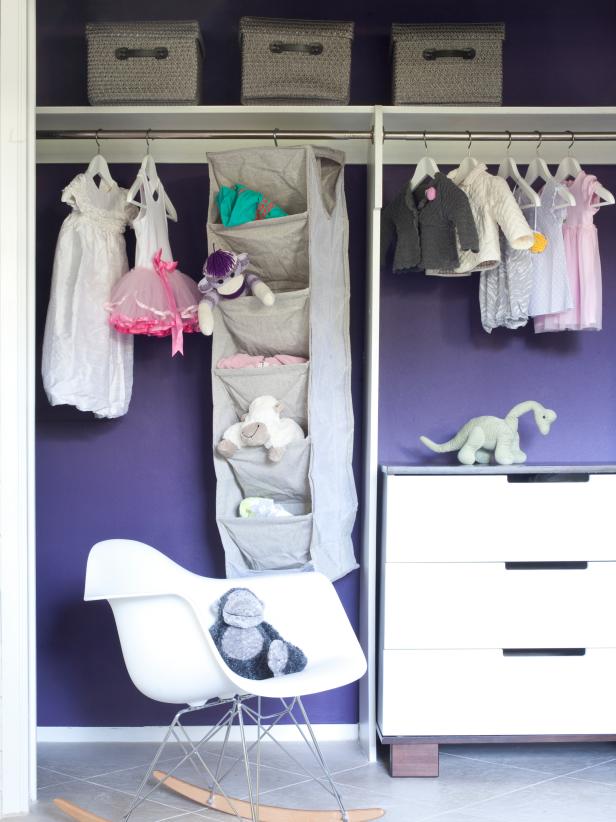 Organized Child's Closet
A toddler's closet painted in tones of purple and white provides organized storage for clothes, stuffed animals and other items. The hanging fabric shelf keeps child's favorite playthings within easy reach.
Another easy closet upgrade is to add a dresser. The nice thing about this is that you can add a dresser without making any other physical changes to the closet. It's also a great option if you happen to have a dresser that you don't love the look of. Dresser drawers are the perfect place to keep folded t-shirts, underwear or other accessories that you don't want on display.
Don't Be Afraid to Think Outside the Box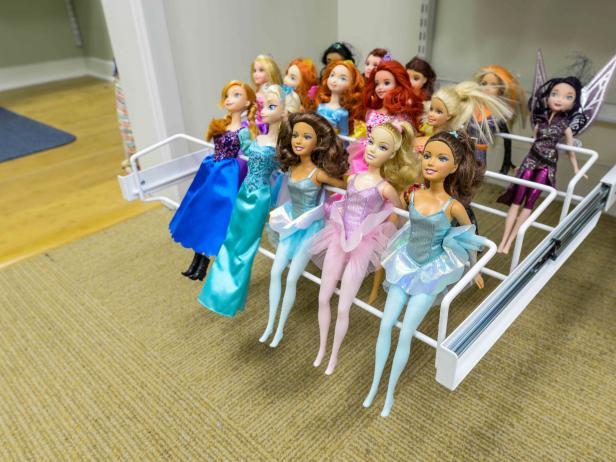 Dolls Stored on Shoe Rack
Plastic bins and tubs are one solution for storing a collection of fashion dolls, but there are other options. In this closet, a women's slide-out shoe rack has cleverly been used for display storage of a group of fashion dolls. The "arms" secure each figure to the rack, which keeps all the dolls in plain sight and within easy reach.
We all have different needs with our closets, and this clever doll storage idea is a great reminder that you shouldn't be shy about trying to make your space work exactly how you need it to. If you have special storage needs based on your hobbies or collections, try to think through how you might set up your closet to handle them. For example, I really love infinity scarves but I don't like hanging them on hangers. I cleared out one of the drawers in my dresser and have dedicated it to keeping all my folded scarves.
Try Pre-Fab Custom Solutions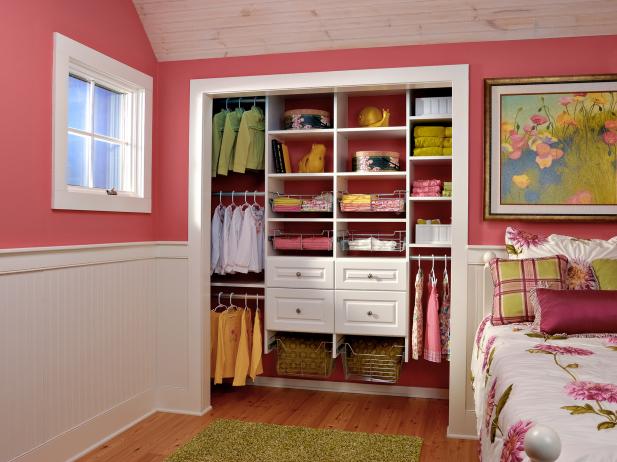 Reach-In Girl's Closet
This little girl's closet organizer is functional with shelving, drawers, baskets and triple hanging for children up to the age of two that can be easily adjusted. The White closet design features Raised Panel drawers, Matte Nickel hardware and Modern Rope Trim Knobs with Polished Chrome slide-out baskets.
There are a number of pre-fab options available that will help you customize your closet in the same way you might if you went for a full-on custom solution.
Hang All of Your Storage Containers
If you have a limited budget or live in a rental that doesn't allow you to make any structural changes, consider closet storage solutions that you can hang from the existing clothing rod in your closet. There are solutions for shoe storage, jewelry, scarves, sporting equipment and other accessories.
Decorate Your Room With Items That Can Double as Storage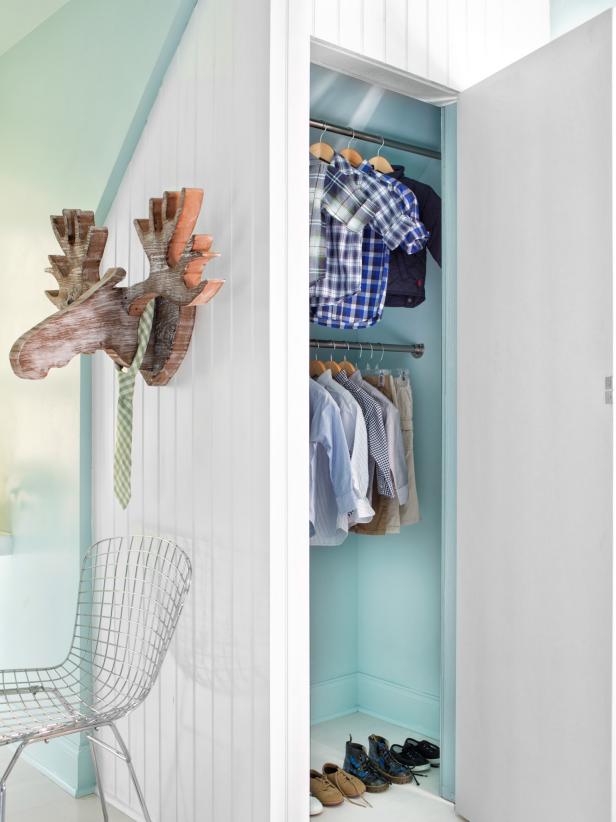 BPF_original_boys-bedroom-to-grow-into_open-closet-doors_3x4
Once opened, the closets reveal two hanging rods as well as an interior painted the same shade of sea foam blue as the walls and ceiling. Many designers suggest painting the interiors of closets the same color as a room's walls to make the closet feel like an extension of the space. Another idea involves painting the interiors of closets a bold contrasting color, or giving them a separate identity with wallpaper.
Now that you've started customizing the inside of your closet to work with all of your storage needs, think through the rest of your space to ensure you're using all of the available real estate you have. If you have any items or collections that you don't mind keeping on display, consider decor or art that will allow you to move things out of your closet and onto your bedroom walls.
If You Don't Have a Closet, Create One With Wardrobes
If you have a room that doesn't have any closets at all but does have a bit of extra room, consider creating a faux built-in closet with existing wardrobes and shelves. My favorite tool for achieving this is the Ikea Pax line. By carefully measuring your space and creating the right configuration, you can create a closet that looks completely custom but is actually the opposite. If you want to take it one step further, you can even make the Pax wardrobes look completely built-in with this drywall hack technique.