10 Cozy, Cabin-Chic Spaces We're Swooning Over
Is it time to build a fire yet?
Having a cozy cabin or lake house as a getaway is something many of us have dreamed of (me, too!). And while vacation homes come in all shapes and sizes, there is a distinct cabin-chic design style that we can't seem to get enough of. Wood elements, rustic decor, furry accents and plaid fabrics are all associated with cabin-chic style, but lately we've been noticing that vacation homes are looking more and more sophisticated.
We've rounded up 10 of our favorite spaces that we think truly take the cabin-chic look to the next level.
1: Modern + Rustic Bedroom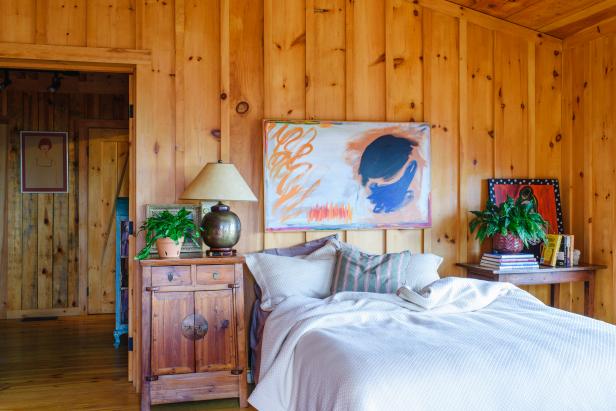 Folk Art as Headboard in Rustic Sleeping Cabin Bedroom
To anchor the 15-foot-by-12-foot sleeping cabin in traditional country style, folk art—used in place of a headboard—draws the eye toward a queen bed outfitted with casual cotton linens. For a collected look, two different tables were used on each side of the bed instead of a matching pair. This is something interior designers do to make a space feel more one-of-a-kind.
There's a lot of gorgeous wood in this cabin's bedroom, but the modern, abstract painting above the bed brings a fresh look to the space. It's a gentle reminder that you can mix different styles in your vacation home to create a more updated look.
2: Minimalist Outdoor Sunroom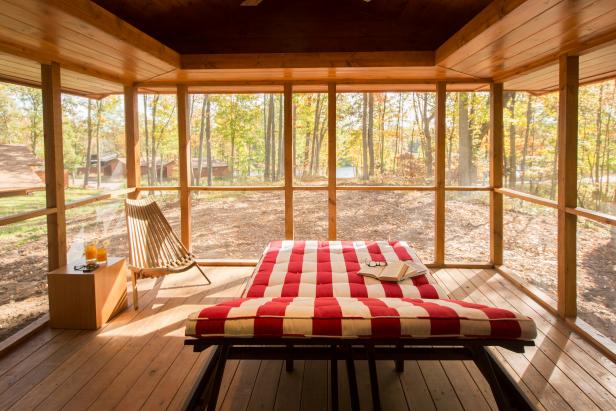 Cozy Screened Porch Is Ideal for Relaxation
This beautiful screened porch, situated in a serene, woodsy locale, offers the perfect spot for a lazy afternoon getaway. A comfy daybed with a playful striped cushion beckons.
While minimalism might not be the most common design approach with cabins, this outdoor sunroom proves that it's sometimes the perfect direction to go in. The gorgeous view from this home is able to truly shine because the space isn't cluttered with unnecessary furniture and decor.
The star of this cozy, wood-paneled bathroom is the beautiful old claw-foot tub. But the space gets a serious design upgrade with the colorful Navajo-style rug and striped stool. You can really bring a bit of extra sophistication to a bathroom space by using a standard rug instead of a typical bath mat.
4: Vintage-Inspired Living Room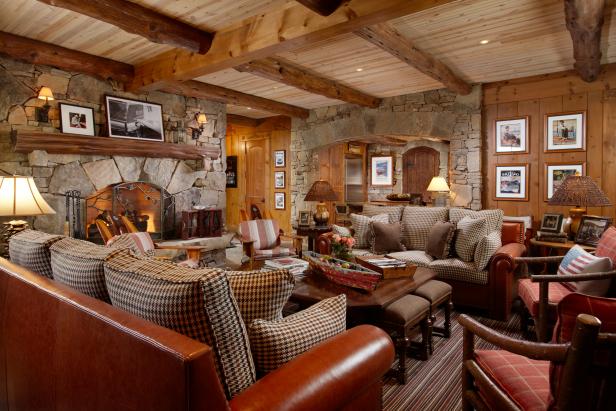 Living Room: Luxe Lakefront Cabin in Tiger, Ga.
The residence has a total of six fireplaces, one of which warms up the large and relaxed living room. Wood beams criss-cross the ceiling and a large stone archway welcomes occupants into the kitchen.
Harry Norman Realtors, a member of Luxury Portfolio International
This stylish, masculine living room represents the classic, cabin-chic look. Featuring neutral gingham fabrics, rich leather details and wood-beamed ceilings, the space manages to look both comfy and super sophisticated. The large, wood-burning fireplace serves as the centerpiece of the space, tying it all together.
5: Treehouse-Inspired Kids' Room
These adorable bunk beds bring a distinct treehouse feel to this lake house kids' room. The bunk beds are a great option for utilizing all the available space, while providing spots for kids to sleep. The simple artwork and coordinating decor bring a fun, cohesive look to the space.
6: Charming, Outdoor Dining Deck
If you're lucky enough to have the space, creating a beautiful outdoor dining room at your cabin is the way to go. This space utilizes the entire deck by creating a hang-out area and a spot for everyone to dine together. And the large outdoor fireplace brings some extra coziness and warmth on cool nights.
7: Chic, A-Frame Family Room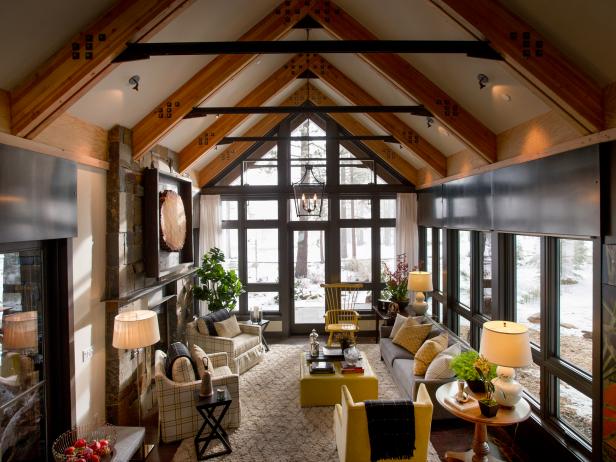 Rustic Living Room With Vaulted Ceilings
With soaring ceilings, unexpected bursts of bright colors and soft, cozy textures, the living room of HGTV Dream Home 2014 blends everything there is to love about modern mountain living. Steel collar ties support the weight of the roof and, paired with glue-laminated wood beams, offer a striking visual element.
Eric Perry, 2013, Scripps Networks, LLC. All Rights Reserved
Many cabins feature this A-frame-style of construction. The wall of windows offers a great backdrop for the cabin-chic design style, which features a fun, modern update.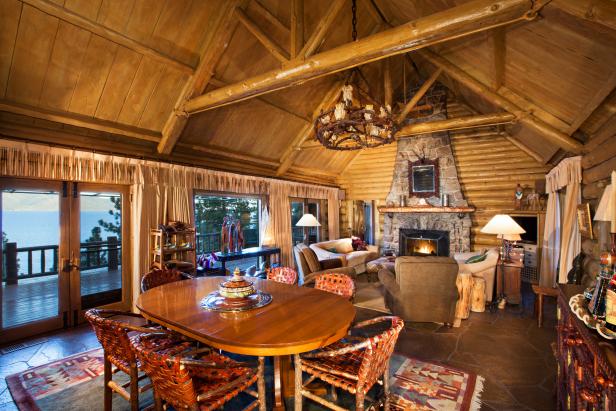 Craftsman Living Room: Howard Hughes' Summertide Nevada Estate
A stone fireplace cozies up the living room in the main house of billionaire Howard Hughes' former estate, Summertide. With 500 feet of frontage on Lake Tahoe in Crystal Bay, Nev., the 5.5-acre estate has a 2,518-square-foot main house, a 1,343-square-foot guesthouse, a detached four-car garage and a pier and buoy for enjoying the lake.
Chase International, a member of Luxury Portfolio International
This lovely great room features high ceilings and wood-paneled walls and beams. Leather-woven chairs, overstuffed furniture and a carved wood buffet help to create a warm, traditional vibe. The floor-to-ceiling stone fireplace, serves as the centerpiece of the room.
9: Nautical-Themed Dining Room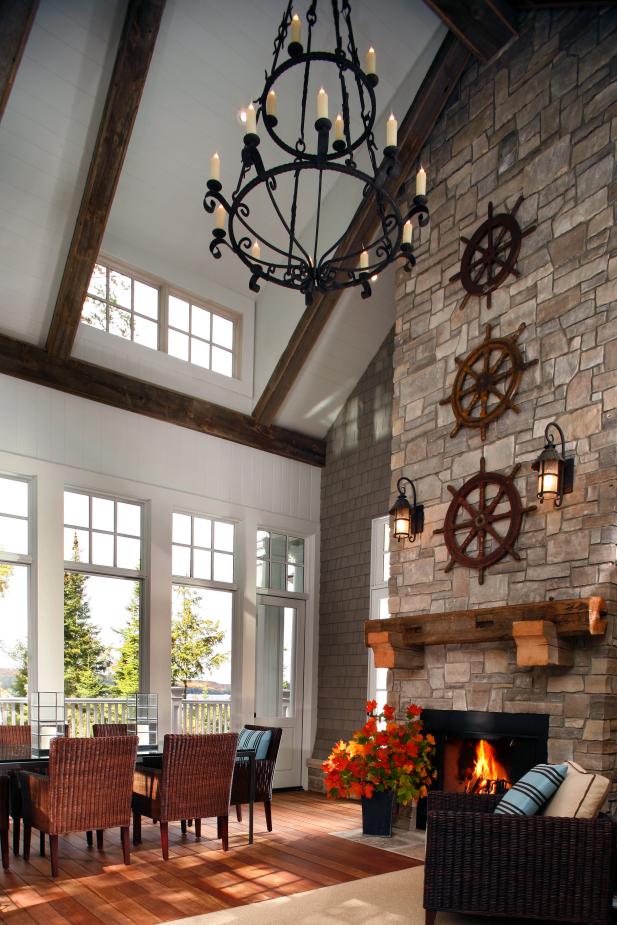 Rustic Dining Room With Vaulted Ceiling
Throughout the house, the designers manipulated size, materials, surfaces and textures to achieve a balance that would fit with the natural setting. The use of native stone and timber maintained a connection with the surroundings and emphasized locally-sourced materials.
Pineapple House Interior Design
For those who want to carry a theme throughout their home, this nautical-inspired dining room truly does the trick. Antique ship wheels line the stone walls and pair perfectly with the wicker-style furniture. Even the outdoor sconces above the fireplace fit in well with the nautical design.
10: Modern Fire Pit Bench
If you have an outdoor fire pit at your cabin, you can make the space around it feel cozy with throw pillows and cushions.