20 Ways to Decorate With Poinsettias for the Holidays
There's still plenty of time to add Christmas' classic flowering plant to your decor.
If there's one flowering plant that screams Christmas, it's the poinsettia. In either red, white or even pink, they always manage to bring the traditional holiday spirit to whatever space they're in.
Though poinsettias are beautiful plants, they can sometimes look a bit cheesy if they're not done right. Do you know what I mean? I found some beautiful ideas for using poinsettias to create a chic Christmas look for the happiest of holidays. Take a look:
1: Cover Your (Entire!) Tree
If you really, truly, madly love poinsettias, use them to cover your entire Christmas tree. This would be an especially stunning display if you have several trees in your home and you're looking to mix up displays. While this example shows a very large tree, this design works well on smaller trees, too.
An easy way to incorporate poinsettias into your existing decor is to swap out any plants you might already have. They look great on plant stands (and happen to be the same size as many common houseplants), so they're easy to substitute. Relocate your existing plants to another space in your home, then after the holiday season you can easily put them back.
3: Create a Chic Centerpiece
Poinsettias provide a beautiful splash of color to your holiday table. This version uses fragrant pinecones, greenery, red poinsettia flowers and sparkly ornament balls to set the scene. For a simpler centerpiece, try lining up smaller poinsettia plants along the table.
Handmade stockings, evergreen topiaries, poinsettia cuttings and a variety of shimmering holiday baubles create this traditional Christmas mantel.
5: Mix Into Fresh Garland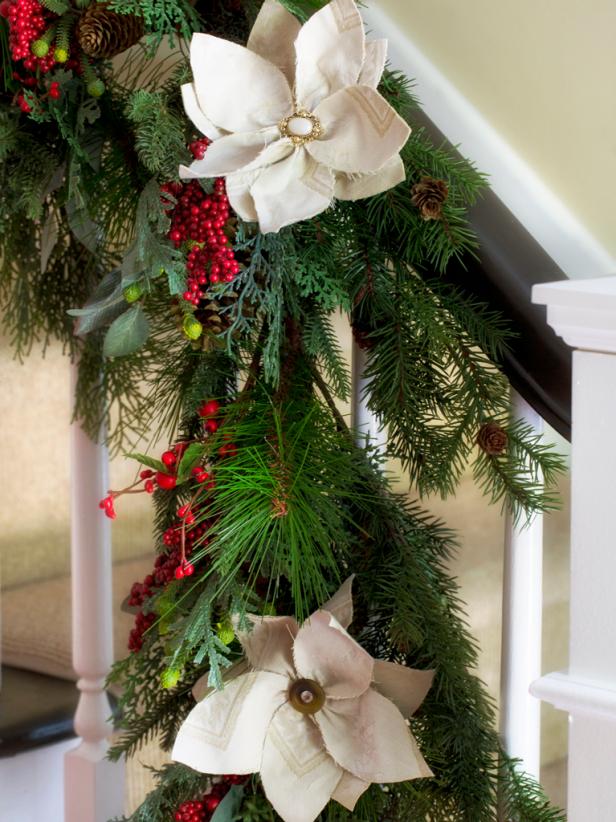 Holiday Felt Poinsettia Garland
Dress up your banister's garland with handmade fabric poinsettias. To add an extra layer of visual interest, trace leaves directly onto fabric using a marker or chalk. Next, cut along the traced leaf silhouette with scissors. Once cut, layer several pieces of fabric together, and fasten with a needle and thread. Finish with a button to add instant graphic pattern and classic holiday charm with minimum expense.
Poinsettia flowers (real or faux) also look great mixed in with traditional Christmas greenery. Here, they're tucked into a lush garland all along the banister, creating a stunning holiday entry.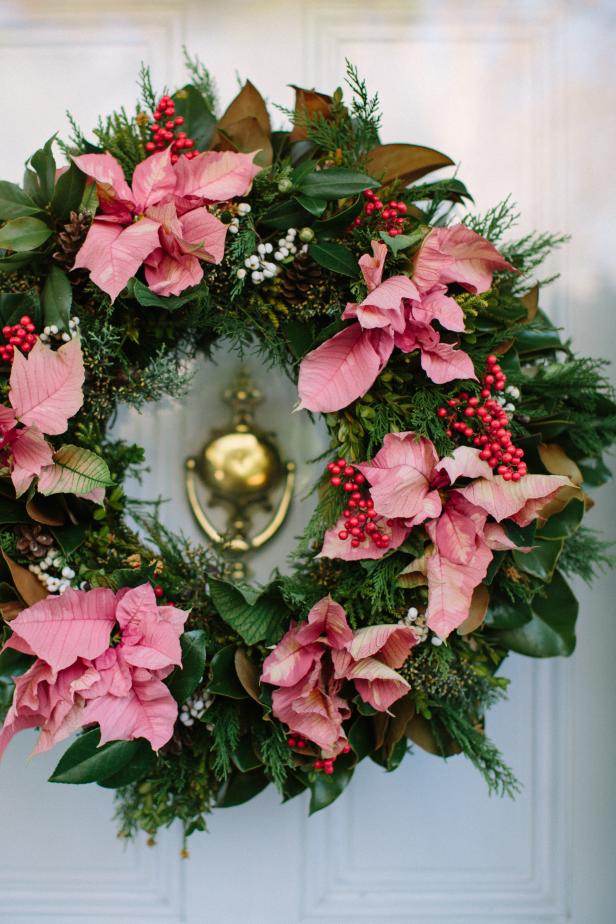 Poinsettia Wreath
A foraged greenery wreath with tallow berries, 'Carolina Sapphire' cypress, magnolia, Scotch pine, nandina berries, pine cones, camellia branches and boxwood serves as the perfect base for poinsettias in water picks. The wreath is a festive adornment to the white and pink Southern front porch. Styled by Cote Designs .
Poinsettia is the perfect embellishment for a front-door holiday wreath. A foraged greenery wreath is dressed up with tallow berries, 'Carolina Sapphire' cypress, magnolia, Scotch pine, nandina berries, pinecones, camellia branches, boxwood and, of course, pretty poinsettias in water picks.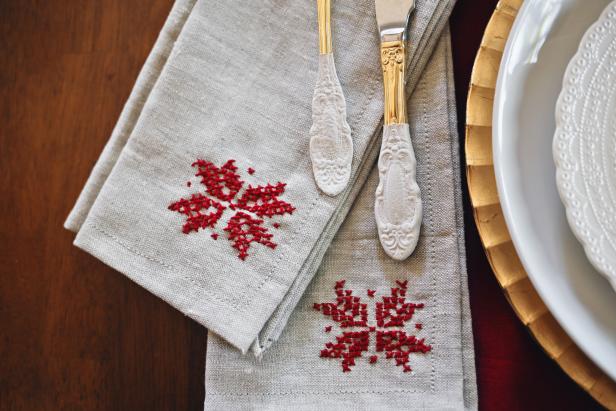 Cross-Stitched Poinsettia Napkins
Add some modern folk to your holiday table with cross-stitched poinsettia napkins.
Even if you don't have any poinsettia plants, you can still use it as part of your Christmas decor. These linen napkins feature easy, DIY cross-stitched poinsettia designs for instant holiday cheer.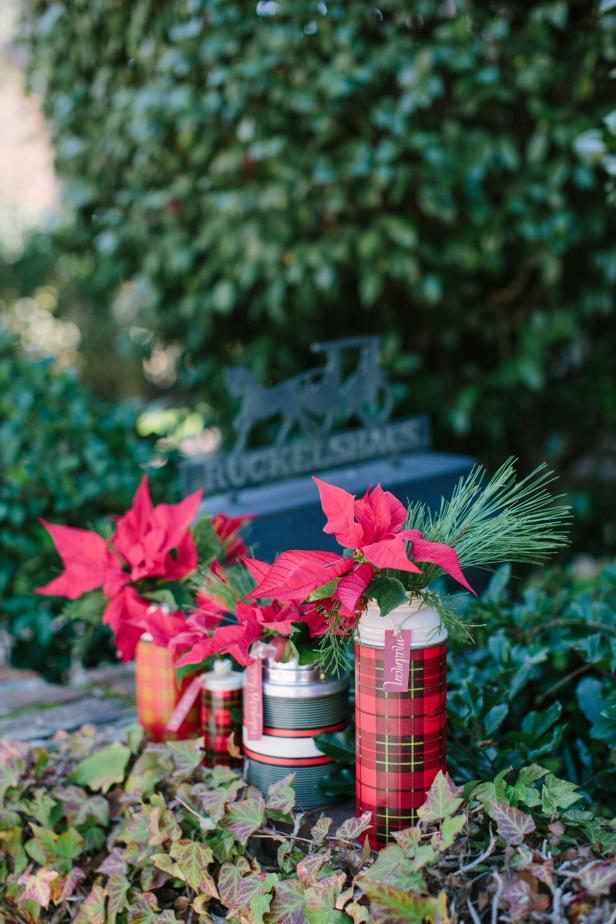 Unexpected Containers
Add a fun, unique arrangement on a porch or mailbox, and celebrate the giving spirit this holiday season. Arrangements of poinsettias and greenery in Thermos containers of different sizes and styles can brighten your mailman's day. You can leave notes for neighbors on tags and place them on their porches as gifts to brighten up the front of each house. Styled by Cote Designs .
Poinsettias often tend to work best on the front porch. Instead of using traditional pots, an insulated container can be full of character, patterns and holiday colors to brighten up your exterior.
10: Make Your Own Ornaments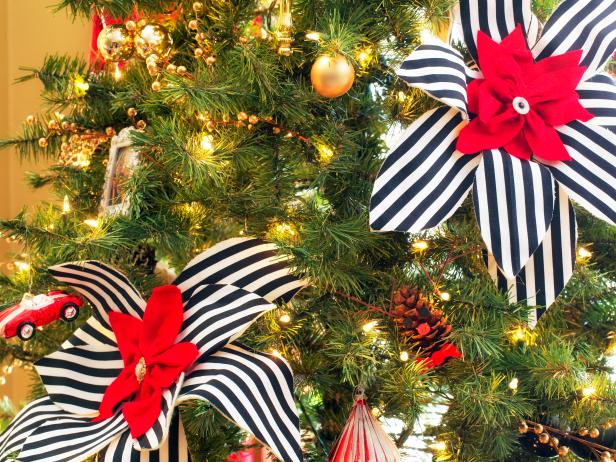 Oversized Ornaments on Lighted Christmas Tree
Consider adding two or three oversized ornaments or embellishments to your Christmas tree. This is the best way to pull together a color scheme and play with pattern mixing. Designer Britany Simon created these black, white and red poinsettias from solid-colored felt and patterned cottons. Once added to the tree, they become the first thing guests notice then help draw the eye around the room to other coordinating design elements.
Designer Britany Simon created these black, white and red poinsettias from solid-colored felt and patterned cottons.