3 Ways to go High-Tech in Your Nursery
Get tips from HGTV Smart Home 2016 tech consultant, Carley Knobloch, for adding the right amount of home control features in your nursery.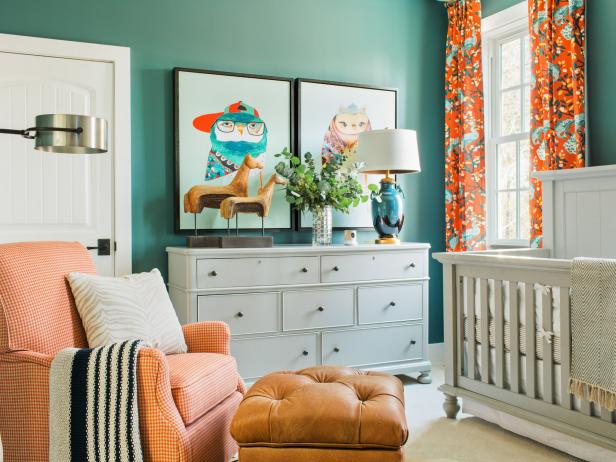 Gender-Neutral Nursery
The second floor gender-neutral nursery with teal blue walls and playful patterns includes a convertible crib, lots of storage options and the latest in technology that helps create a safe environment for a new baby.
Robert Peterson/Rustic White Photography, 2016, HGTV/Scripps Networks, LLC. All Rights Reserved
When you become a new parent, you're bombarded with lists of "must-have:" Crib, changing table, dirty-diaper receptacle. After that, the water gets a little murky, and all the "must-haves" make parents wary of marketing messages. I mean, did we really need that wipe warmer, or that baby food maker?
That said, there were a few key gadgets that simply saved my early days of parenting, and that was well before the high-tech home revolution we're seeing today. My poor children grew up before any of these devices were available in the dark ages!
As the technical consultant at the HGTV Smart Home 2016, I didn't want to add technology "for tech's sake". It had to be something helpful, entertaining, or to make the winning family feel safe. Same goes with the baby's room, where we added a number of fun tech gadgets to give the space a modern twist.
Here are a few of the latest ways you can put a futuristic spin on your baby's room.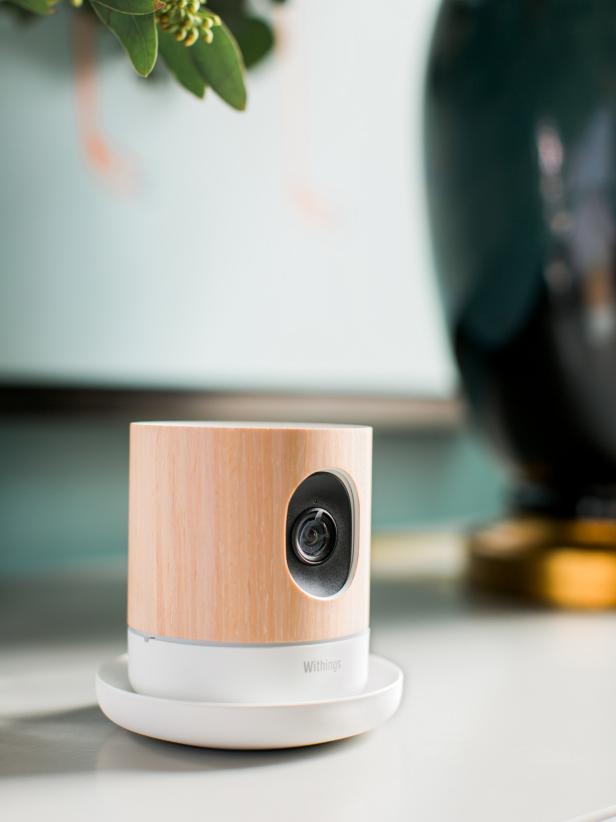 Modern Monitor
The nursery's cutting edge video monitor with two-way audio and one-way video includes a smart HD camera, video recording and live streaming to a smartphone with alerts that can be customized.
Robert Peterson/Rustic White Photography, 2016, HGTV/Scripps Networks, LLC. All Rights Reserved
Parents at HGTV Smart Home 2016 can keep an eye on baby's room from wherever they are, with this high tech video monitor.
Many cameras feature wide-angle lenses that can pan, zoom and even see perfectly in the dark. You can also hear what's going on with a sensitive microphone that will send you an alert if baby is crying, but is also sensitive enough to hear little baby breaths. Some also have temperature and humidity sensors, so you're the first to know if baby's room isn't ideal. All of these master controls are on a smart phone app, so you can check on baby from wherever you are.
Tomas Espinoza/Flynnsideout Productions, 2016, HGTV/Scripps Networks, LLC. All Rights Reserved
Baby strollers have gotten a serious upgrade since my kids were small. Many of them now have features that rival a Mini Cooper! The stroller at HGTV Smart Home 2016 features pathway lighting, great storage, a speedometer, and will even charge your smart phone while you walk.
But the best feature has to be power-folding: The stroller folds and unfolds itself with the touch of a button. No more trunk-side battles trying to get the darn thing in or out.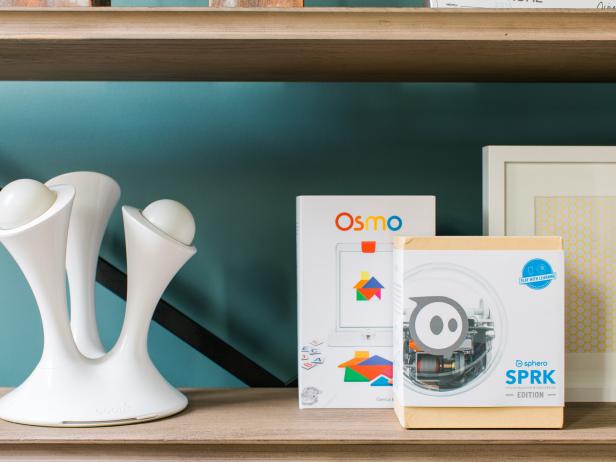 Smart Toys
A collection of smart toys that encourage early learning including an app-enabled ball and an iPad game system that allows a small child to play with real world objects and get feedback from a digital app sit on the shelves of the nursery's bookcase.
Robert Peterson/Rustic White Photography, 2016, HGTV/Scripps Networks, LLC. All Rights Reserved
When baby gets a little older, there are amazing new games to occupy and stimulate his intellect. iPad apps that pair with blocks, drawing and more. Just slip the iPad into a base that can "see" what the child is doing in front of it, seamlessly blending real-world play and the digital realm.
Games range from drawing to fine motor skills to problem-solving. Ready to move on to something more physical? A robotic ball can be steered through the house with a smart phone app, which will endlessly delight kids, and endlessly annoy your pets.
While you can get by without many of these high tech gadgets, they make life with baby so easy and fun, you might not want to pass them up.