Hung Up on Design: 5 Ways to Style a White Double Hung Window
Just like a classic white T-shirt, there are so many ways a home can wear a classic white double hung window.
Sponsor content courtesy of Marvin Windows
Subway tile, marble countertops, roaring fireplaces, and a classic white double hung window will never go out of style. A design staple from craftsman bungalows to modern farmhouses, a double hung window punctuates a space and adds a sense of character that can be as unique as the views it frames. With carefully chosen design elements like divided lite patterns, window shape, trim style, window dressings and wall colors, a crisp, white double hung window can be more of a chameleon than you might think.

When paired with white or light walls and trim, a white double hung window blends right into its surroundings – leaving only the view behind. In a room dominated by a calm and light palette, the windows are a seamless expression of simplicity and relaxation.

The colonial grid, otherwise known as a "9-lite" pattern is the most recognizable grid pattern for a double hung window. When paired with other window types with the same grid pattern, these expansive double hungs create a focal wall while still offering the option to operate the window for air flow.
A double hung doesn't require consistent grid patterns throughout, and it actually doesn't have to be a double hung to achieve this look. A single hung window is an excellent option for hard-to-reach or extremely tall windows, giving the same aesthetic lines of a double hung with only an operating bottom sash. With the recent debut of Marvin Lift Lock hardware, the locking mechanism can now be at the bottom of the sash, creating easy access to open windows like these above your sink or in other inconvenient spots.
Clean Lines and Open Views

Without the typical grid or divided lite pattern in a double hung window, these white frames are sleek and thin. Units placed close together give a modern impression of a glass window wall, without losing the classic touch this window style brings.
Creating Contrast with Color

Consider a bright, contrasting wallpaper or a bold, painted frame to make a white double hung window stand out. While mixed finishes – when a sash and frame are painted different colors – are traditionally achieved with white against black, there are no rules when it comes to design. A bit of whimsy gives this classic window a new lease on life.
The style and age of your home might be begging for the classic look of a double hung window, but that doesn't limit your design options. Play with scale, color and accessories to make this tried and true window your own.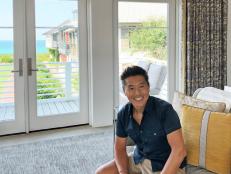 After completing a renovation on his personal beach home, architect, designer and TLC's "Trading Spaces" star Vern Yip shares what you shouldn't overlook on your next remodel or window replacement project. Sponsor content courtesy of Marvin Windows