Making the Most of Your Decorating Budget
Decorating your home can add up — fast. Whether working with a church mouse's pennies or Midas' gold, see our tips for spending every dollar wisely.

Let's say it together: free! You just can't beat it, especially when working on a budget. Walk through your house and see if you can move furnishings or accessories around to create a more designed aesthetic. The random table sitting in the corner of your bedroom? Rearrange your living room and find the perfect fit so it has a true function. And don't forget to look through your collectibles, like the antique china plates your grandmother handed down and you stuck in a cabinet. Hang them on a wall for a collected gallery display. Try to make use of everything you already have before heading out to buy stuff you may not need.
Be Smart About Investment Pieces

All that money you saved by curating your home can now be used to purchase those never-go-out-of-style furniture pieces. Investments, such as a neutral sofa in a good fabric or a timeless dining room table, will last you for decades and are well worth putting the majority of your budget toward. Sticking with classic furniture in neutral shades also allows you to easily update your room's decor by trading out pillows, artwork and other pretty things that don't take such a hit on your budget.
Style Bookshelves and Coffee Table

Decorating when "I literally have zero dollars to spend" can be tough, but not completely out of reach. One surefire way to bring a designer touch to your rooms is to style your shelves and tables. Start by stacking books vertically and horizontally, and then, pepper in artwork, leaning it against the back of the wall or even hanging the art between the shelves. Complete the collected-over-time look by mixing in accessories, like vases, trinkets and plants, in a variety of colors and textures.
Don't Get Caught Up in Trends

Just say no to impulse buys. It's so tempting when you start seeing an eye-catching idea all over Instagram and in your favorite decorating magazine. Take a beat. It doesn't mean you can't incorporate any trendy elements, but make sure it's something you really love and not just love seeing in your favorite designer's spaces. And when it comes to trends, stick with accessories or smaller pieces that don't cost as much rather than spending half your budget on something you may be over next year.

Room by room, step by step. There's no pressure to redo every single space in your house at the same time. Tackle one room, save up your money and then tackle another. Making a long-range plan with specific goals will keep your budget in check, and ultimately, you'll be happier with your end result.
This article is for educational purposes only, and is not intended to provide medical or legal advice, or to indicate the availability or suitability of any product or service for your unique circumstances.
Capital One does not provide, endorse, or guarantee any third-party product, service, information or recommendation listed above. The third parties listed are solely responsible for their products and services, and all trademarks listed are the property of their respective owners.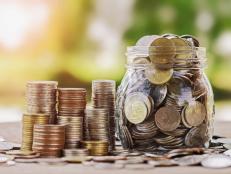 Whether it's the leather Chesterfield sofa you've had your eye on forever or the modern art piece you want hanging over your mantel, sometimes you have to do a little budget editing to achieve your decorating dreams. Follow our tips for trimming a little here and there so you'll be sitting in your lounge chair in no time.