Home Remodel: Where to Splurge, Where to Save
A home remodel is a major undertaking. Know where to save and where to splurge so you make the most of your investment.

Spending a little more in the heart of your home tends to get the most return on investment, and especially if you're in the kitchen cooking for your family and entertaining a lot, you'll appreciate splurging more on this gathering space. Appliances get a lot of daily use, so look for high-quality, energy-efficient ones that will meet your family's needs. Countertops also deserve a little extra funds since they take the brunt of daily food prep and add value to your kitchen.

One area of your kitchen (and your bathrooms) to save on is your cabinets. There's no real reason to install custom cabinetry, when good-quality, mid-range-priced cabinets are available at your local hardware store. Give careful consideration to your layout and make sure to plan out your storage needs, but cabinets with clean, classic lines made with good-quality materials don't have to break your bank.

Bathrooms are another space where future buyers look for improvements and you'll take advantage of your renovations every day. In the long run, it's smart to invest in high-quality, low-flow faucets, showerheads and toilets. Not only do they save you money and water, they're also less likely to leak, loosen or have their finish chip. Additionally, the universal design of a walk-in shower is another element that pays off over time.

Get a high-end look without the price. Ceramic or porcelain tiles are easy to find and look clean and classic, especially designers' favorite subway tile, without killing your wallet. For the vast majority of your tiles uses, opt for these money-saving choices and use more expensive tile as an accent.
Splurge: Energy Efficiency

When undertaking a home remodel, invest in elements that will ultimately save you big on energy usage and your utility bill. Energy-efficient windows and doors will eliminate drafts, as well as help keep your home warmer in the winter and colder in the summer — a major money saver. Also, if working on exterior walls or the attic during your renovation, consider adding extra insulation to really up your energy-saving game.

Pillows, throws and pretty decorations — all the extras in your home add personal style and are an easy way to transform the look of your rooms or add in a trendy note. Keep your budget for accessories low since you'll want to trade them out with the seasons or trends.
This article is for educational purposes only, and is not intended to provide medical or legal advice, or to indicate the availability or suitability of any product or service for your unique circumstances.
Capital One does not provide, endorse, or guarantee any third-party product, service, information or recommendation listed above. The third parties listed are solely responsible for their products and services, and all trademarks listed are the property of their respective owners.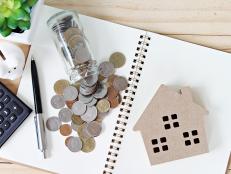 Decorating your home can add up — fast. Whether working with a church mouse's pennies or Midas' gold, see our tips for spending every dollar wisely.