Mark Your Calendars: 'Martha Knows Best' Premieres July 31
Trusted lifestyle expert Martha Stewart will bring her iconic home and garden talents to HGTV in the net's newest series, Martha Knows Best.
We're sorry, there seems to be an issue playing this video. Please refresh the page or try again in a moment. If you continue to have issues, please contact us here.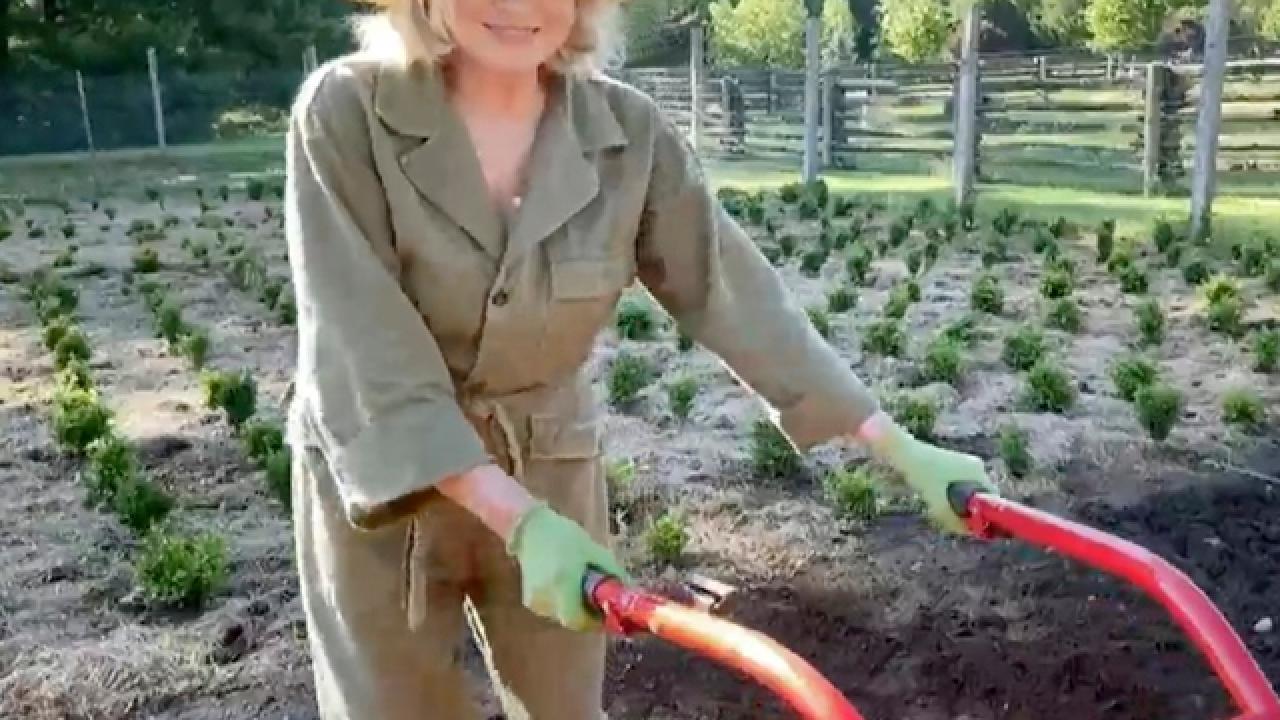 [UPDATE 7/9/20]: Good news! Today, we're able to share an official premiere date and some exciting new details about Martha Stewart's new HGTV show. Premiering on Friday, July 31 at 10|9c and 10:30|9:30c, Martha Knows Best will follow the trusted lifestyle expert as she completes a variety of beautiful outdoor projects at her Bedford, New York, farm.
Lifestyle expert Martha Stewart takes on a variety of beautiful outdoor projects at her farm in Bedford, New York. Then, Martha's superfans and a few of her celebrity friends virtually pop in to chat and get her advice on their own home projects.
Throughout the series, Martha's superfans — as well as a few of her famous friends, including Jay Leno, Snoop Dogg, Richard Gere, Lupita Nyong'o, Antoni Porowski, Zac Posen, Daniel Boulud, Sunny Hostin and Hailey Baldwin Bieber — will virtually pop in to chat with her and get advice on their own home projects. From planting vegetable and perennial gardens, to building stunning walkways and choosing plants for novice gardeners, Martha will offer her expert tips, ideas and secrets to help everyone create a blissful, inviting and functional outdoor space that meets their family's needs.
"It was so much fun to shoot episodes of Martha Knows Best at my home and with some great friends and guests," said Martha Stewart. "I hope people will feel inspired to go outside and try some gardening projects of their own this summer."
He's the curly-headed, blue-eyed gardener who can make jokes with Martha while planting perennials. Let's find out more about this horticultural hero.
During the premiere episode, Martha will explore the world of container gardens and lend advice on herb gardening to her longtime pal Snoop Dogg. Future projects include building a stone pathway for her muster of peacocks and chatting with Lupita Nyong'o about how to choose the best stems for do-it-yourself floral arrangements.
So tune in Friday, July 31 starting at 10|9c for two back-to-back episodes of Martha Knows Best!
Featured in Martha Knows Best, the hori-hori, also known as a Japanese soil knife, is the must-have multi-tool for gardeners everywhere. Just like its namesake, Martha's version is both strong and pretty.
[Original article published 6/24/20]
Martha Stewart Is Coming to HGTV!
Martha Stewart has been keeping herself busy during these past few months at home. Naturally, she's been cooking up a storm and tending to her gardens, plus enjoying Martha-ritas when the occasion calls for it.
But outside of her usual day-to-day, Martha also filmed an all-new TV show for HGTV! That's right, the Emmy® Award-winning television personality, trusted lifestyle expert and The New York Times bestselling author of more than 96 titles (!!!), is ready to bring her gardening and culinary star power directly to HGTV *and* Food Network this year. Martha Knows Best, the new HGTV series, is tentatively scheduled to air in 2020 and will feature Martha as she completes outdoor projects on the to-do list for her Bedford farm. Over on Food Network, planning is underway for Martha to return to the Chopped judges' table as well as headline a holiday-themed series.
"I am thrilled to be partnering with HGTV on Martha Knows Best and sharing everything I have been working on at my home during quarantine," said Martha Stewart. "The show focuses on many aspects of everyday living and home keeping with the goal to teach and inspire viewers to incorporate what works for them into their own homes."
Martha hinted at the upcoming show yesterday on Instagram when she shared a photo of her TV-ready makeup:
Keep your hair, eyes and skin protected from the sun's harmful UV rays with a chic, hard-working sun hat.