Brownstone Renovation for Growing Family
An outdated Brooklyn brownstone needed help to accommodate the changing lifestyle of a young, growing family. Susana Simonpietri of Chango & Co. used layers of different materials, strategic built-ins and well-placed mirrors to create more storage and light in a building defined by its limited availability of both.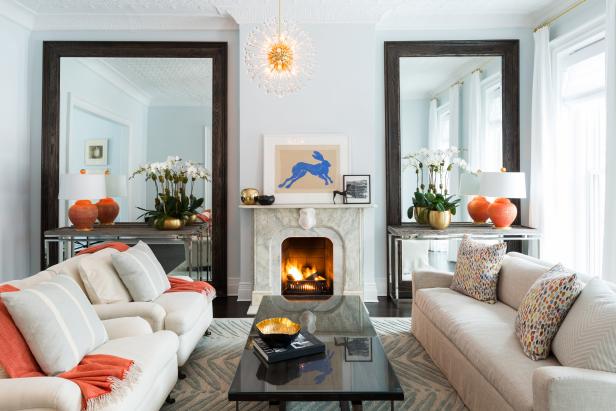 Formal Living Room With Custom Made Mirrors
Inspired by the Blue Hare above the mantel, a color scheme of burnt orange and light blue decorates the room. A duo of custom-made mirrors works to brighten up the space by reflecting the natural light.
When it comes to New York City architecture, many people dream of soaring penthouses on Park Avenue, but Chango & Co. designer Susana Simonpietri is forever in awe of the more understated brownstones of Brooklyn.
Simonpietri believes that by restoring a brownstone to its former glory, it's like taking time to remember the city as it used to be. So that's exactly what she did for this brownstone.
Designing for a couple with plans to expand their young family, Simonpietri took a dark, cavernous space and transformed it into a mix of its original character and its new owners.
They were a great combination of classic elegance and relaxed modernity
Creative Director Susana Simonpietri
With only a single wall of windows in a very long room, light was sparse in the living space. Thanks to the help of two custom-made mirrors, the whole living space now glistens with light.
"I am still in awe of the giant mirrors in the living room and how they transformed that room for the better," Simonpietri says of the space.
Simonpietri styled the color palette around the couple's own artwork. Two special pieces adorn the living room and den mantels, inspiring a stream of cool tones throughout the home.
With the main living area behind them, only the master bedroom was left to complete. The walls are washed in a cool blue, mirrored in the custom built-ins to open up the room. While the palette remains simple, layers of fabric and material built on each other to enhance the room's size.
The idea of layering seemed perfect to Simonpietri at the project's start, but once the renovation began her nerves set in. As the project got underway, it reinforced Simonpietri's faith in herself and her intuition as layers of design came together perfectly.
"At times we wondered if it would all be too much, but it was interesting to see how all those well-placed layers provide a perfect balance of fullness and richness," Simonpietri says. "What I learned is to trust my intuition always, and to not be afraid of mixing it up as much as my imagination tells me to."
To re-create this look, Simonpietri suggests choosing a light wall color and then playing with the accessories. A patterned pillow or lively lamp is just what a room needs to inject personality. She also mentions using a consistent style of furnishings to make the home fluid.
"The same drapery fabric was used for all public spaces, as well as similar lighting fixtures, and the same floor and ceiling moldings were used throughout the entire home," she says.