Spanish-Influenced Raised Stone Patio
A family wanted a backyard retreat that embraced its lush natural setting. Beechwood Landscape Architecture and Construction designed a Spanish-influenced patio that makes outdoor entertaining a breeze thanks to a built-in cook station, covered dining table, sitting area with a fire pit and lounge chairs.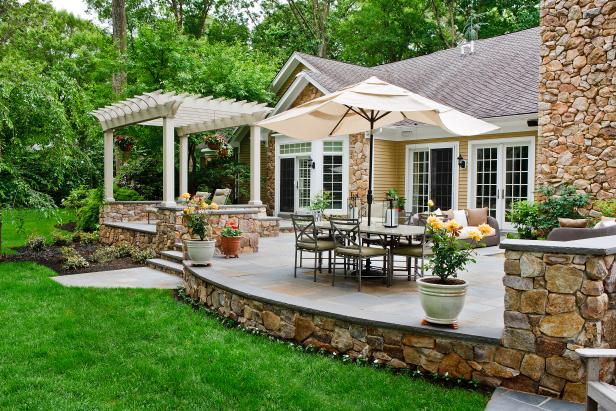 Mediterranean-Influenced Backyard Patio
A Spanish-style patio is a little slice of paradise in this home's backyard. A covered dining table offers a place for enjoying meals alfresco, while a pergola shades a pair of lounge chairs nearby.
What were the main items on the family's wish list for remodeling the space?
The family was looking to keep a direct visual connection from the loggia to the pool for a visually seamless space. The two areas are divided by a 7' grade change. In addition, the project was to take full advantage of the natural wooded backdrop of beeches and oak trees.
What was the single-largest issue you wanted to address for the owner, and why?
The blending of the pool landscape and courtyard with the strong Spanish-style architecture was critical.
What was your biggest obstacle in this space and how did you overcome it?
The grade change and access were the biggest obstacles. The rear yard was landlocked and the only access was from a township road about 100' below. An access road was constructed, which meandered up the heavily wooded mountainside. We worked closely with the township on preservation of trees and restoration.
Everything doesn't always go according to plan. How does the end result match up with your original vision for the space? What changed and why?
The space was restrictive due to grade change. The pool is for all intents constructed out of the ground — an in-ground pool. I would have preferred a larger pool deck for easier circulation and large gatherings.
What surprised you the most about the project and what lessons did you learn? How does that impact the way you'd approach a similar project going forward?
The custom-sized travertine tile for the pool deck, which was being shipped from overseas. We learned to allow ample time for delivery. Nothing puts more stress on a project than when there is a deadline with no definite date for material delivery.
Our readers love the small details. What are the hidden gems in your plan that really made a big difference in the overall success of your design?
The glass mosaic pool tile was a custom six-unit blend of colors. The entire family was involved in its selection and chose a unique color for each person, making the tile very personal for the entire family. And, of course, be sure to allow eight weeks for fabrication and delivery!