How to Make a DIY Paper Cloud Mobile
Add dreamy style to your baby's nursery with this budget-friendly DIY cloud mobile made from an embroidery hoop and our free downloadable template.
It's time for another project for ye olde nursery. I've been plugging away, making art for the walls and even a Rocking Sheep, but this week my energy was focused on making an inexpensive-yet-adorable mobile for Baby Boy's abode. See how I made it:
How to Make a Cloud Mobile
03:45
Marianne makes a cloud mobile that's perfect in a nursery or any room.
Armed with our free printable template, card stock, fishing line, and an embroidery hoop, you are less that $5 away from making this show-stopping mobile.
Dreamy, isn't it? Find more nursery ideas here:
Get 10 More Decorating + Organizing Ideas for Nurseries
See All Photos
The Latest From Our Design Blog
Catch up on the latest HGTV show and design news right here.
Join the party! Don't miss HGTV in your favorite social media feeds.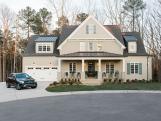 A sophisticated Southern home in Raleigh, N.C.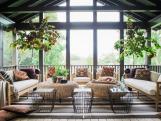 A cozy Craftsman-style home in Ann Arbor, Michigan
A gorgeous remodel on St. Simons Island, Georgia