Dorm Room Checklist: Your Complete Guide to a Designer College Space (on a Budget)
Heading off to college? Pack the essentials (and more) with our easy-to-follow checklist for bedding, decor, desk, kitchen and more.
Ah, to go back to college. Of course, I'd love to go back to spending afternoons reading on the college green (once a nerd, always a nerd), but if I knew what I knew now, I would have the most adorable dorm room EVER. The good news? You can have that, even on a budget. Here's what you need to stock your room, designer-style, and some nice-to-haves, from the bedding to the floors to the "kitchen." (Yes, that microwave/fridge counts as your first kitchen.)
You don't have to spend a lot of money to get a personalized bed setup that's chic and comfy. What you do need to do: Find out what size bed your dorm room will have. Most have either twin or twin XL, but double check before you buy.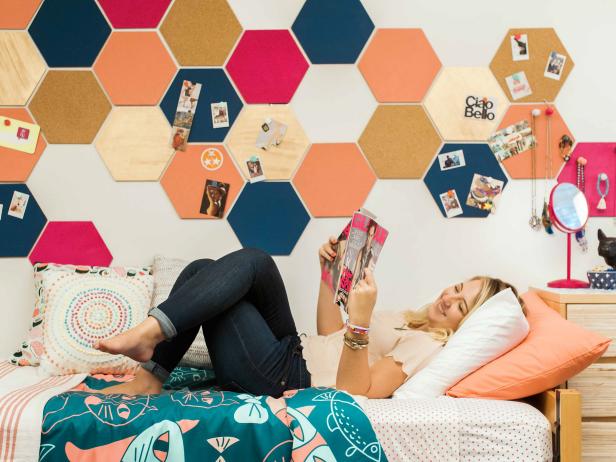 Dorm Room Takeover Bed With Cat Comforter, Hexagonal Patchwork Bulletin Board and Patterned Throw Pillows
Hexagon pieces create a colorful and fun personalized bulletin board to display photos and jewelry over this dorm room bed. The coral tones compliment the coral in the turquoise cat patterned comforter. Colorful, patterned throw pillows finish the fun, multicolor design.
Jennie Andrews Photography
Comforter: For bargain shoppers, check the sale section of your favorite department store for discounted comforters; even if the design isn't your style, you can dress it up with a stylish duvet. Splurge on a down or down-alternative version for an ultra-plush bed.
A sheet set: Jersey sheets are a great choice for dorm room bedding: They don't wrinkle when they come out of the dryer, and they're as soft as your favorite T-shirt.
Pillows: Add two basic pillows for sleeping by night and lounging by day.

A throw blanket: Perfect for chilly nights and curling up for marathon study sessions. Bonus points if you find one that complements your dorm bedding.

Duvet cover: Using a duvet cover versus a traditional bed-in-a-bag allows you to easily and affordably change up your bed when the mood strikes. Your bed will be front and center, so why not cover it with a design you love?
Throw pillows: They'll add style to your bed and double as on-the-floor seating. Mix and match big and small patterns and textures for a designer look.
A personalized pillowcase: Give your bed a personal touch by adding a DIY saying to a plain white pillowcase. Here's how to make your own.
Backup sheets and pillowcases: When laundry day is postponed indefinitely, clean sheets are still within your reach. Opt for one solid set and one set with a subtle pattern.
You may find comfort in your college dining halls, but there are times when in-room meal prep is a must. Luckily, most dorm rooms come stocked with a mini refrigerator/freezer/microwave unit. Many college dorms restrict or prohibit the use of small kitchen appliances with hot plates or heating elements, so be sure to check your school's rules and see what's included before you stock up.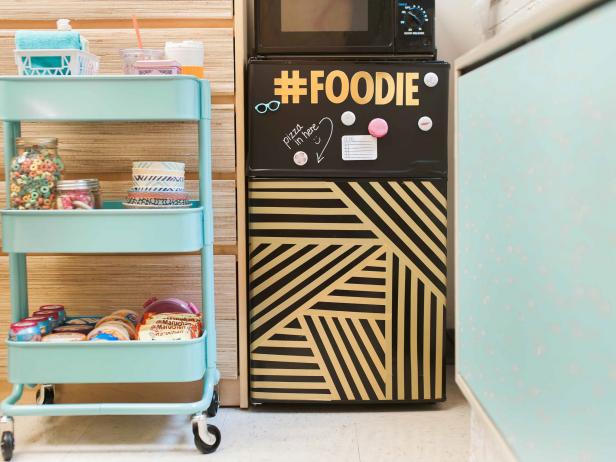 Dorm Room Takeover
Mini refrigerators are useful, but they aren't all that attractive. Personalize your dorm room refrigerator using strips of washi tape. We created an abstract stripe design with metallic gold tape. Chalkboard adhesive over the freezer allows you to further personalize the appliance. A light turquoise stacked shelf creates a cute and useful pantry for food and kitchen accessory storage.
Jennie Andrews Photography
Plates: Make sure to choose microwave-safe versions — your late-night reheated pizza will thank you!
Bowls: Choose an assortment of patterns and sizes for snacks to soups to cereals.

Drinking glasses: Choose glassware made from melamine for a stylish, non-breakable option.
Coffee mugs: College and coffee are the perfect pair, but mugs can be used for so much more, like heating up soup, whipping up mug cakes or housing tea.

Coffee maker: Choose a version without a hot plate, like a French press or pod-based system, for coffee on demand.
Cutting board and paring knife: Feed your fruit and veggie habit with this basic cutting setup.
Utensils: Hit the dollar store for an inexpensive set of forks, knives and spoons. Buy four settings to accommodate a small group and account for inevitable lost utensils throughout the year.
Can opener: Break open college convenience store foods with ease with a sturdy, dollar-store can opener.
Cleaning supplies: Yes, you have to do the dishes (eventually). Stock your room with dish soap, sponges and kitchen towels packed in a small basket to make washing dishes in the communal sink that much simpler.
On-the-go beverage containers: To stay hydrated on the go, stock the room with these three essential travel cups: one for hot drinks, one for cold drinks, and one for water.

Personalized mugs: Eggs and bacon are the perfect pair...and the perfect accent to these fun DIY roommate mugs. Learn how to make them with two simple materials: permanent markers and porcelain mugs.

A large bowl: Game night won't be the same without a big, communal bowl of chips, pretzels or popcorn. Choose one in durable metal or melamine to minimize breakage risk.
Storage jars: Clear glass or plastic storage containers help keep cereal and other essentials fresh. Another bonus? They take up less space than boxes do, and add dorm room style to boot. Dress them up with stick-on paper or chalkboard labels.
Spill-proof containers: Save leftover ramen noodles or takeout in easy-to-transport, spill-proof containers that are small enough to leave room for other essentials in your mini-fridge.
Bag clips: No one likes stale cookies and crackers! Keep snacks fresh with bag clips in a variety of sizes.
Your desk can be an inviting spot where you do some of your best work...or a blank, boring space you never use. It's all in how you outfit your space. These are the basics (and the extras) you'll need.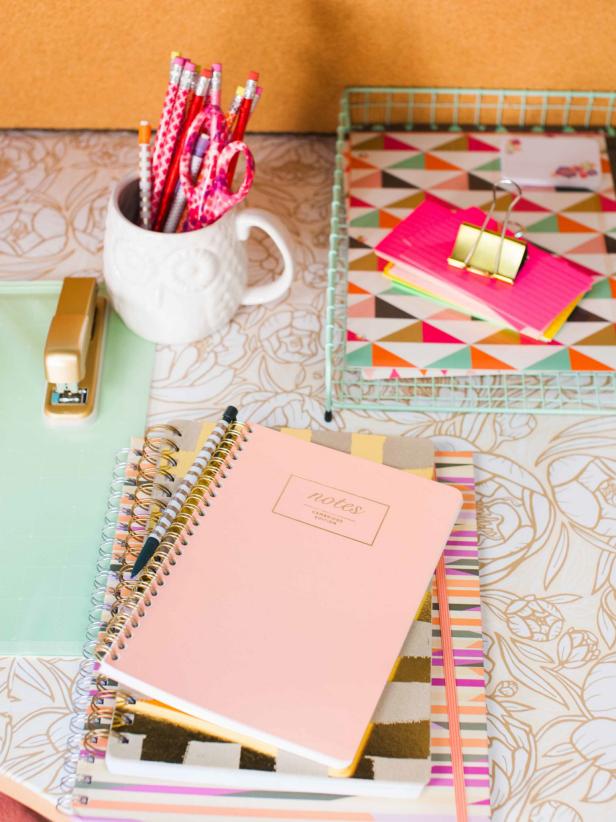 Dorm Room Desk With Removable Peony Wallpaper Cover, Mint Green Basket and Colorful Notebooks
Gold and white removable wallpaper gives this standard dorm room desk an instant feminine flair. A mint green desk mat and matching basket outline the work space and help keep it organized. Colorful supplies like notebooks and pencils can be left out for extra decoration.
Jennie Andrews Photography
Task lighting: An inexpensive lamp will literally brighten up your desk for late-night study sessions. Choose one that's not too bright to keep your roommate happy.
Power strip: Outlets can be at a premium in a dorm space, so this is crucial for computer chargers, speakers and lighting. Get one with a built-in surge protector to protect those term papers.
Extension cord: Stretch it behind your bed once and have a spot to plug in phones and tablets on top of your desk.
Pen and pencil cup: You'll need a place to hold pencils, pens and highlighters. While you're at it, add all those things to the list. Or, use a mug from your kitchen cart.
A calendar: Yeah, you have your phone, but a wall calendar is essential. Bonus points if it's a dry-erase version where you can easily update your commitments and due dates.
Basic office supplies: You'll need scissors, a stapler, a hole punch and paper clips.
Printer: Share this with your roommate; you'll only spend half as much on ink cartridge replacements.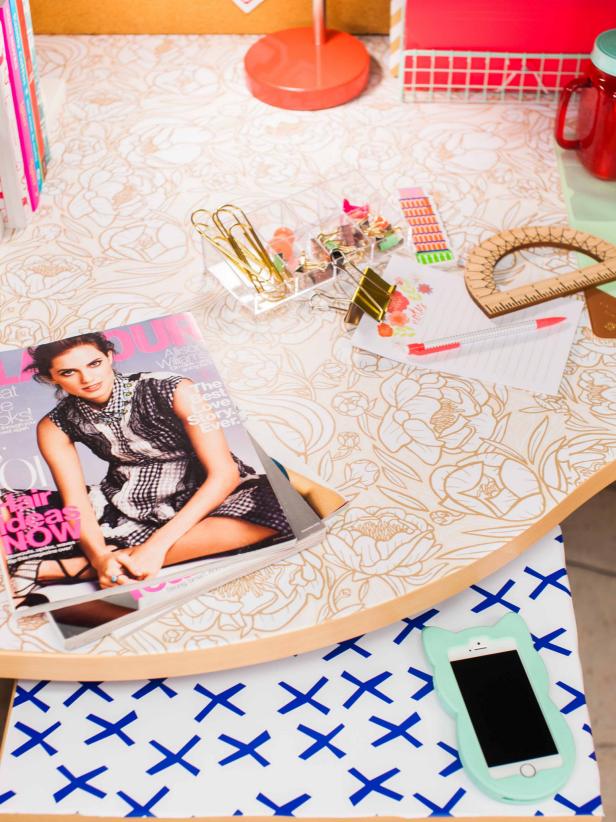 Dorm Room Desk Top Covered With White and Gold Peony Patterned Wallpaper Layered Over Blue and White Wallpaper
Dorm room furniture can be pretty plain, but there's a quick solution — removable wallpaper! Mix and match patterns to create a layered look. Here, we paired a large, organic floral pattern with a smaller, structured geometric X pattern.
Jennie Andrews Photography
A custom patterned decal: Cover the (likely worn) desk surface with a custom pattern, like removable wallpaper or contact paper. Make sure to choose one that won't leave residue when you move out.
Basic craft supplies: In addition to scissors, bring clear tape, washi tape, a glue stick, craft paint, a paint brush and some construction paper. You never know when the crafting bug will strike!
Sticky notes: Perfect for roommate notes, marking your place in textbooks and laptop reminders.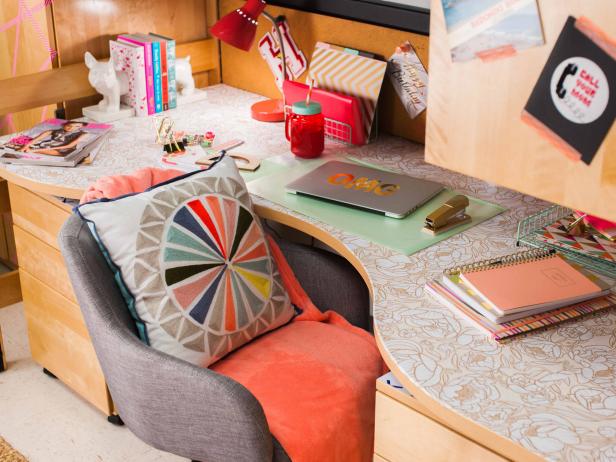 Dorm Room Takeover Desk Decoration With Salmon Throw Blanket, Wall Paper Desk Top and Colorful School Supplies
Gold and white floral removable wallpaper breathes instant life into this standard dorm room desk. The chair is dressed up with a plush throw blanket and multicolored accent pillow. Cute notebooks and school supplies add color and pattern making them useful and decorative.
Jennie Andrews Photography
A chair cover or throw: Dress up your standard-issue desk chair with a plus throw or fitted chair cover.
A custom chair: If your school's policy allows, swap out the basic chair with a rolling variety.
A throw pillow: Make it comfortable (and cute) with an accent pillow for that chair.
Cute notebooks: Apart from being useful, they double as desk decor.
Color-coordinated extras: Shop the dollar store or dollar section of your favorite superstore for fun desk accents. Stick to two to three colors for an intentional look.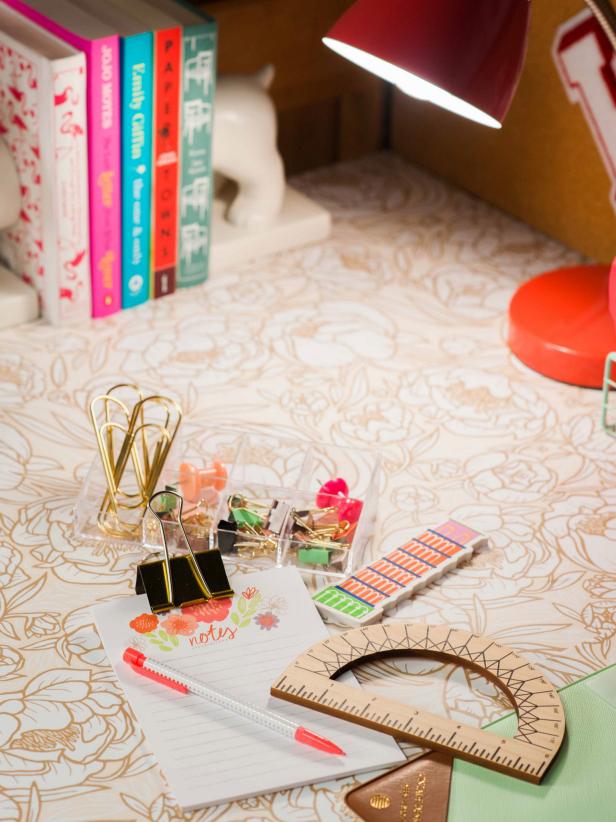 Dorm Room Desk With Neutral Floral Desktop Adhesive Cover and Plastic Office Supply Storage Tray
A small plastic tray is perfect for organizing small office supplies. Leaving school supplies out on the desk makes them easily accessible and works as a fitting accessory for a dorm room work environment. A neutral floral sheet covers the desktop to add fun and feminine style.
Jennie Andrews Photography
A letter tray: Keep folders and papers organized with a desktop letter tray.
A bulletin board: Pin up photos and reminders of home. If yours has one already (score!) dress it up with cute thumb tacks. Or, create your own cork wall with cork tiles and removable adhesive strips like we did here.
This is where your style really starts to shine. All it takes is a few essential pieces.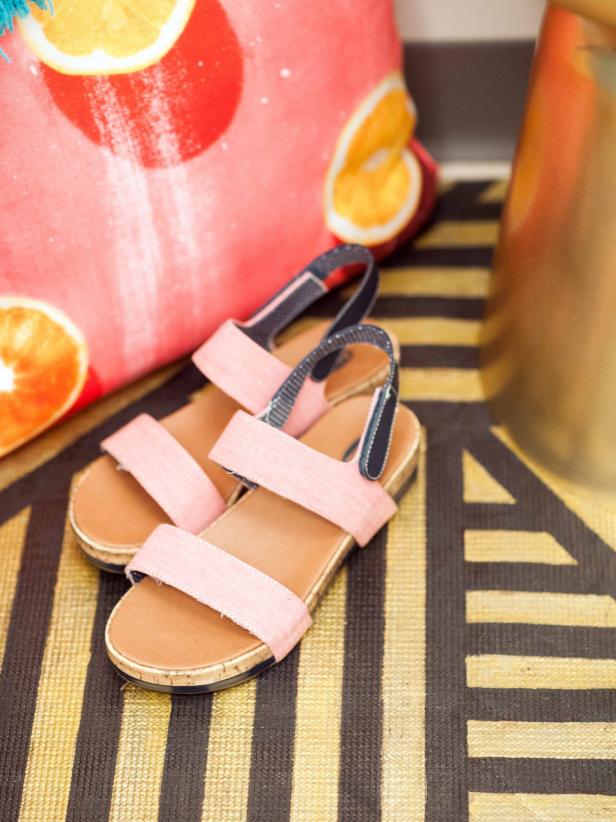 Gold and Black Striped Yoga Mat Used as Decorative Accent in Dorm Room Takeover
This embellished yoga mat is pretty enough to leave out as a dorm room accent when it's not in use for morning stretches. Recreate the look by creating stripes using medium-width painter's tape, then coloring in the exposed space with a gold paint marker. Seal with waterproof sealer and let dry completely before using.
Jennie Andrews Photography
A rug: A bare concrete floor is cold underfoot, especially late at night. Add a carpet remnant or inexpensive sisal rug to keep your toes toasty. You can even use your yoga mat as a rug when you're not stretching out in downward dog! Choose a floor covering that's a dark color to camoflauge those (inevitably) infrequent cleanings.
Wall art: From large posters to brightly-colored bulletin boards, you'll need to fill those blank walls. Tape up posters with washi tape for a personal touch.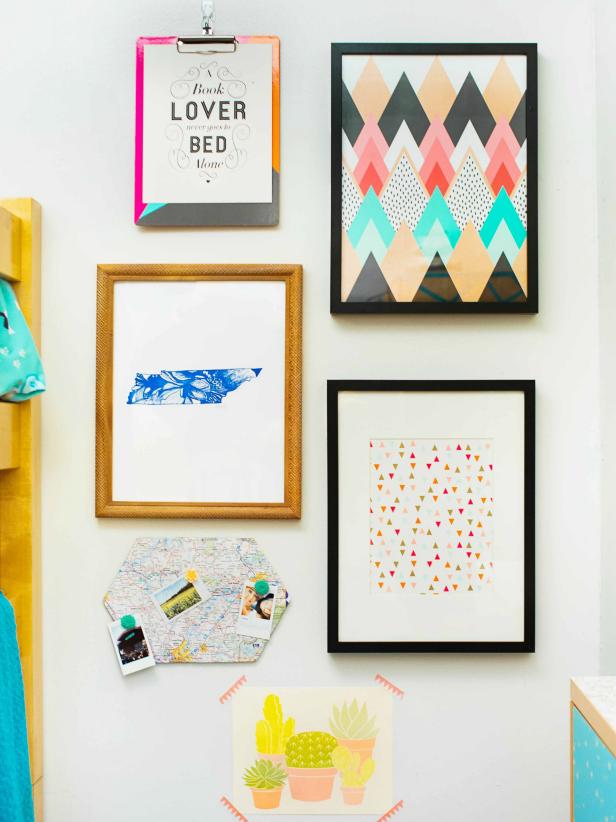 Dorm Room Gallery Wall With Adhesive Photo Strip Mounted Mixed Artwork Featuring an Assortment of Patterns and Color
Use removable adhesive photo strips rated for 5 to 15 pound items to ensure the artwork will stay put on a gallery wall without using nails. Be sure to allow the strips to cure according to package directions before hanging artwork. The mix of pattern and color in the displayed art adds vibrancy perfectly suited to a lively dorm room design. Mixing framed pieces with unframed pieces adds shape and dimension.
Jennie Andrews Photography
Or, create your own gallery wall — this one cost less than $50 to create!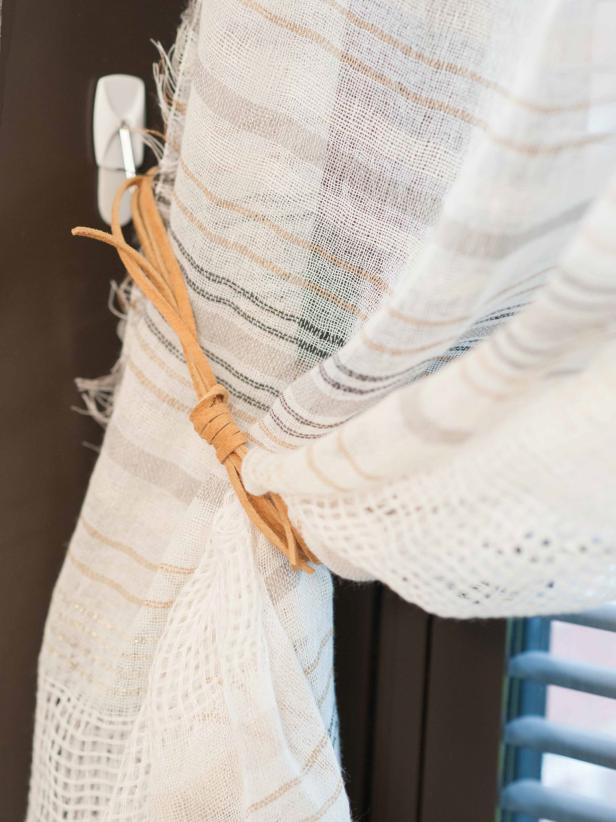 Thin Dorm Room White Curtains With Pale Neutral and Black Stripes Tied Back With Tan Leather Cord Secured With Adhesive Hook
Tie a curtain back with a length of leather cord or ribbon to add a simple, boho chic decorative finish. Attach the cord to a removable adhesive hook to secure it. The neutral leather compliments the stripes in the curtain fabric for a cohesive look.
Jennie Andrews Photography
Curtains: The standard-issue blinds provide privacy; adding your own window treatments adds personality and softness. Even a simple scarf can add a personal touch.
A plant: Even if you think you have a black thumb, at least one plant will brighten up your space and reintroduce oxygen into the room. Try a cactus or succulent for easy care.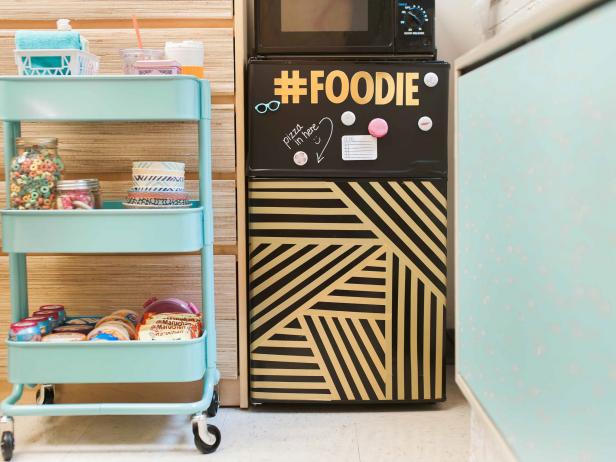 Dorm Room Takeover
Mini refrigerators are useful, but they aren't all that attractive. Personalize your dorm room refrigerator using strips of washi tape. We created an abstract stripe design with metallic gold tape. Chalkboard adhesive over the freezer allows you to further personalize the appliance. A light turquoise stacked shelf creates a cute and useful pantry for food and kitchen accessory storage.
Jennie Andrews Photography
Washi tape designs: Use ths colorful, removable tape to brighten everything from your dorm fridge to your room's door.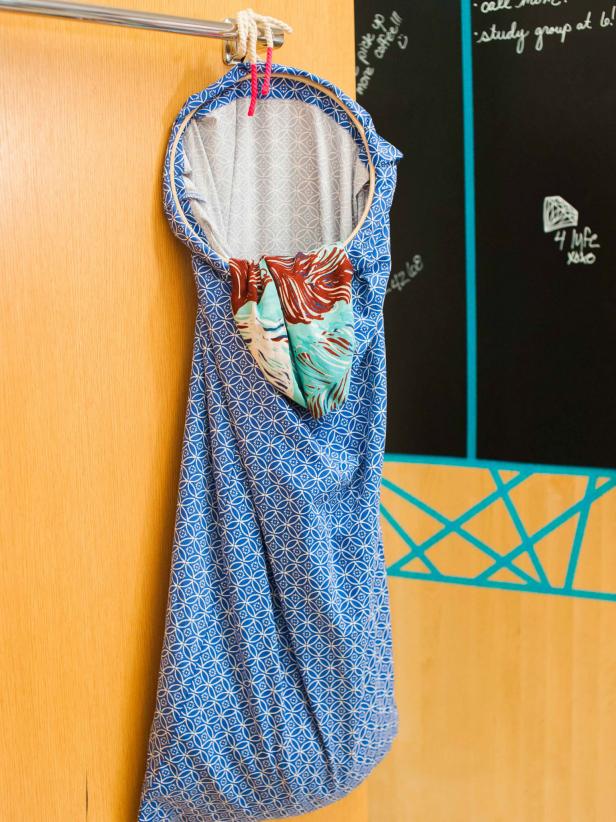 Blue Patterned Pillow Case Dorm Room Hanging Laundry Hamper With Embroidery Hoop Opening
A pillowcase fastened around an embroidery hoop creates a simple and attractive no-sew alternative to the traditional laundry hamper. A patterned fabric can add extra color and appeal to match your dorm room decor.
Jennie Andrews Photography
A hamper: You'll need somewhere to store your (huge pile of) dirty laundry until you can go to the laundromat. And by laundromat, we mean your parents' laundry room.
Storage baskets: Baskets keep things categorized and out of sight. Store them on top of your wardrobe to save precious floor and tabletop space.
Jennie Andrews Photography
Under-bed storage: Whether you have a lofted bed with a ton of space for larger storage bins or a bunk bed with just a little space, make it count! Airtight bins keep those items you aren't using every day, like extra blankets, sweaters and more, out of sight.
Inside-the-door organizer: Expand your wardrobe's footprint with a inside the door organizer for shoes, scarves and accessories. Easily make more inspired choices and save space? That's a win-win.
Rolling cart: Your under-bed storage can double as a coffee table — see how to make your own with this simple, budget-friendly DIY.
DRESSER + VANITY ESSENTIALS
Creating a pretty spot to prep for the day will improve your mood, even if you were up half the night studying. Trust me on this.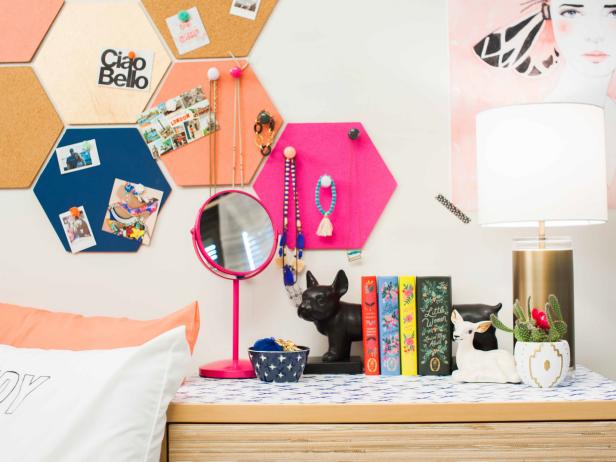 Dorm Room Takeover Colorful Nightstand Decor With Patterned Adhesive Top and Stainless Steel Lamp Under Hexagon Cork Board
Save money on dorm room decorating by bringing items from home and restyling them in a fresh, new way. Vivid colors create a bright and bold display perfect for showcasing personal style. The hexagonal corkboard wall doubles as wall-mounted storage for favorite necklaces and bracelets.
Jennie Andrews Photography
A lamp: A pretty lamp is both practical and decorative atop your dresser — it will light your way if you (bummer!) have early-morning classes and brighten up your room at night.
Jewelry storage: No one likes tangled necklaces! Hang yours using thumbtacks and a bulletin board or another hanging jewelry option.
Bins and boxes for hair accessories, bracelets and rings: Dollar-bin bowls (or vintage tins) keep them organized and out of sight.
Mirror: You'll need a spot to check your hair before you head out (even if you haven't had time to brush it).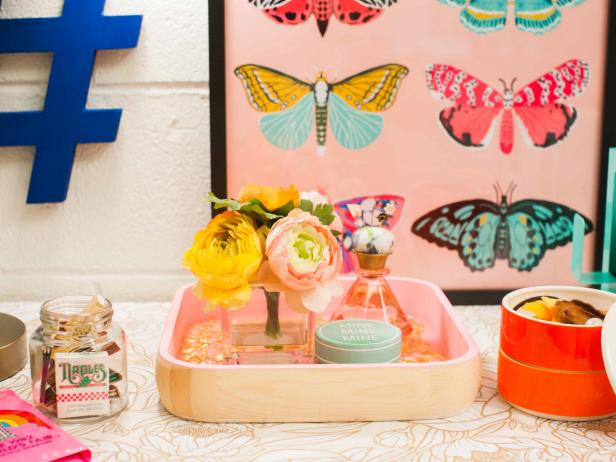 Gold and White Peony Wallpaper Dresser Top Under Pink Display Tray, Small Trinket Storage Containers and Butterfly Art
A gold and white peony wallpaper covering a table top brings instant feminine flair to your dorm room decor. A tray and small storage containers help display items in an organized fashion. Vivid wall art adds even more brightness and color to the display.
Jennie Andrews Photography
Decorative tray: A tray to house those vanity essentials makes everything look a little bit nicer.
Encoraging mantra art: Hey, you're amazing! Help yourself remember by placing a positive saying where you'll see it before heading out to conqueur the day. College? You totally got this.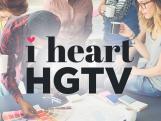 Get to know the talented writers and editors of HGTV's show and design blog. 
Go Behind the Blog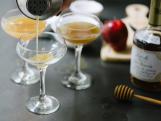 Take a look back at our past posts, from entertaining and design trends to up-and-coming HGTV shows.  
Read All Our Past Posts