Tour This Equestrian-Themed Farmhouse Decked Out With Christmas Decor
See how designer Kerrie Kelly blends equestrian-themed accents with classic Christmas decor in this home located in the historical Fabulous 40s neighborhood in Sacramento, Calif.
I love a beautiful home any time of the year, but you know what I love even more? A beautiful home decked out with holiday decor or Christmas lights. And I've got a gem of a beautiful home bedecked with decor today.
Designer Kerrie Kelly worked with the owners of a home located in the historic Fabulous 40s neighborhood of Sacramento, Calif. to capture their love of riding horses in their everyday decor. On top of that, she and her team at Kerrie Kelly Design Lab added classic, elegant Christmas accents to celebrate the season.
The nod to equestrian is tucked into the most unexpected places — a horse bit buckle accent on a pillow; a horseshoe trimming the back of a dining chair. "It is inspired by their family traditions, new and old, and the equestrian elements played well with the historic architecture of the home," Kerrie says of the decor.
The Christmas decor is introduced in subtle ways that makes it feel like a permanent part of the design. Red pillows adorn every armchair and couch. Roses and evergreen branches relate to the earthy, rustic nature of the hardwood floors.
The decor theme is carried upstairs thanks to an elegant greenery garland trimmed with ribbon, feathers and an English riding rein.
The Christmas decor is carried into the bedrooms of the home with accents that are easily switched in and out for the seasons such as classic red plaid European shams, a red blanket and a "jingle" throw pillow.
Even the bathroom gets the treatment with the red roses and greenery seen throughout the home and a set of Christmas-themed hand towels.
Taking a theme into account when decorating for the holidays can be tricky when you're trying to keep the look classic. "We suggest sticking to one centralized theme throughout the home and incorporating two to three colors to create your holiday palette," Kerrie says. "By keeping the theme simple and cohesive, the Christmas elements will really shine through."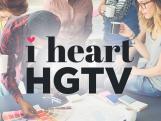 Get to know the talented writers and editors of HGTV's show and design blog. 
Go Behind the Blog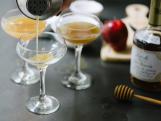 Take a look back at our past posts, from entertaining and design trends to up-and-coming HGTV shows.  
Read All Our Past Posts