40+ Ways to Turn Any Space Into a Dream Craft Room
Learn how to turn any room into an inspirational crafting studio.
Whether you're looking for small space organization solutions or thinking about transforming an extra room into a crafting studio, we've got tips and tricks to help you turn any space into a haven of creativity. Happy crafting!
IF YOU HAVE LIMITED SPACE:
Integrate a craft area into a room that already has a purpose. Fixer Upper's Joanna Gaines installed a large vintage sideboard with extra storage in this dining room and filled it with craft supplies. The stone buffet counter doubles as a durable workspace while a tall swivel chair can be used as a crafting chair or extra dining room seating.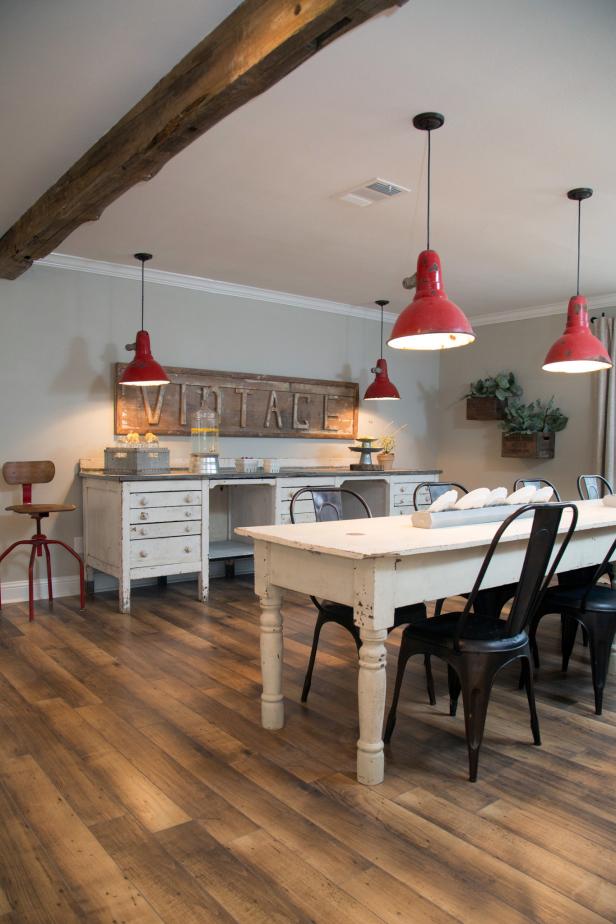 Dining/ Crafts Room With Red Pendant Lights
The antique desk, serving double duty as a sideboard, offers workspace, task lighting and plenty of drawers for storing and organizing craft supplies.
Go vertical with storage. Tension shower curtain rods are a perfect way to display wrapping paper in an unused space between cabinets.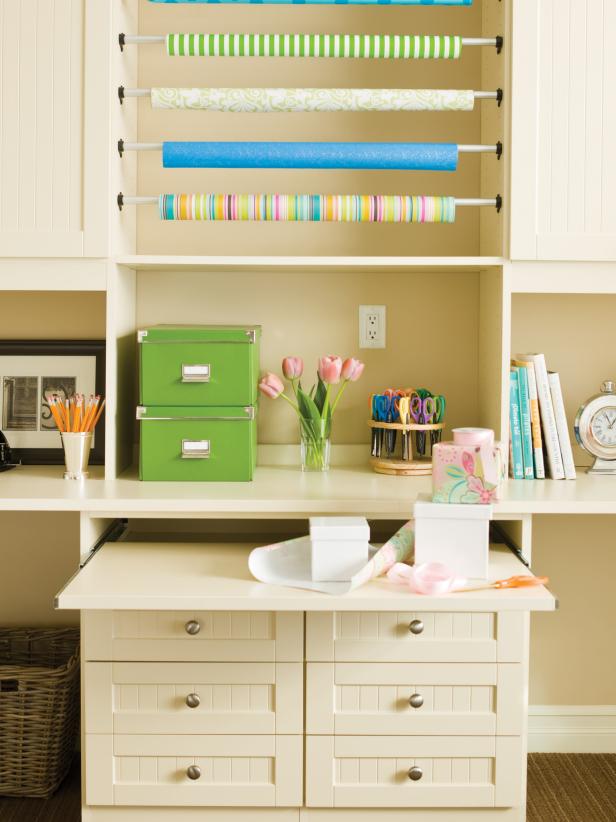 Craft Room With Cream-Colored Cabinetry
Storage Dilemma: You don't have a designated spot for your crafting and gift wrapping supplies and waste time searching your home for all the essentials. Solution: Gather, sort and group similar items and use drawers, bins, rods or a cart to keep everything organized. If space is tight, set up a mini station in a corner of your home office or inside a closet.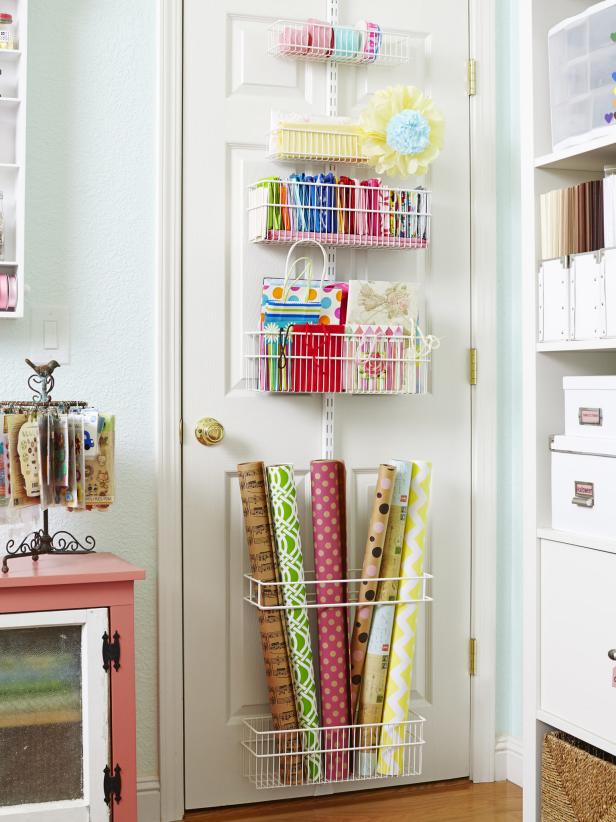 Over-the-Door Organizer With Gift Wrapping
An over-the-door Elfa organizer from The Container Store keeps gift wrap, tissue paper and gift bags from cluttering up the closet.
Dedicate a decorative cabinet strictly to craft supplies. Keep drawers clutter free by storing loose items in tiered makeup holders, empty egg cartons or muffin tins and arranging ribbon and craft paper by color and size.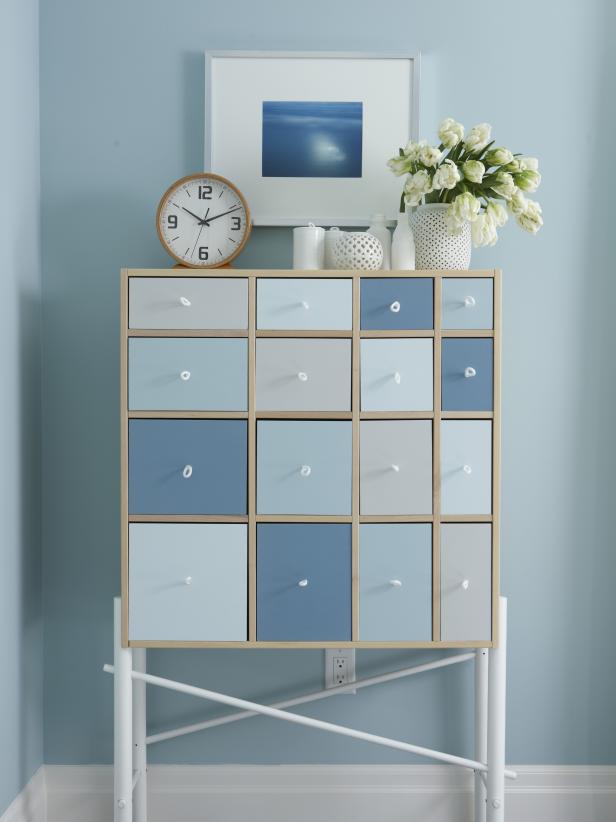 Craft Room Featuring a Multicolored Painted Dresser
Custom drawer pulls and shades of blue and gray turn this ordinary painted dresser into a fun and unique place to store craft supplies.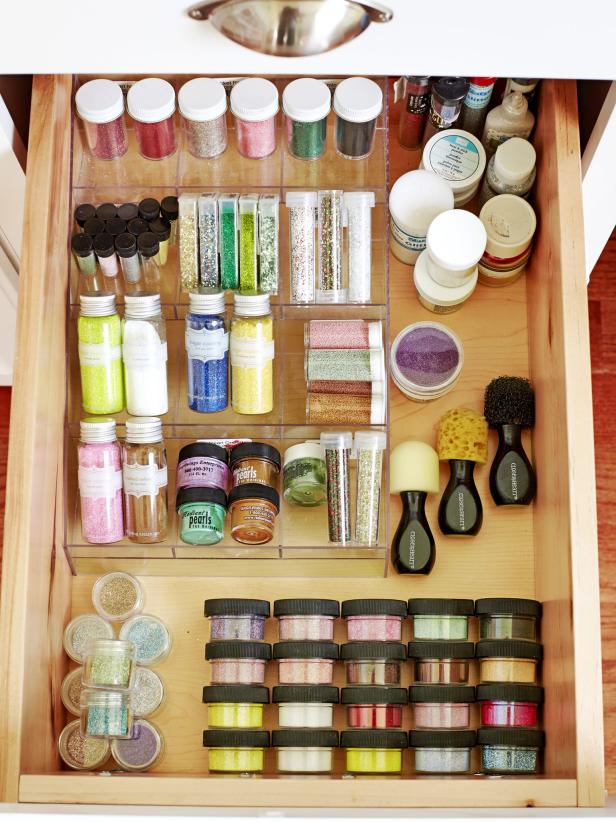 Craft Organization: Glitter Stored in Drawer
Tiered makeup holders from a beauty supply store keep glitter in order inside a drawer. The vials are lined up tightly so they don't roll around.
IF YOU HAVE AN EMPTY CORNER OR HALLWAY:
Transform your workspace into a cozy crafting corner. Inexpensive pegboard is an ideal small-space solution for storing supplies and displaying recent projects like crafter Jenny Larsen did in her craft area.
Take advantage of dead space in your home by installing a countertop craft station like this one in HGTV Green Home 2012. Built-in cabinets under the long work surface keep the area both functional and decorative by offering an organized spot to store messy supplies. A hallway or breezeway with lots of natural light works best for this type of craft room.
Color matters in a small space. To keep your work area looking and feeling clutter free, choose storage units in neutrals or varying shades of a bright, creativity-inducing color like this pretty turquoise.
IF YOU HAVE AN EXTRA CLOSET:
Adding extra lighting, such as lamps and chandeliers, can make a small craft room feel much larger. Maintain a clutter-free zone by integrating a mixture of closed and open storage, keeping the supplies you use most often in sight and within easy reach. A small island is also a good option for a closet-turned-craft room as it doubles as both work and storage space.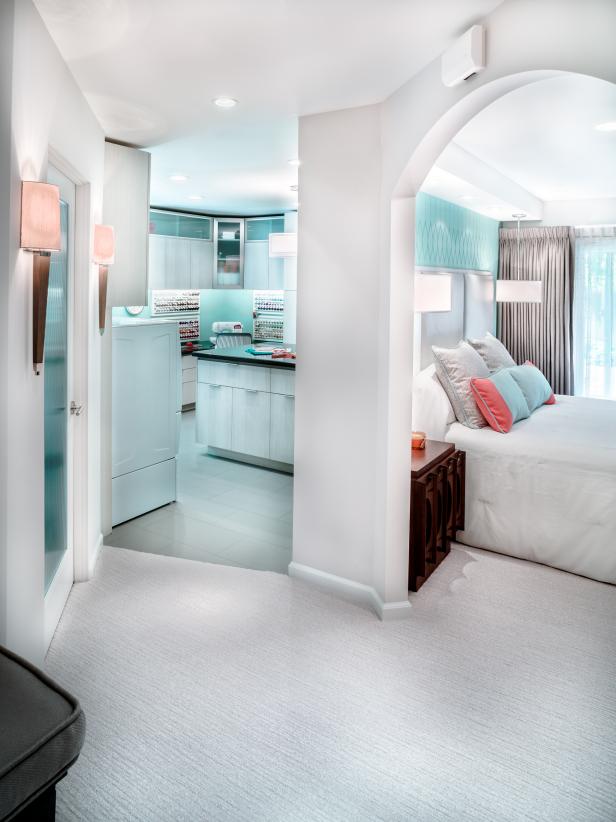 A Bright, Multifunctional Contemporary Master Suite
This cool, crisp and airy space serves as both relaxing master retreat and functional workspace for the homeowner. An arched open doorway connects the serene bedroom to the en-suite bath and adjoining workspace. Cool colors, ample lighting and sleek flooring bring continuity to the contemporary rooms.
Designer Candice Olson turned this enormous walk-in closet into an artist's sanctuary by dividing it into three specific zones: a creative area, a compuster station and a reading lounge.
IF YOU HAVE A LAUNDRY ROOM:
A room for laundry and crafts? Just think about how productive you could be! A laundry room doubles as a great craft area because it has a sink for cleaning up, a folding area that can also be used as a work surface and because it isn't a main room in the home, keeping it pristine and clean isn't a priority.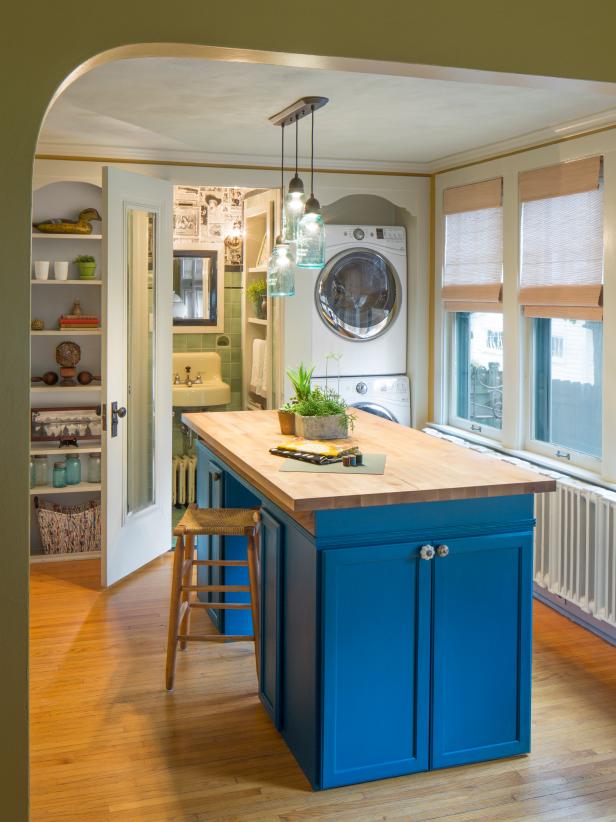 Multipurpose Room Serves as Laundry Area & Craft Space
This multipurpose room functions as a laundry area and craft space. A bold blue island with cabinet space features a butcher block countertop that works great for messy crafts. In one corner, a niched wall works well for a stackable washer and dryer, and on the other side of the door, a built-in bookshelf displays art and knickknacks. A quaint powder room is nearby for convenience.

Transform your laundry space into the ultimate craft room by installing built-in wall storage for craft supplies. The sleek cabinets in the "Do" room of HGTV Green Home 2011 offer tons of storage and also fold out into craft stations that can be tucked away when not in use. Brilliant!
Take a Quick Tour of the "Do" Room
Green Home "Do" Room Tour
02:18
Sabrina Soto tours the multipurpose do room in the 2011 HGTV Green Home.
IF YOU HAVE AN ENTIRE ROOM:
Oh the possibilities! If you're tackling a full craft room makeover, don't get overwhelmed. Start with a vision of what you want your room to look like and make a list of necessary features your space will need. Love to paint? Position your easel near a window with lots of natural light. Are you an avid sewer? Create easy-to-reach thread storage and mark out a spot to display recently finished projects like jess Abbott of The Sewing Rabbit did below.
Transform bare walls into floor-to-ceiling storage shelves or cabinetry like designer Abby Heatherington did in this adorable room. I love the turquoise color!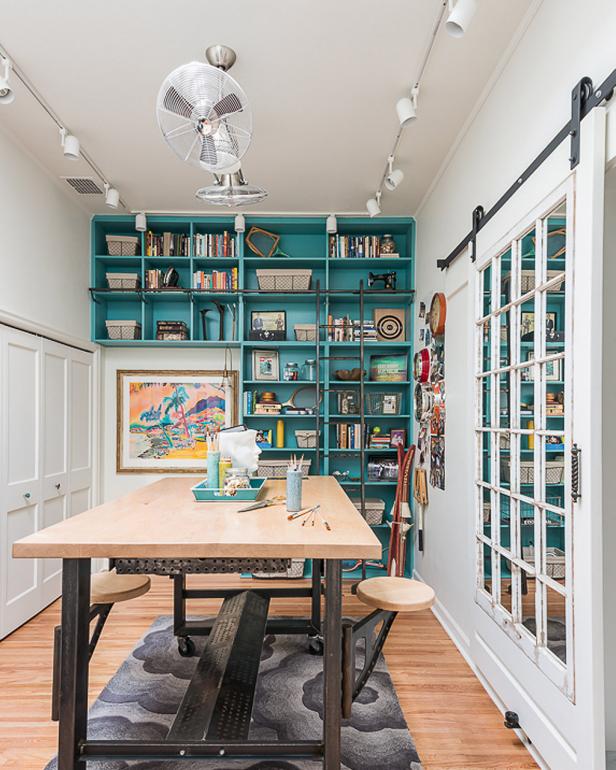 Eclectic Crafts Room With Turquoise Booksehlf
Track lighting is perfect for performing tasks around the large crafts table, while a built-in bookcase stores supplies, books and art work.
A large work table is a definite must. Choose one made from a durable material like wood, stone or metal and add a craft chair that's comfortable enought to sit in for long periods of time.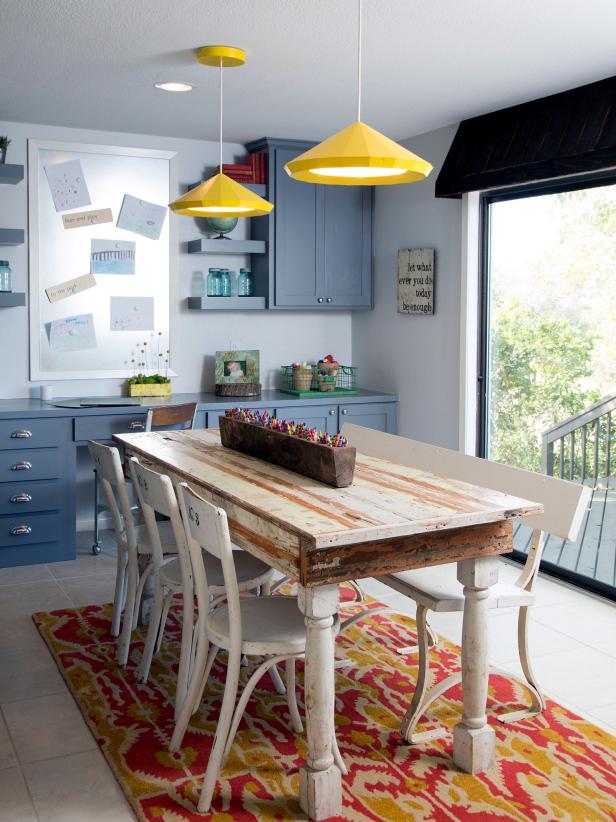 Contemporary Craft Room With Bright Yellow Pendant Lights
Fixer Upper host Joanna Gaines turned the once bland laundry room into a colorful and inspiring craft room. Two bright yellow light fixtures illuminate a large craft table, made from an old pocket door. New cabinets provide necessary storage space to organize supplies and materials.
Sarah Wilson/ Getty Images, 2013, HGTV/ Scripps Networks, LLC. All Rights Reserved.
And don't forget to add a large magnet board on one wall to display your latest projects, design inspirations or your kiddo's artwork.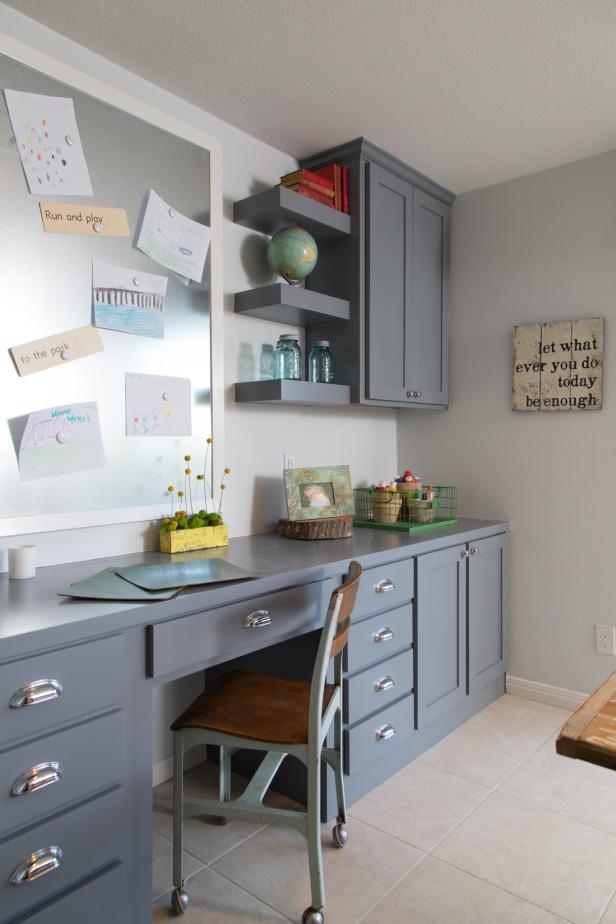 Colorful Craft Room
Fixer Upper co-host Joanna Gaines turned the once bland laundry room into a colorful and inspiring craft room for Becky Ivy and her daughters.
Vlogger Anne Le Shows Us Around Her Fabulous Craft Room
Ann Le's Craft Room
06:32
HGTV Handmade blogger Ann Le shows viewers around her fabulous craft room.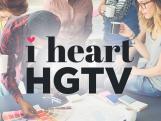 Get to know the talented writers and editors of HGTV's show and design blog. 
Go Behind the Blog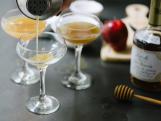 Take a look back at our past posts, from entertaining and design trends to up-and-coming HGTV shows.  
Read All Our Past Posts