Designers Love These Trends for 2016
Top HGTV designers share the trends they can't wait to use all year long.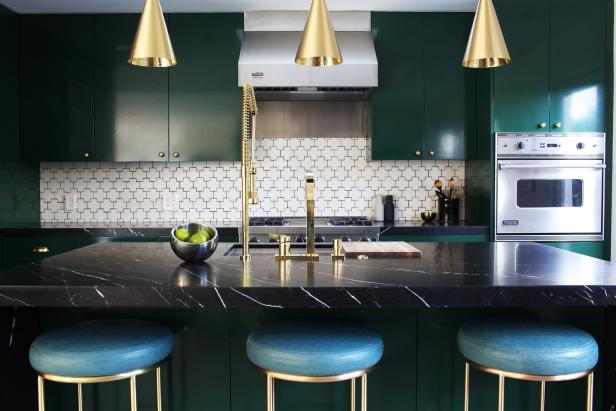 Green and White Eclectic Kitchen With Brass Pendants
White walls, bold cabinet hues and brass fixtures are just a few of the trends designers are predicting for 2016, as seen here in this colorful kitchen from Caitlin McCarthy Design. 
Caitlin McCarthy Design
White walls, bold cabinet hues and brass fixtures are just a few of the trends designers are predicting for 2016, as seen here in this colorful kitchen from Caitlin McCarthy Design. 
It's a new year, and that means a whole new batch of up-and-coming design trends to embrace. We polled HGTV's Fresh Faces of Design winners to find out what colors, patterns and design styles they'll be using all year long.
White Walls, Bold Accents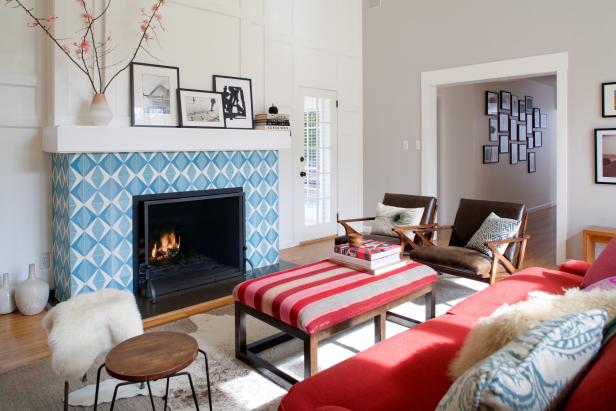 Living Room Features Mantel With Bold, Blue Pattern
A bright blue and white mantel boasts a fun diamond print pattern for a one-of-a-kind look in this living room. A pink and gray striped coffee table adds some funky contrast, while soft neutral grays and whites balance out the bold patterns and bright colors.
Liz Stiving-Nichols, who won the "Organically-Inspired" category alongside her business partner Lauren Morgan, agrees. "White walls are no longer being viewed as boring or sterile," Stiving-Nichols says. This year, think of white walls as a blank canvas for colorfully-upholstered sofas, bright lacquered furniture pieces or even patterned tile. Or, keep the accents more neutral (but no less impactful) by pairing bright white walls with rustic wood beams and metallic details.
Wallpaper (The Bolder, The Better)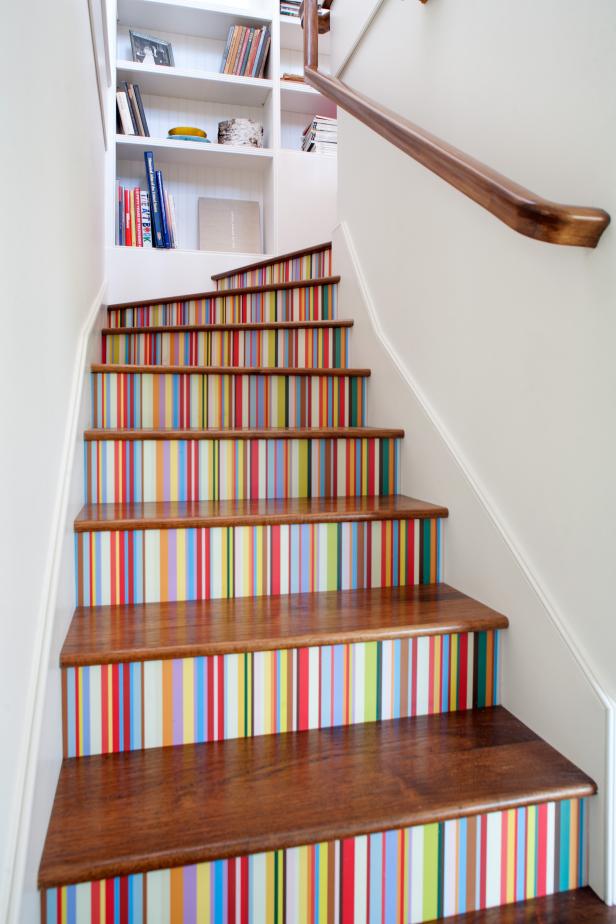 Custom Wallpaper Brightens Staircase
Custom-designed wallpaper transforms the staircase leading to the home office. Both youthful and smart, the multicolored stripes are affixed to the stair riser.
Alison Kandler, winner of the "Crazy for Color" category, is all about wallpaper this year. "I am using more and more wallpaper in all kinds of fun patterns and colors! I expect to continue to use wallpaper throughout 2016. To embrace this trend, don't limit the fun patterns to the walls — add them to stair risers, inside dresser drawers and more.
Gone are they days of matchy-matchy rooms: Designers (and homeowners) will continue to embrace mixing and matching styles this year. "For 2016, I anticipate self-expression with bold colors and shapes as an emerging trend," predicts Tatiana Machado-Rosas, winner of the "Kitchen + Dining" category. "We will see very eclectic spaces with mixed styles. I see crystal and ornate elements, an Asian influence, and the Greek key pattern arriving as themes." See how these themes work together in her winning kitchen space:
Cabinets: More Than Just White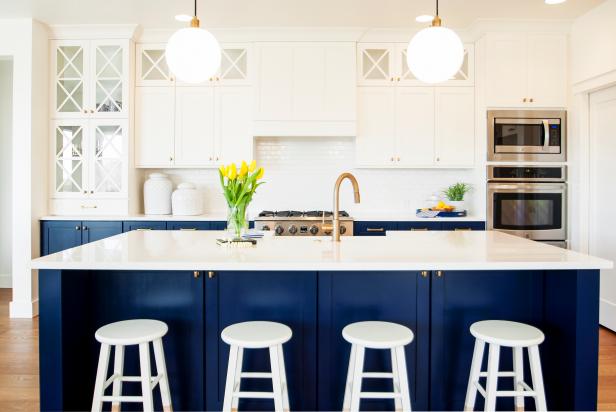 Navy Blue and White Kitchen Featuring Large Cabinets and Kitchen Island with Stools
A straight-up classy kitchen, this navy blue-and-white color scheme feels both nautical and clean. Spacious, white cabinets provide ample space for all a cook's cookware and gadgets. Featuring a blue base, the kitchen island is surrounded with simple, white stools for eating in.
Allison Corona Photography, Let It Shine Photography, Doug Petersen Photography
"Kitchen cabinets are getting more colorful, with less white cabinets," notes Alison Kandler. From sage greens to grays to dark grays, blues and blacks, mix up your cabinet hues for a whole new look.
Multipurpose Family Spaces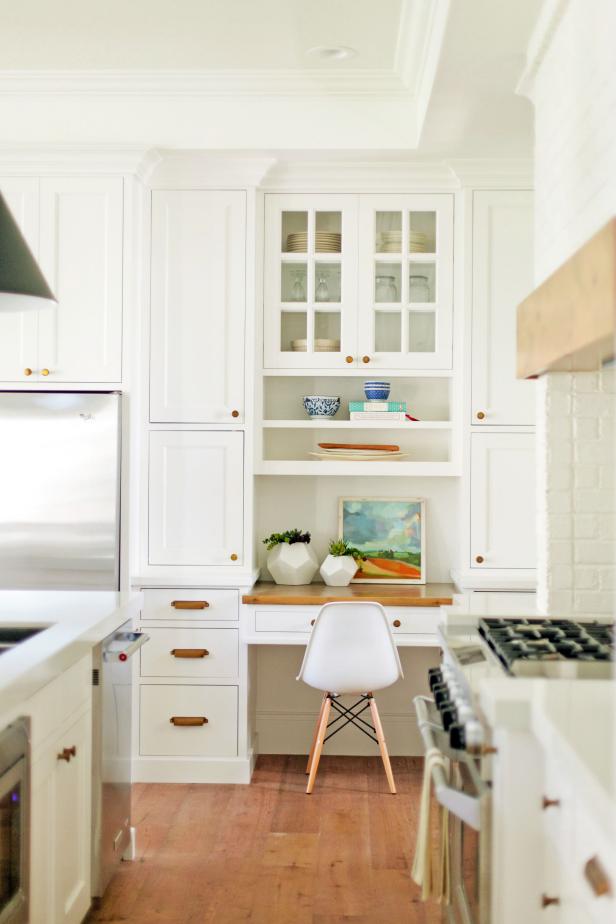 White Kitchen with Beautiful Desk Area
With places on the wall to pin homework, to do lists or whatever else, this desk is made with style and function in mind. The custom white cabinets also provide plenty of room for storage both above and below.
"We are seeing separate second floor homework rooms as a thing of the past," says Daniel Contelmo, winner of the "Kid-Tastic Spaces" category. "Parents want the children nearby while on the computer, so a homework alcove near the kitchen may become more popular." Another bonus? A homework nook in the kitchen reinforces the room's role as the heart of the home, adding one more function to the cooking and gathering space.
"Our eyes are tiring of recycled materials. You can be green without telling everyone about it. Interiors are getting simpler," says Alan Metcalfe, winner of the "Posh Public Spaces" category. That means you'll see grayed-out wood tones and reclaimed wood pieces giving way to simpler, more modern interiors with just a few rustic or salvaged accents. See how his winning bistro design took rustic in a modern direction: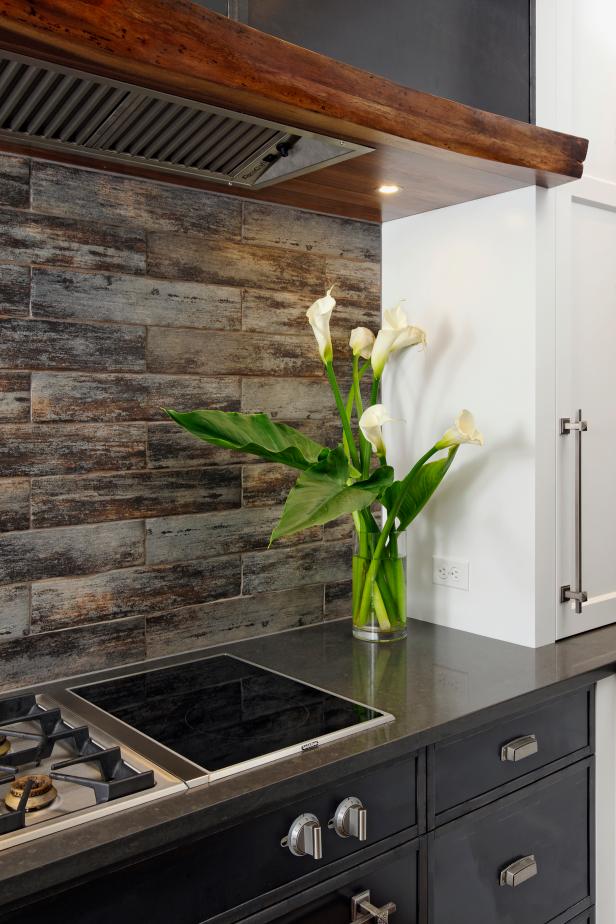 Unique Cooking Center in Modern Kitchen
Ceramic tile mimics the look of weathered wood, creating a backsplash that perfectly complements this modern kitchen's rustic-industrial vibe. Hot-rolled steel panels form the cabinetry that surrounds the cooktop, and a custom hood is made from live-edge walnut, warming up the space.
Photography by Bob Narod for Jennifer Gilmer Kitchen and Bath
Another modern twist on rustic design you can expect to see in 2016? Materials that are man-made, but inspired by nature, says Kevin Transue, winner of the "Design With a Passion" category. "Technology will provide fabrication methods...of features and finishes that were previously unheard of." This includes materials like planks of ceramic tile made to look and feel like rustic wood, but also look for items created using 3-D printing technology and furniture pieces that incorporate "smart" tech-connected features. Urban millenials, he says, will be early adopters.
Fixtures That Double As Art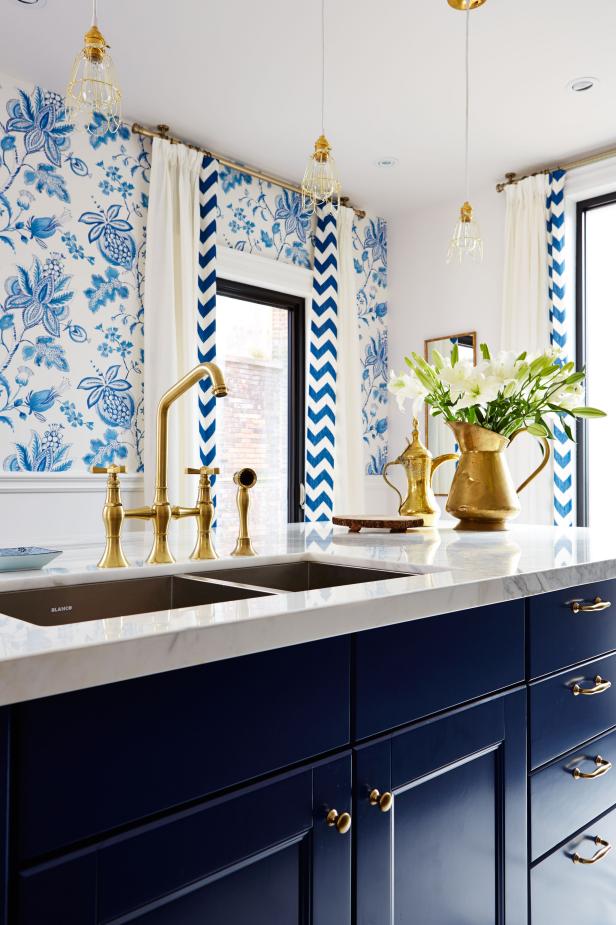 Blue Kitchen Island With Vintage Flair From Sarah Sees Potential
As seen on season one of Sarah Sees Potential , designer Sarah Richardson filled this century-old kitchen with a mix of modern amenities and vintage charm. The large eat-in kitchen island was topped with a premium slab of Calacatta marble and painted a rich blue to match the room's traditional blue and white floral wallpaper. Brass pendant lights hang over the stainless steel sink and complement the room's brass hardware, completing the cohesive design.
"We typically do our best to stay ahead of design trends," notes Liz Stiving Nichols. Something that's both up-and-coming and timeless, though? "I love throwing in an unexpected pop of color with furnishings and fixtures that act as functional art," she says. If you're thinking of choosing statement fixtures, Lauren Coburn, winner of the "Big City Digs" category, notes that polished bronze is where it's at for 2016.
As technology becomes a bigger part of our everyday lives, it's more important than ever to let nature in. That's why it's no surprise that Darryl Cobb, winner of the "Great First Impressions" category, predicts "a greater emphasis on outdoor living, and the connection between inside and outside." Who wouldn't feel connected to nature with this wall of windows that opens to a private outdoor space? Another plus: As homeowners downsize interior spaces, an outdoor lounge can almost double a home's living space during the warmer months. Now that's a trend we can all get behind.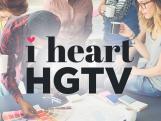 Get to know the talented writers and editors of HGTV's show and design blog. 
Go Behind the Blog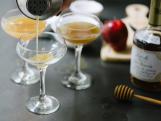 Take a look back at our past posts, from entertaining and design trends to up-and-coming HGTV shows.  
Read All Our Past Posts